Suppress Your Appetite Without Drugs
Snack Girl receives desperate e-mails almost every day from people who are hungry and don't want to eat. Frankly, I never know what to say.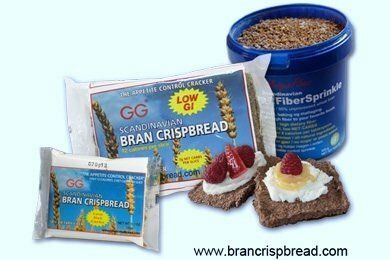 They read something like:
Help! I am out of control! I want to eat everything in sight. What should I do?
So, I say something like, "Eating less and eating healthy is a process! Calm down, and realize you are in this for the long haul." - which sounds kinda psychobabbly and lame.
(maybe a little wise?)
Then, a crazy Norwegian company sent me some almost inedible crackers - GG Scandinavian Bran Crispbread - they call them. It seems that the Gundersen family has been making these crackers since 1935!
Well, I was going to give them away - and then my daughter actually liked them. Huh? And, I realized that this is a solution to the problem of being hungry between meals and not wanting to eat anything.
Here are the nutrition facts for one cracker:
12 calories, 0 g fat, 7 g carbohydrates, 1 g protein, 5 g fiber, 30 mg sodium, 0 Points+
Ingredients: unprocessed wheat bran, rye flour, salt (salt content 0.4%)
This is seriously like eating NOTHING because it will take your body some energy to digest these crackers. The only thing is that they are kinda DRY plain. That was the mistake I made when I first tried them - I didn't add anything to them.
So, I tried a cracker with 1 tablespoon of hummus and I added this nutritionally speaking:
one tablespoon of hummus = 30 calories, 2 g fat, 2.5 g carbohydrates, 1 g protein, 0.5 g fiber, 45 mg sodium, 1 Points+
You know something? I actually liked this snack! I did have to wait about 10 minutes to feel full - but overall as far as a low calorie, healthy, and fast way to stave off hunger - this works.
If you don't like hummus, try some peanut or almond butter, cream cheese, or any other of your favorite cracker toppings.
BE AWARE that a side effect of eating a lot of fiber is that you may have to make more trips to the bathroom (if you know what I mean). Most Americans are way behind on their fiber consumption so it may not be an issue for you.
Here is a quote from an Amazon.com reviewer that I think is spot on:
They are sort of like all-bran got stomped by an elephant and made into a wafer. I eat them to stop my pacing the kitchen late at night or to cure the same thing around 3:30 in the afternoon, which allows me to stay on my eating program.
My suggestion is to TRY these and if you find that you like them - hurray!
This product was received for review consideration. No other compensation was provided.
---
$46.89 ($2.68 / Ounce) Buy on Amazon.com
As an Amazon Associate I earn from qualifying purchases.
---
Want to read about snacks?
Low Calorie Comfort Food - It Exists!
"Creamy" Wild Mushroom Soup
100 Calories of Snack From Russia
Why Don't Americans Serve Eggs Like This?