Good Stuffed Mushroom Recipe
If you are looking to eat a cheeseburger but don't actually want to eat one try this good stuffed mushroom recipe.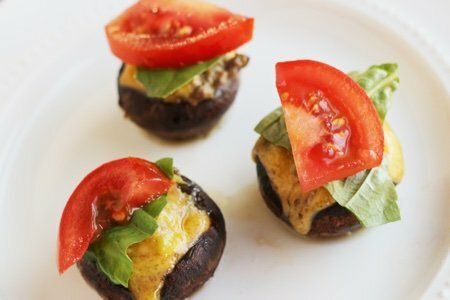 I love stuffing mushrooms because you get a perfect portion size bite that looks pretty cute. Also, for those low carb people out there, mushrooms are a healthy substitute for bread.
Many of the stuffed mushrooms recipes are decadent. Chefs use cheese, sausage, cheese and sausage and ruin the whole health benefit of the mushroom.
Of course, I get cheesy stuffed mushrooms would be divine but ALAS this is Snack Girl and you can find perfectly brilliant stuffed mushrooms on other websites.
I am constantly challenged by how to make things taste delicious without a ton of cheese, sausage, or butter. Maybe one day I will lose it and make a cheese, sausage, and butter recipe to get out my frustration ☺
Until then, give these a try! They are super tasty and will hit your cheeseburger craving right in the face.
Also, give these roasted parmesan mushrooms and mushroom cap burger a try.
Don't be afraid of mushrooms because of the dirt. I learned a new method of washing them that makes it go fast. Simply fill a bowl with cold water, dunk the mushrooms, and swish them around until the dirt falls off. Place them on paper towels and dry them and you are good to go. I used to wipe them individually and I have found that isn't necessary.
The best part of this recipe is that you don't have to precook the filling. Simply mix it up, shove it in the mushroom, and bake.
Buying a ¼ pound of beef is next to impossible unless you have a butcher. I bought a pound and then froze the rest for another recipe.
These would be a wonderful game day snack or nice snack for a casual New Year's party.
What do you stuff in mushrooms?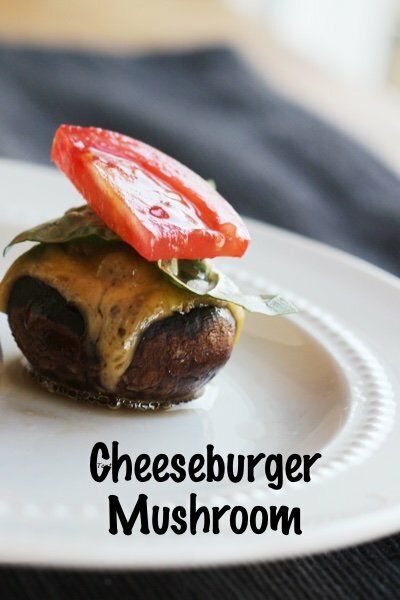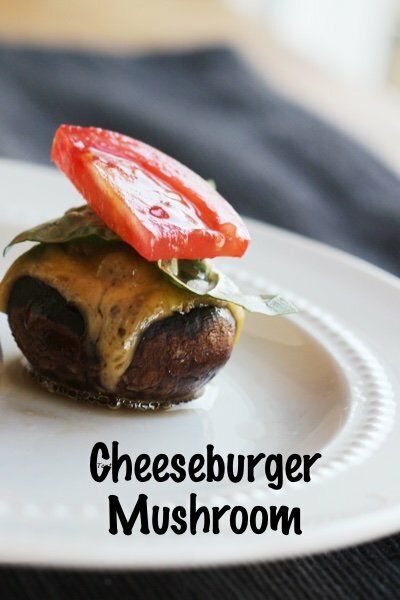 Cheeseburger Mushrooms Recipe
Makes 15-20 mushrooms
Ingredients
2 pounds Cremini or Baby Bella mushrooms
¼ pound ground beef
¼ avocado
1 tablespoon Worcestershire sauce
½ teaspoon ground black pepper
dash of cayenne
3 thin slices cheddar cheese
1 large tomato sliced
6 basil leaves
Instructions
Heat oven to 350 F. Wash the mushrooms in a large bowl of water, dunking them until the dirt is off. Dry with paper towels. Remove mushroom stems and chop half of them (discard the other half or save for another purpose). Mix in a medium bowl with beef, avocado, Worcestershire sauce, black pepper, and cayenne.
Place mushroom caps on a rimmed baking sheet. Place beef mixture in each cap and top with a small slice of cheddar cheese. Bake for 20 minutes. Top with tomato slice and basil leaf and serve immediately.
Nutrition Facts
One mushroom is 50 calories, 2.3 g fat, 1.1 g saturated fat, 3.4 g carbohydrates, 1.2 g sugar, 4.5 g protein, 1.1 g fiber, 41 mg sodium, 1 SmartPt
Points values are calculated by Snack Girl and are provided for information only. See all Snack Girl Recipes
Other posts you might like:
---

Looking for big flavor without many calories? Check out mushrooms!...
---

I know what you are thinking - "Hello, lovely.....nom nom nom" Yes, that is a portobello mushroom burger that you will be grilling this summer....
---
---
Get Free Email Updates! Yes please!
---