The Greek Yogurt Taste Off
Which of these Greek yogurts is your favorite? I decided to taste them all and try to determine which one is the best.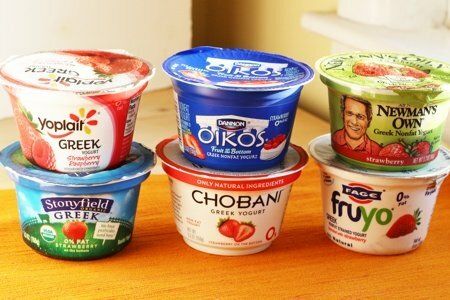 I stayed away from brands that you cannot find nationwide (and I am sure I will hear about that choice in the comment section).
I bought these yogurts because they didn't have artificial sweetener (which I can't stand) and they were all strawberry. Also, they are all non-fat because they are the easiest to find. I prefer 2% (because I think it tastes better) but I can never find it.
When I brought these six yogurts home, my children went bananas and asked to be taste testers (as did my husband).
My husband, 7 year old, and 10 year old tasted these without knowing the brands (blind). I was in charge – so I knew the brands. We did "clear our palates" after tasting each yogurt.
In order of worst to best:
6. Chobani $1.29 – 120 calories – This had a really strange aftertaste and a slightly chalky texture. My husband said it reminding him of snot (sorry Chobani lovers ☹)
5. Dannon Oikos $1.19 – 120 calories – This one tasted like cough medicine and had a good texture but not as thick as Greek yogurt should be.
4. FAGE fruyo $1.79 – 140 calories – Very chalky and had a strange flavor but it was thick (like a real Greek yogurt).
3. Stonyfield Organic Greek $1.99 – 120 calories – This one is pretty good. It has a good texture and is slightly chalky. The strawberry taste was a little strange.
TIE:
1. Yoplait Greek $1.00 (on sale) – 140 calories – I couldn't find strawberry so this was a blend of strawberry and raspberry. This had a very good flavor but isn't very thick. It does have 11 grams of protein and the ingredient list is clean. This was my son's favorite.
1. Newman's Own Greek $1.49 – 120 calories – This was my favorite because it had a good strawberry flavor and nice texture – again – not as thick as you would like. The ingredient list was the cleanest of the bunch: Nonfat milk, strawberries, sugar, corn starch, natural flavor, pectin
I hate to say it but NONE of these could hold a candle to plain yogurt (or plain Greek yogurt) with some jam mixed in or FAGE (the regular one).
They all had a chemical aftertaste and my husband decided he hated them all. If you stop eating these types of processed yogurts (as he has) – you notice the strange flavors.
Which is your favorite? Please share your ideas on good yogurt.
---
Other posts you might like:
---

The title here is purposely misleading. I am just trying to get you to pay attention....
---

Snack Girl is so proud of herself. She made this beautiful bowl of strawberry frozen yogurt (and then ate it)....
---