Bored with Chicken Breast? Try Pork Tenderloin
It is late September and I am still grilling. Perhaps I will give it up when I have to put on my down parka to stand outside.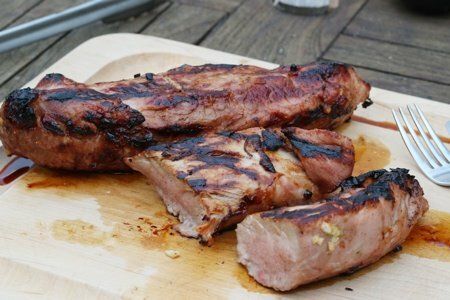 My dear husband bought me a propane Weber grill (see below) for my last birthday and I have mastered it. This might be a good time of year to get one because summer is over.
I know how to grill my vegetables, burgers, chicken, and steak without the food ending up in an urn instead of on a platter.
For those women out there who leave grilling to the menfolk – it is time to take away their metal spatulas and give it a try. The grill is the spot to make healthy "fast food" and clean-up is a BREEZE (no pan to scrub).
This recipe features pork tenderloin which is one of those lean meats that Registered Dieticians say you should eat. The problem is that it is almost flavorless without a marinade. I like it better than chicken breast because I find that the texture is less like a hockey puck.
Four ounces of roasted pork tenderloin is:
163 calories, 4.0 g fat, 1.3 g saturated fat, 0.0 g carbohydrates, 0.0 g sugar, 29.6 g protein, 0 g fiber, 64 mg sodium, 4 Points+
The marinade here is essential and easy. I reserve some of it to pour over the pork when it is finished.
The nutritional facts here reflect how much marinade the pork will take up (not how much is used in bathing it).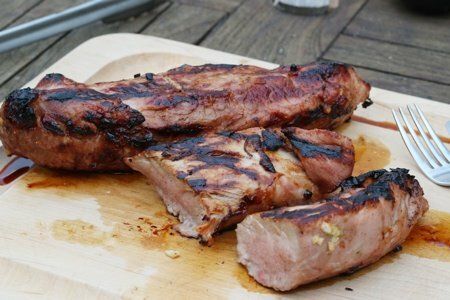 Tangy Grilled Pork Recipe
Makes 4, 4 ounce servings
Ingredients
1 whole pork tenderloin, 1-1/2 pounds
1 lime, juiced and two teaspoons zest
¼ cup honey
1 ½ teaspoons salt
1 garlic clove, minced

Instructions
Place pork tenderloin in a plastic ziplock freezer bag. Mix together lime juice, lime zest, honey, salt, and garlic in a small bowl. Pour 1/3 cup of marinade into container for sauce to serve with the pork.Add the rest of the marinade to the plastic bag and refrigerate overnight or for at least 6 hours.
Heat the grill to medium heat and place the tenderloin in the center of the grill. Cover and cook for 12-15 minutes until the internal temperature reaches 140 degrees F. Turn every three minutes or so to ensure even cooking.
Let the pork rest for 5-10 minutes and slice. Serve with remaining marinade.
Nutrition Facts
For one four ounce serving = 176 calories, 4.0 g fat, 1.3 g saturated fat, 3.5 g carbohydrates, 3.5 g sugar, 29.6 g protein, 0 g fiber, 239 mg sodium, 4 Points+
Points values are calculated by Snack Girl and are provided for information only. See all Snack Girl Recipes
---
currently unavailable Buy on Amazon.com
As an Amazon Associate, I earn from qualifying purchases.
---
---
Get Free Email Updates! Yes please!
---