Love Fruit? How About A Box of Fresh Pears (Giveaway)?
Snack Girl had stopped doing giveaways because she did a survey and readers didn't love them. And, then she got an offer from Harry & David.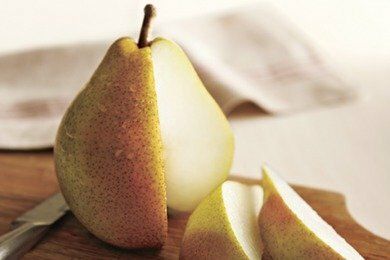 They sent me a box of Royal Riviera Pears and then asked me if I wanted to give some away. Sheesh! How nice is that to get a box of lovely pears?
Yes, dear readers, I can be bought with $30 of fresh fruit delivered to my door. And if anyone is wondering (like my neighbors) - no, there aren't any left :)
Now, I realize that $30 for five pounds of fresh pears is a bit steep for most of us. But, we are all trying to lose weight and one great way to do that is to elevate the fruit we eat to the level of dessert.
Alice Waters, a famous chef in Berkeley, likes to serve a perfect fresh peach for dessert in her restaurant. Many of us are going to wonder what happened to the chocolate - but once you have tried one of these peaches, you are forever altered.
I used to spend serious $$$ on fruit from the Embarcadero Farmers Market in San Francisco. I never liked strawberries until I spent $5 on a small box that were fresh and bursting with flavor. I thought all strawberries tasted like styrofoam until I tasted these jewels.
Harry & David offers a Fruit of the Month Club for 3-, 6-, 9- or 12-months.  You get to have high quality, delicious and seasonal fruit delivered right to your door. There are also light options for smaller families and singles, as well as organic and vegetable options.
So, they do all the work of finding the loveliest fruit they can and then you just get a box of it on your doorstep. Yes, it is pricey, but if you are trying to eat healthy and you have the dough - why not do it?
To enter to win a 5 pound box of Royal Riviera Pears from Harry & David ($29.95 retail value) COMMENT below on fruit that has made you swoon.
This product was received for review consideration. No other compensation was provided.
---
What will I win?
A 5 pound box of Royal Riviera Pears from Harry & David ($29.95 retail value).
How do I enter?
Comment below on fruit that makes you swoon.
Additional Ways To Enter:

Follow Snack-Girl on FaceBook. Comment on the FB page on the fruit that makes you swoon.

Follow Snack-Girl on Twitter and Tweet this post (use the Tweet Button in the Share Box at the top of this post).

Snack-Girl can follow and count all the additional entries using magical website tools.
Am I eligible to enter?
This giveaway is offered to US residents only.
When do I find out if I am the winner?
The randomly chosen winner will be announced on January 3rd, 2012. You will have 2 weeks to e-mail us back with your home address so we can mail the prize.