Where's The Beef? A Better Burger
I know what you are thinking - "Hello, lovely.....nom nom nom" Yes, that is a portobello mushroom burger that you will be making this summer.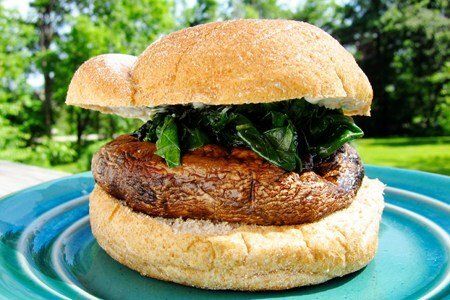 Everybody loves to talk about eating less meat, but few will admit to liking a mushroom more than 8 ounces of beef. But, I gotta tell you that this rocks! I am not a fan of veggie, tofu, or Boca burgers - but portobello mushroom caps are different.
First, they cost a lot. I have had sticker shock at the price of a portobello cap which was $2 at my local Stop and Shop. Ouch. I have a new saying that I am poaching from a yoga class, "Get comfortable with the uncomfortable."
I am uncomfortable paying $2 for a mushroom. Why? Well, its a mushroom! On the other hand, this mushroom is delicious grilled and saves me 400 calories when compared to an eight ounce burger.
Now, I am starting to feel comfortable - especially around the waist band of my pants. Ahhhhhhh.
The calorie reduction is actually not the best reason to make these healthy portobello burgers. With the spinach added you get 266% of your daily value of vitamin A, 31% of DV of iron, and 18% of your DV of calcium.
This is a delicious low cal burger with a multi-vitamin stuck inside.
The recipe below includes some olive oil that I have added to make the mushrooms tastier. Mushrooms do not have any fat, so it is a good thing to add some to help them be more flavorful.
You don't have to add sauteed spinach if you don't like it. Here are a couple of other ideas for your mushroom burger:
avocado
grilled onions
sun dried tomatoes
fresh tomato slices
These burgers are surprisingly MEATY. I don't know why but the consistency gives a feeling of heft when you eat them.
Don't compare these to real burgers if you can help it. Just give this a try on "Meatless Monday".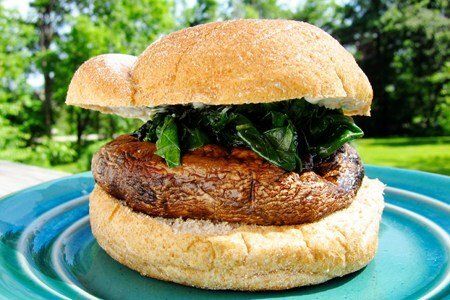 Portobello Mushroom and Spinach Burgers Recipe
(serves 4)
Ingredients
10 ounces fresh spinach
4 portobello mushroom caps
3 tablespoons olive oil
4 whole wheat hamburger buns
mayonnaise (optional)
Instructions
Heat 1 tablespoon oil in large saucepan. Add spinach and saute until completely wilted. Put in bowl and reserve.
Preheat grill or broiler to medium high heat. Lightly rinse the mushroom caps under running water and ensure that stems are removed or very short. Do not immerse because mushrooms soak up water like a sponge. Brush each cap with 1/2 tablespoon olive oil and place mushrooms on the grill cap side down (or the flat side).
Grill for 5 to 8 minutes on each side until tender.
Put mushroom, spinach, and mayonnaise (optional) on each bun and enjoy!
Nutrition Facts
For one burger without mayonnaise = 238 calories, 12.4 g fat, 25.5 g carbohydrates, 3.6 g sugar, 9.2 g protein, 5.8 g fiber, 241 mg sodium, 6 Points+
Points values are calculated by Snack Girl and are provided for information only. See all Snack Girl Recipes
Other posts you might like:
---

You know what? It isn't that hard to make healthy pizza. Pizza would always be pretty healthy if we chose not to put 1/2 pound of cheese on every slice....
---

When you think of foods that will help you replace red meat in your diet, what comes to your mind? Obviously, not celery....
---
---
Get Free Email Updates! Yes please!
---