Healthier Meatballs in a Snap
Does Snack Girl look like she has time to make meatballs? Look at me up there! I look busy.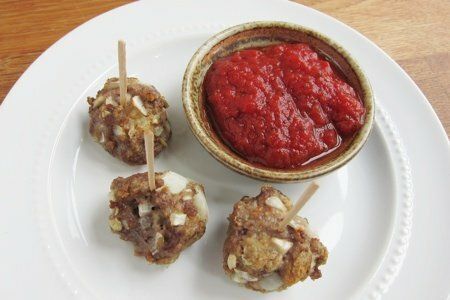 My children happen to love meatballs, and I have been known to buy packaged ones. But packaged meatballs are expensive and tend to be sodium filled.
What I hate about making meatballs is cooking them in a frying pan in batches. It seems to take FOREVER. When I found this "bake on a rack" method, I was psyched to try it.
See here: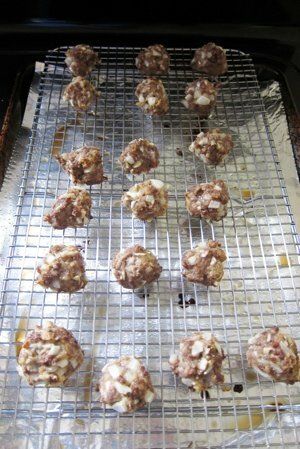 You put your preformed meatballs onto a grate that lets them drain off fat and helps them become a little crunchy (like pan fried). This works! I should have chopped my onions finer, but other than that, my meatballs came out great. I would say that it is important to:

Spray the grate with non-stick spray.
Toss grate into sink with warm, sudsy water immediately after finished.
The clean-up nightmare that would be this grate covered with baked on meat is enough to keep me awake so just avoid it.
This is a very standard recipe with no particularly brilliant angle. Serve these as an appetizer, in tomato sauce on spaghetti, in a pita with lettuce and tomato, etc. Make a bunch and freeze them for later consumption.
How do you make meatballs and what do you put in them? Please share.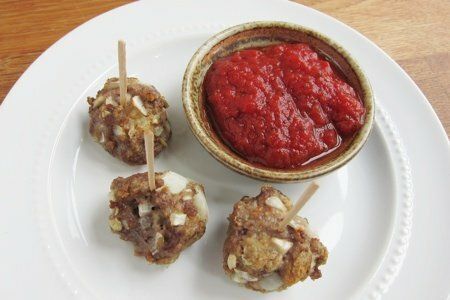 Easy Meatball Recipe
Makes 20 meatballs
Ingredients
8 ounces lean ground beef
1 small onion, very finely chopped
1 small stalk celery, very finely chopped
3 cloves garlic, very finely chopped
2 large egg whites
1 teaspoon dried oregano
½ teaspoon salt
1 ½ cups fresh whole wheat bread crumbs
Instructions
Preheat oven to 350 F. Line a rimmed baking sheet with aluminum foil and place a baking rack on the sheet. Spray the baking grate with non-stick spray on both sides.
In a large bowl, mix beef, onion, celery, garlic, egg whites, oregano, salt, and breadcrumbs until combined. Form 1 inch balls with your hands and place on baking grate until you have 20 balls.
Bake for 25 minutes or until cooked through. Serve immediately or store until later. These store in the freezer for one month.
Nutrition Facts
For one meatball = 52 calories, 1.1 g fat, 5.3 g carbohydrates, 0.8 g sugar, 4.8 g protein, 0.8 g fiber, 123 mg sodium, 1 Points+
Points values are calculated by Snack Girl and are provided for information only. See all Snack Girl Recipes
---
$22.00 ($11.00 / Count) Buy on Amazon.com
As an Amazon Associate I earn from qualifying purchases.
---
Other posts you might like:
---

This burger above has a secret. It is not as fattening as it seems. What did Snack Girl do?...
---

When you think of foods that will help you replace red meat in your diet, what comes to your mind? Obviously, not celery....
---
---
Get Free Email Updates! Yes please!
---