Try This Pumpkin Pie Makeover For Thanksgiving
Why would Snack Girl mess with Thanksgiving? Come on, live a little!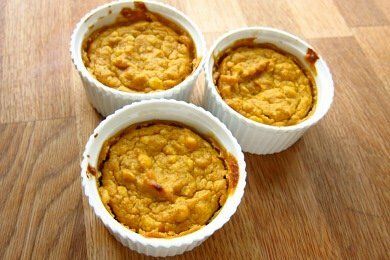 Actually, I don't want anyone to think about healthy eating or calories on Thanksgiving. Thanksgiving is a holiday for being with family or friends and enjoying each other.
BUT, if you have a bunch of pals coming over who would like to indulge a little less - you could try this recipe. I came up with this because I LOVE pumpkin pie and I wanted to come up with a healthier version.
My pumpkin pie makeover starts with not included any pastry crust. Look, a pie crust's first ingredient is BUTTER and so when you decide not to use it, you can get rid of many calories. Secondly, I am using much less sugar than a regular recipe.
The key to using less sugar is to taste the recipe as you make it. Obviously, if you put in a small amount of sugar and it tastes terrible, add some more! I bet you will be surprised about the small amount of sugar you need to make the recipe work. Pumpkin is already sweet so you don't really need a lot of sugar to make it taste delicous.
Finally, I used Neufchatel cheese which gives the pie a "cheesecake" type flavor. Neufchatel is almost the same texture as cream cheese, but has 30% less fat. You can find it next to the cream cheese in the dairy aisle.
Make these in small ramekins so you get an instant portion size or make it in a larger pan such as a loaf pan. The size of the dish will determine how long it takes to cook. You can definitely make this a day ahead and serve it at room temperature.
So how does my pie do compared to a regular pumpkin pie? There are so many different recipes that is a difficult comparison - but usually a slice of pie is about 310 calories. My version is 170 calories less!
This recipe is for the people who just love the PUMPKIN part of the pumpkin pie. Remember, pumpkin is a vegetable so this dessert will give you 263% of your daily value of Vitamin A in one serving - isn't that crazy?
Please let me know how it goes if you make this! I could use the feedback because I don't usually make my own pumpkin pie.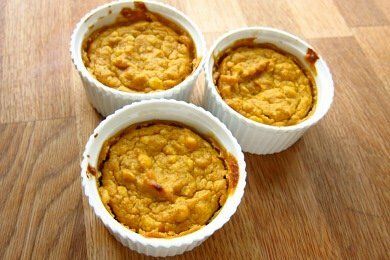 Pumpkin Pie Makeover Recipe
(8 servings)
1 8 ounce package Neufchatel cheese
2 cups pureed pumpkin
1/4 cup sugar
2 eggs
1 1/2 teaspoons pumpkin spice

Preheat oven to 350 F. Bring Neufactel cheese to room temperature either by leaving it out of the fridge or unwrapping and putting in the microwave for 30 seconds. Using a mixer, blend Neufchatel cheese in a bowl to fluff. Add pumpkin, sugar, and spice and taste. Add more sugar until you get your desired sweetness. Mix in eggs and spoon into ramekins or loaf pan. Bake for 40 minutes or until center of pie is firm.
For one serving: 140 calories, 7.8 g fat, 12.9 g carbohydrates, 5.2 g protein, 1.6 g fiber, 134 mg sodium, 4 Points+
Points values are calculated by Snack Girl and are provided for information only. See all Snack Girl Recipes
Please share your pumpkin pie replacement thoughts and/or recipes.
Want to read about snacks?
Change Your Perspective To Change Your Diet
Want To Prevent Breast Cancer? Try This Awesome Snack
Helping You Kick Your Soda Habit
A "No Peel" Apple Recipe To Make You Swoon
---
Get Free Email Updates! Yes please!
---