A "No Peel" Apple Recipe To Make You Swoon
The apple season is in full swing here in New England and I can't stop buying them. The taste of fresh apples is one of life's great joys.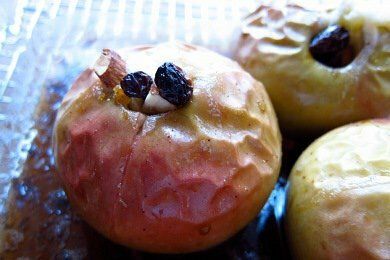 Snack Girl loves to make apple pie except for 2 issues. The first is that peeling apples is tedious, and the second is the pastry crust with it's 8 tablespoons of butter. Butter just sticks to my butt :)
What is an apple fan to do? I went out and purchased an apple corer. Until I lived in New England, I had no idea they existed. These little tools (see below) take the core out of an apple in about 3 seconds. So FAST.
All you do is pack the center of the cored apples with good stuff like raisins and walnuts, add a sauce for braising, and you have an AMAZING replacement for apple pie. If you cook them long enough, the apples get a pudding type of texture. Combined with the crunch of the nuts, this becomes a dreamy dessert.
You can make a whole bunch of apples and then just store them in the fridge. They should last at least 4 days. This would be a great dessert to serve at Thanksgiving for people who are looking for something lighter.
A slice of apple pie can set you back 300-400 calories versus just one of these apples at 217!
Hey, and an apple with raisins, nuts, a little butter, and sugar, is pretty nutritious when you compare it to a chocolate chip cookie.
I promise that you won't miss the pie.
Do you have a special baked apple recipe? Please share.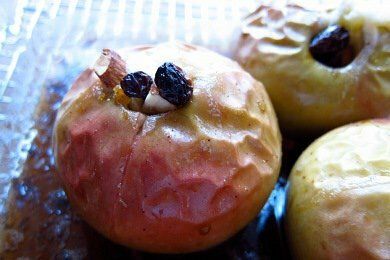 Baked Apple Recipe
Makes 6 servings
Ingredients
1/4 cup and 2 tablespoons raisins
1/4 cup chopped walnuts or almonds
1/2 teaspoon grated orange peel
1/2 cup packed brown sugar
1/2 cup water
2 tablespoons butter
1/2 teaspoon ground cinnamon
1/2 teaspoon ground nutmeg
6 apples (your favorite variety)
Instructions
Preheat oven to 350F. In a small saucepan, combine sugar, water, butter, cinnamon, and nutmeg. Bring to a boil and stir to combine. Mix raisins, walnuts, and orange peel in a small bowl. Core apples and place in baking dish that fits them snugly. Fill apples with raisin mixture and pour sugar mixture on and around apples. Bake at 350F for 30 minutes. Serve warm or cold.
Nutrition Facts
One baked apple is 217 calories, 6.2 g fat, 42.9 g carbohydrates, 1.6 g protein, 5.2 g fiber, 34 mg sodium, 3 Points+
Points values are calculated by Snack Girl and are provided for information only. See all Snack Girl Recipes
$11.87 Buy on Amazon.com
As an Amazon Associate, I earn from qualifying purchases.
---
Other posts you might like:
---

Healthy apple recipes are so simple to create. The apple is such a perfect fruit – sweet, crunchy, and it bakes well.....
---
Anyone else find themselves reading "American Girl Magazine"? Some child left it on our coffee table.....
---

If you read this website, you BETTER have apples in your fridge (or I'm gonna buy you some :) This is it people - apple season!...
---
---
Get Free Email Updates! Yes please!
---