Healthy Apple Crisp: Cute & Yummy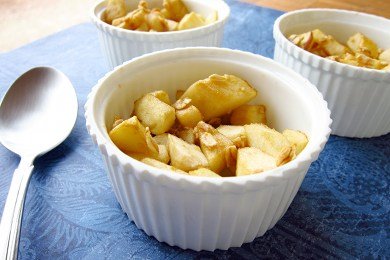 Many of us are on the hunt for a dessert that is both satisfying and healthy. I've been asked for a redo of creme brulee (which isn't gonna happen).
For me, cooked apples are the ultimate comfort food. There is something about apple pie that makes my worries disappear. On Friday, I talked about how I use apple pie as a solution to my loneliness problems see: Emotional Eating.
If you can get used to baked apples with no butter, you can start enjoying a super healthy dessert. Apples cook down into a soft pudding-like substance that is creamy without butter.
I will say that I did miss the butter when I first made these. If you think these fall flat - just add a little butter to each ramekin. This is meant to be a dessert, so you need to be satisfied by it.
If you add more unprocessed foods (such as raw fruits and vegetables) to your diet, you will notice that you taste foods differently. I can taste the ingredients added to my food with much more clarity and I am more aware of sugar and salt than I used to be when I was eating more processed foods.
One of the biggest keys to becoming a healthier eater is to start TASTING again. Your tastebuds may have some adjusting to do if you are on the hamburger, pizza, Coca-Cola diet.
The sweetness of a strawberry is hard to detect if you eat a lot of Oreos (for example).
You could try making these apple crisps without the sugar and see how you like them. I added a little sugar because it gives them a flavor OOOMPH - but you may find that you don't need it.
My daughter ate this dessert right up (and my son hated it). These healthy apple crisps are so fast to make - the hardest part is peeling the apple.
How do you dress up apples?
print
Pin It
Mini Apple Crisp Recipe
(3 small servings)
1 medium apple
1 tablespoon brown sugar
1 tablespoon oats
1/2 teaspoon cinnamon
Heat oven to 350 F. Peel and core the apple and chop into 1/4 inch squares. Mix in a small bowl with sugar, oats, and cinnamon and put into a small baking dish or ramekins. Bake for 15 minutes. Enjoy hot, cold, or room temperature.
50 calories, 0.2 g fat, 12.8 g carbohydrates, 0.4 g protein, 1.8 g fiber, 280 mg sodium, 1 Points+
Points values are calculated by Snack Girl and are provided for information only. See all Snack Girl Recipes
Other posts you might like:
---

Here at Snack Girl headquarters clothing is optional (for the 4 and under set). This is also true of our pies....
---

If you read this website, you BETTER have apples in your fridge (or I'm gonna buy you some :) This is it people - apple season!...
---
---
Make Eating Well Fun and Easy! Subscribe
---