Try This Trick For Some Healthy Blueberry Muffins
Snack Girl is already making her plans for Earth Day (April 22nd). I am going to celebrate with a picnic!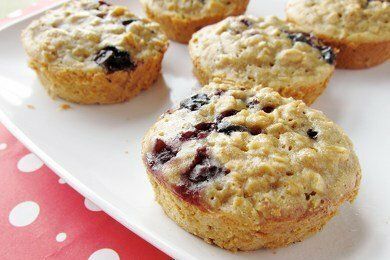 I will eat my kale chips, tofu, chia seeds, and these blueberry muffins OUTSIDE to celebrate the earth. And, I won't use any packaging.
Why a picnic? Well, Cascadian Farm Organic sent me a picnic basket with their oats and honey granola in it for Earth Day. I get a lot of stuff from food manufacturers who want me to feature their products.
Here is what happened to the picnic basket upon arrival to my house: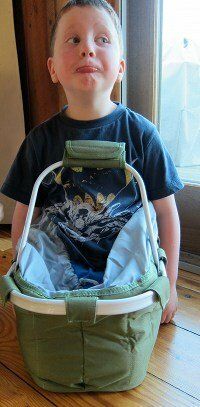 Ahem.......Alex seems to be testing it for our celebration. After we got him out of there, I took a hard look at the granola - and while there were many great things about it (clean ingredient list, whole grains, organic, etc.) - it had too much sugar per serving to pass my healthy cereal test.
Inspiration then hit! (or was it Alex's rubber ball?) and I decided to use it in muffins. I call these "Kitchen Sink" muffins because you use everything but the kitchen sink in them. I added Cascadian Farm Organic Granola: Oats and Honey, milk, egg, flour, frozen blueberries (which Cascadian Farm also produces), and cinnamon.
Here is the bowl before mixing: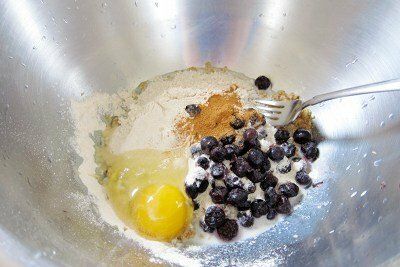 It kinda looks like my kitchen sink before I clean it up :)
These are super FAST to make and I did not add sugar because I figured the granola would already take care of that. And it did! My kids ate one of these each for breakfast this morning and pronounced them GOOD. Hurray!
Please LIKE the Cascadian Farm Facebook Page to find more ideas for celebrating Earth Day.
Have you mixed cereal into muffins? Please share.
This product was received for review consideration. No other compensation was provided.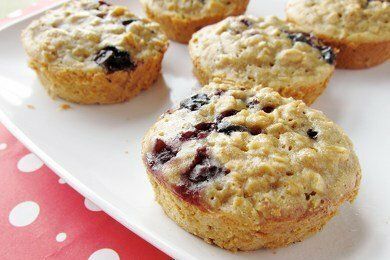 Healthy Blueberry Muffins
(makes 6 muffins)
Ingredients
1 cup granola (such as Cascadian Farm Organic Oats and Honey)
1/2 cup whole wheat flour
1 egg
1/2 cup milk
1/2 cup frozen blueberries
1/2 teaspoon cinnamon
Instructions
Preheat oven to 350 F. Line a muffin tin with foil liners or spray with non-stick spray. Mix ingredients with fork and spoon into six muffin cups. Bake for 20 minutes and enjoy!
Nutrition Facts
One muffin is 165 calories, 6.2 g fat, 21.7 g carbohydrates, 6.5 g sugar, 5.8 g protein, 2.5 g fiber, 24 mg sodium, 4 Points+
Points values are calculated by Snack Girl and are provided for information only. See all Snack Girl Recipes
Other posts you might like:
---

I know what you are thinking. How can a muffin save a life? Don't we usually use things like electrified paddles?....
---

Got time to bake? No? Don't worry, Snack Girl has a great tip for making it look like you have time to use that oven for something other than pots and pan storage....
---
---
Get Free Email Updates! Yes please!
---