Healthier Buffalo Chicken Wings
Vegans, avert your eyes. We are going to the land of chicken and you know you are eating an animal when you chomp into a wing.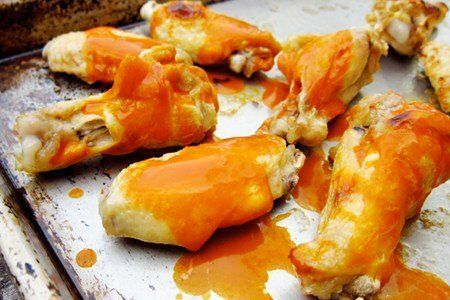 oh yeah........
I recently featured killer buffalo chicken wings on the site in this illuminating article: Guess the Most Evil Food At Chain Restaurants. Sadly, I happen to love these greasy, hot sauced soaked, calorie bombs with an ice cold brew.
Why sadly? Well, an order of boneless Buffalo wings at Applebees is a whopping 1,724 calories and let's not talk about the sodium.
My first rule of Buffalo chicken wing consumption is NEVER eat the boneless ones. You don't realize how many you are eating if you don't have a stack of meaty bones sitting in front of you.
My second rule is MAKE THEM YOURSELF. I had no idea you could make them at home without a deep fryer until I cracked open Ellie Krieger's book "Comfort Food Fix". She has a recipe that seemed so easy that I had to try it.
The below recipe is adapted from her book and is surprisingly like the real thing. When I started cruising down the hot sauce aisle, I couldn't believe the choices for "Buffalo Chicken Wing" sauce. There must have been 5000 brands! I chose "Frank's Red Hot" and it has that crazy neon color (see above).
All you do is boil the chicken wings to cook them, put them under the broiler to crisp them, and pour sauce on them. Serve them with a bunch of celery sticks (they never give you enough of those in a restaurant) and some blue cheese dressing and you just saved a bunch of money and calories.
My kids don't like the hot sauce, but they love to munch on the wings so I keep some of them sauce free.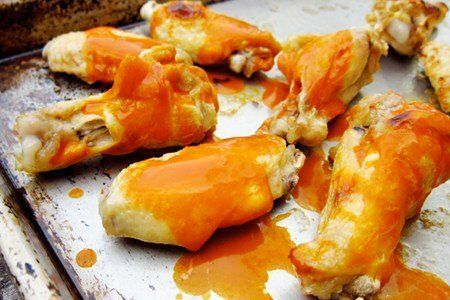 Lighter Buffalo Chicken Wings Recipe
(adapted from Ellie Krieger's "Comfort Food Fix")
(makes 4 servings)
Ingredients
2 pounds chicken wings, split at the joint
1/4 cup cayenne pepper sauce (for example: Frank's Red Hot)
Instructions
Place wings into a large pot and fill the pot with cold water to cover the wings by 2 inches. Bring to a boil, and boil for 10 minutes. While chicken is boiling heat your broiler to HIGH. When done, drain and place chicken wings on rimmed cookie sheet.
Broil 6 inches from element or flame for 5 to 6 minutes per side. The skin should blister and brown. You are just trying to get that CRUNCH texture added to the wings.
Drizzle with reserved sauce. At this point you can toss them to make a covered wing or leave a bit uncovered for less messy eating.
Nutrition Facts
For 4-5 chicken wings = 240 calories, 12 g fat, 4 g carbohydrates, 27 g protein, 1 g fiber, 710 mg sodium, 6 Points+
Points values are calculated by Snack Girl and are provided for information only. See all Snack Girl Recipes
---
$29.99 $21.77 Buy on Amazon.com
As an Amazon Associate I earn from qualifying purchases.
---
Other posts you might like:
---

The American Buffalo chicken wing is a scary thing....
---

Buffalo chicken wings are an amazing bar snack. Truly, the people who came up with these were geniuses like the person who opened the first oyster....
---
---
Get Free Email Updates! Yes please!
---