Simple and Healthy Cooking From Top Chefs
Can we learn from the top chefs in the country on how to make healthy food? Or should we just go to their restaurants and enjoy ourselves?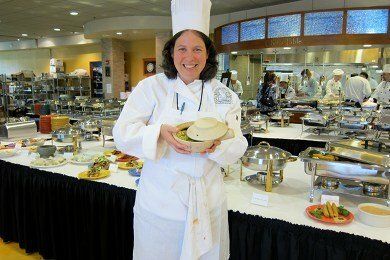 This week, Snack Girl attended a UMASS Chef Culinary Conference entitled, "Simple Food, Healthy Eating". I was invited by Wellsphere to attend.
This conference was aimed at chefs on college campuses around the U.S. and Canada that wanted to learn new recipes, concepts, and techniques to take back to their kitchens.
I decided to attend because it was in my backyard and I thought, "Hey, I could learn something to use here for my loyal readers."
As you know, Snack Girl is NOT a chef. I am a home cook who does some dabbling in SNACK recipe development and I fear knives and hot things.
Well, I was in for a surprise. Seems that I was signed up for a couple classes with, well, some of the best chefs in the country.
My first class was with Chef John Ash who in 2008 was voted "Cooking School Teacher of the Year" by the International Association of Culinary Professionals. He has written 3 cookbooks (see one below) and he is an adjunct professor at the CIA in Napa Valley.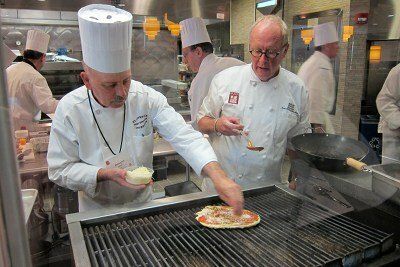 John is on the right with the glasses. When I was told he teaches at the CIA, I got very afraid (and a little confused). It turns out chef's CIA is the Culinary Institute of American - whew!
So, here I am, NOT a chef, in a chef coat with a bunch of actual chefs. Now, I thought I could just ask questions and write about the conference, but Chef (John Ash) took one look at me and told me I was going to cook.
He assigned me a REAL chef, Blaine (named changed by request), to be my partner. At that point, my stomach tied up into knots and I started apologizing for my very existence.
But, Blaine was kind to me and we got started on our Japanese inspired healthy recipes. He calmed me down and I began to feel like I was actually helping and not just a big nuisance.
I boiled noodles, seasoned stock, found ingredients, tasted "new to me" ingredients and was actually cooking!
Hurray!
As I was staring to make an aioli, Blaine turned to me and said, "I am bleeding and I need to leave the kitchen, now."
Okayyyy.
I kept working, confident that Blaine would return with a band aid on his hand.
He came back and said, "Please hand me my knife bag, I am leaving to go to the hospital." Calm as a cucumber.
Inside I said, "WHAT? You cannot leave me here, cooking for CHEFS, with a famous CHEF!" AAAAH.
I had four choices:
Cry
Puke
Quickly and silently leave the conference never to be seen again
Suck it up
I chose the fourth option and made the Japanese Udon Soup below by myself. Even though all my compatriots were scrambling to finish their own dishes, they started to help me finish mine.
A chef named Buzz (yes, Buzz!) came over when he had some time and helped me out with the other dish - Sweet Potato Fries with Japanese spices - and I managed to get my dishes out on time for sampling.
The photo above is me feeling pretty proud of myself for getting through it all. And I was incredibly grateful to all the chefs for their assistance.
The udon soup was simple to make and is vegan and quite filling. It is comfort food with lots of vegetables and would make a great snack with a smaller portion.
Chef John Ash is trying to help teach Americans how to cook creatively with plants, and this recipe is an excellent and simple example of delicious plant based cooking.
Note: Chef Blaine managed to get 14 stitches and is currently recovering with a cold beer in his other hand.
Have you tried to make udon soup?
---
Hot and Sour Udon Noodle Soup Recipe
reprinted with permission from Chef John Ash
Udon noodles are a staple in Japanese cuisine. These soft, doughy noodles are now available in many supermarkets and specialty stores. Note that some udon noodles come precooked. If you are using this type, remove the soup from the heat once it comes back to a boil.
(serves 4 to 6)
6 cups (1.5 l) vegetable stock
1 1/3 cups (325 ml) snow peas, ends trimmed and cut into 1-inch (2.5 cm) pieces
1 cup (250 ml) chopped bok choy
3 green onions (white and green parts), coarsely chopped
1/4 cup (50 ml) low-sodium soy sauce
1/4 cup (50 ml) seasoned rice vinegar
2 1/2 tsp (12 ml) sesame oil
Freshly ground black pepper
1lb (500 g) udon noodles
hot chili oil
In a large pot, combine vegetable stock, snow peas, bok choy, green onions, soy sauce, vinegar, sesame oil and black pepper to taste. Bring to a boil over medium-high heat. Reduce heat to low and cook, uncovered for 5 minutes or until vegetables are tender.
Add noodles. Increase heat to medium and bring to a boil. Reduce heat to low and simmer, uncovered, for 5 minutes or until noodles are tender. Season with chili oil to taste.
Variation: For a heartier, more complex soup, add broccoli florets, baby corn, bamboo shoots, water chestnuts or 1-inch (2.5 cm) cubes of tofu. Add along with the bok-choy.
For one serving: 303 calories, 4.1 g fat, 55.5 g carbohydrates, 13.2 g protein, 5.5 g fiber, 600 mg sodium, 8 Points+
---
$39.24 Buy on Amazon.com
As an Amazon Associate I earn from qualifying purchases.
---
Want to read about snacks?
Z Fries: The Latest In Nutritious, Delicious, and Low Cal Fries
I Can't Believe You Don't Eat Butter!
Whole Grain, Homemade Chip: Goodbye Potato Chips!
Make Your Own Popsicles: "Great Taste...Less Added Sugar!"