Healthy Canned Soup Options
These healthy canned soup options are not all in cans. I can be accused of false advertising but I felt I had no choice.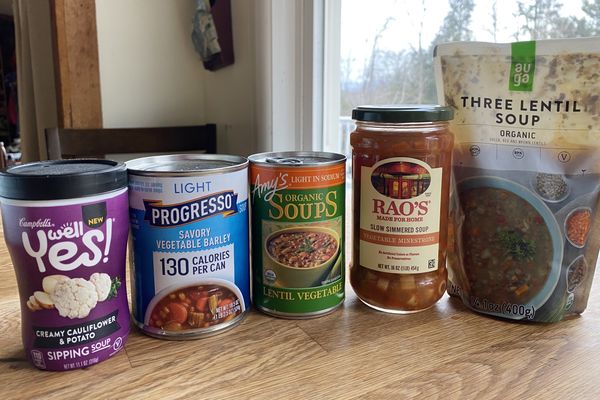 The world of canned soup has changed since I last took a look in 2011. Ten years is a long time in the food world and it was time to do a new review since the landscape had altered.
One of the big changes is that now there is soup in cans, jars, and plastic bags - which I think is a good thing. Many canned soups taste like the can which is why I make my own Healthy Soup Recipes.
Sometimes, you don't have time to cook or you are sick to death of chopping vegetables. If it tastes good and it is good for you - why not pour it out of a can?
The biggest problem with these soups (except for the Amy's low sodium) is the amount of sodium. I would not call these amounts of sodium healthy - especially if you have heart disease. Basically, I wouldn't eat these every day or even every other day. I would aim for once per week.
But, other than the sodium - you have beans, vegetables, and no bizarro ingredients to turn you off of these options. The only problem is going to be taste.
I am going to go from worst to best in terms of flavor.
Campbell's Well Yes! Creamy Cauliflower & Potato Sipping Soup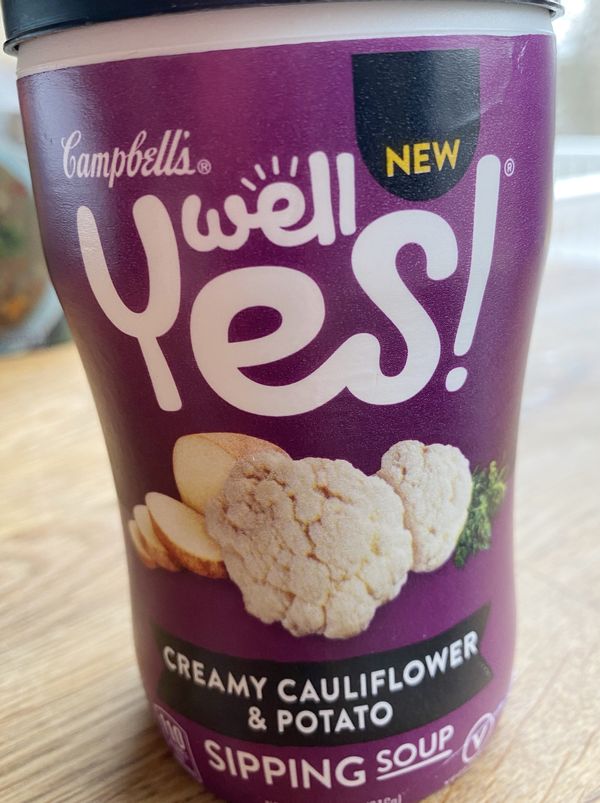 $1.80
One container: 110 calories, 4 g fat, 2 g saturated fat, 17 g carbohydrates, 4 g sugar, 2 g protein, 2 g fiber, 650 mg sodium, 4 Green, 4 Blue, 4 Purple WW SmartPts
This option by Campbell's is in a little cup that you heat and serve. I was a bit terrified that I was going to set my tongue on fire with this method as you drink it like a sippy cup.
The soup itself was tasteless and reminded me of the texture of baby food. In all of my years of food tasting, this had to be one of the worst products that I have ever tried.
FAIL
Progresso Light Savory Vegetable Barley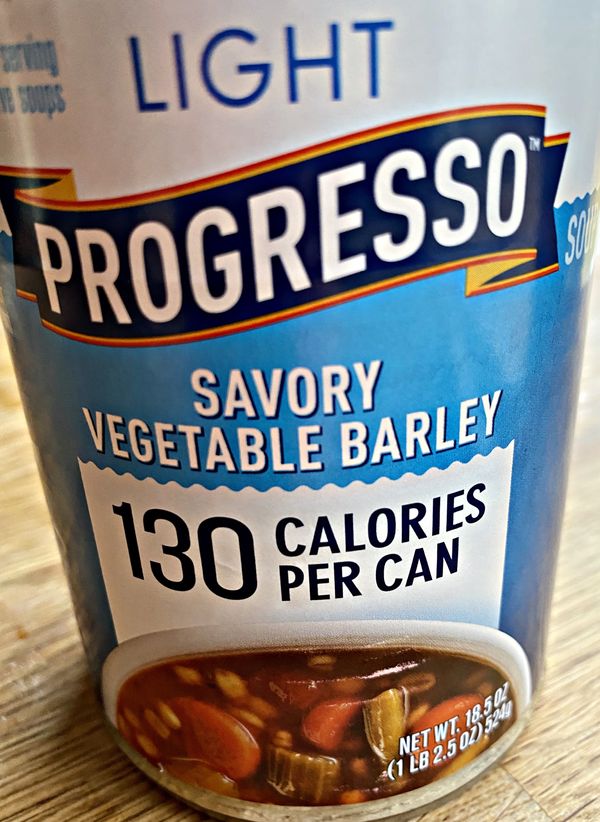 $2.80
One can: 130 calories, 1 g fat, 2 g saturated fat, 30 g carbohydrates, 7 g sugar, 5 g protein, 9 g fiber, 1110 mg sodium, 3 Green, 3 Blue, 3 Purple WW SmartPts
This is a very low calorie soup and it could have been amazing but it tasted like the can. The vegetables were mushy and it was incredibly salty. I would eat this but only in an emergency.
FAIL
Amy's Organic Light in Sodium Lentil Vegetable Soup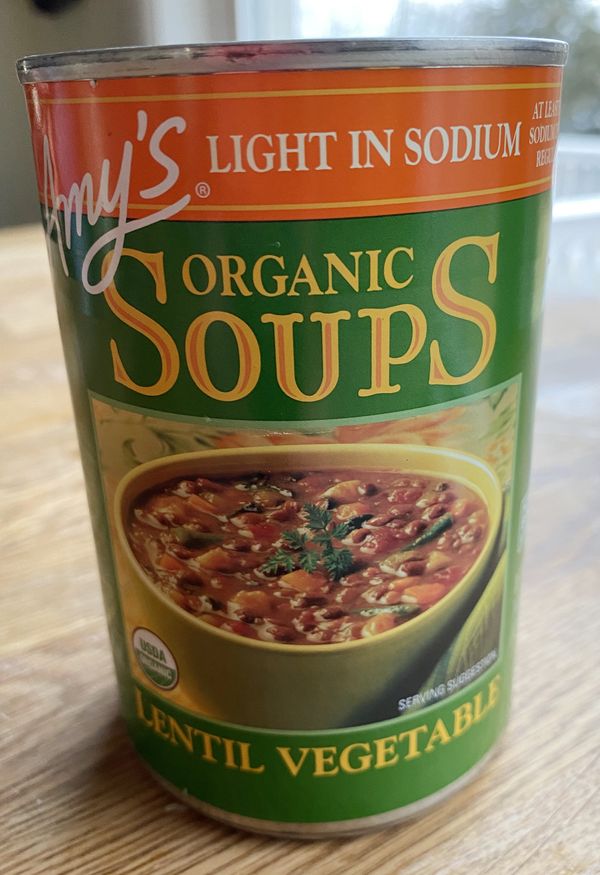 3.50
One can: 270 calories, 7 g fat, 1 g saturated fat, 41 g carbohydrates, 8 g sugar, 11 g protein, 8 g fiber, 540 mg sodium, 6 Green, 6 Blue, 6 Purple WW SmartPts
Lentil soup is one of my all time favorites and I think it could be great from a can. This soup was good - it had chunks of vegetables, lentils, and a good flavor BUT it tasted like it needed salt. I know it is low sodium so I am wondering if they needed to up the level of other spices to make it less bland.
If I had some pesto, I think it would be a good addition to make it quite good.
PASS
Rao's Vegetable Minestrone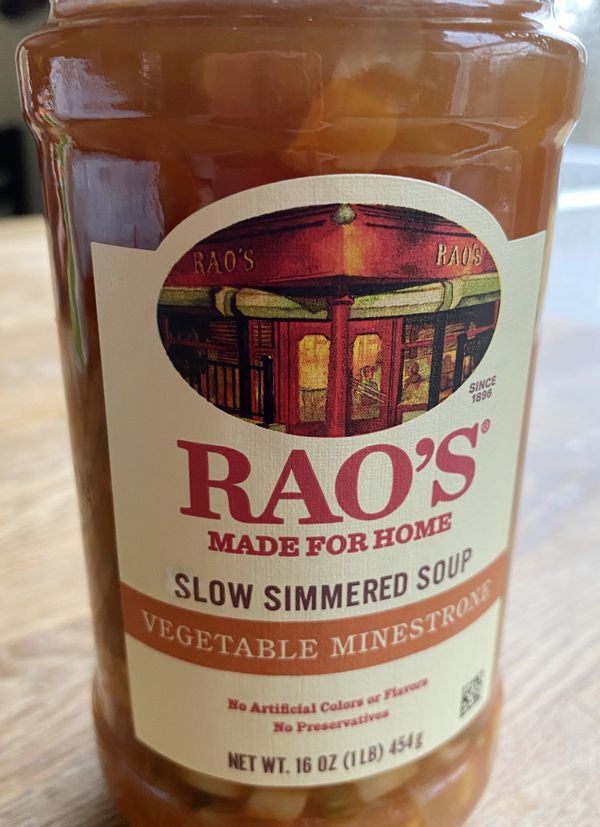 $6
One jar: 180 calories, 1 g fat, 0 g saturated fat, 37 g carbohydrates, 8 g sugar, 6 g protein, 5 g fiber, 1210 mg sodium, 4 Green, 4 Blue, 4 Purple WW SmartPts
It makes me sad that this has 1200 mg of sodium and costs $6 because it is a tasty bowl of soup. If you grated some Parmesan on the top, you might not have known it came in a jar. I suppose you get what you pay for - pretty good soup. I will have this on hand in case I get sick and can't make my own soup.
PASS
Auga Three Lentil Soup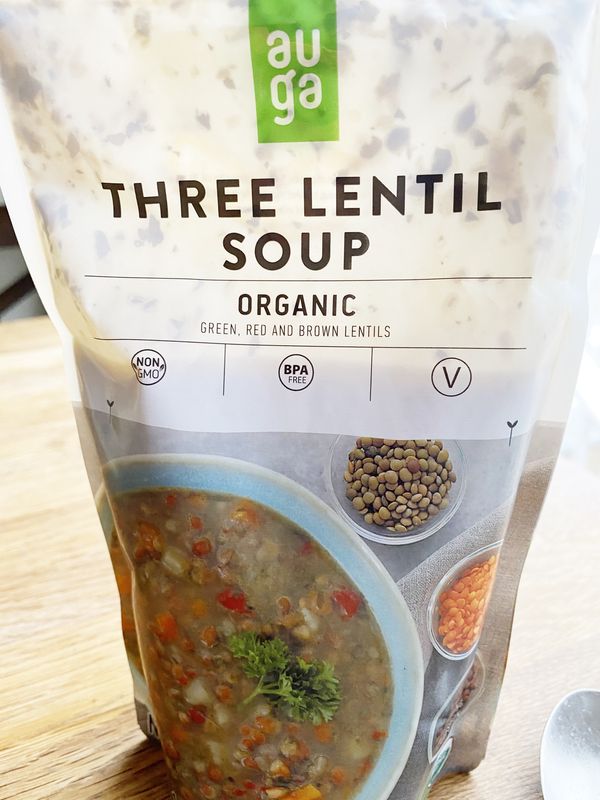 $3
One package: 240 calories, 7.5 g fat, 1.0 g saturated fat, 30 g carbohydrates, 5 g sugar, 12 g protein, 7 g fiber, 1000 mg sodium, 6 Green, 6 Blue, 6 Purple WW SmartPts
Ingredients: water, various lentils, carrots, potatoes, spices, canola oil, rice flour, sea salt
I shared the ingredients because it was the shortest list and speaks to the simplicity of this soup. I don't know if Auga is nationwide or if there are other bags of soup out there but I will tell you that I was turned off by the prospect of squeezing my soup of a pouch.
Turns out the pouch (from the package):
creates significantly less carbon dioxide emissions when compared to a can.
This product is made in Lithuania which also was different. It is organic and vegan friendly.
What did I think? This was the best by far. I didn't know that healthy canned soup technology had gotten so good!
The sodium is still high but the soup was delicious. For $3, you can't go wrong.
BEST
What are your favorite healthy canned soup options? Please share!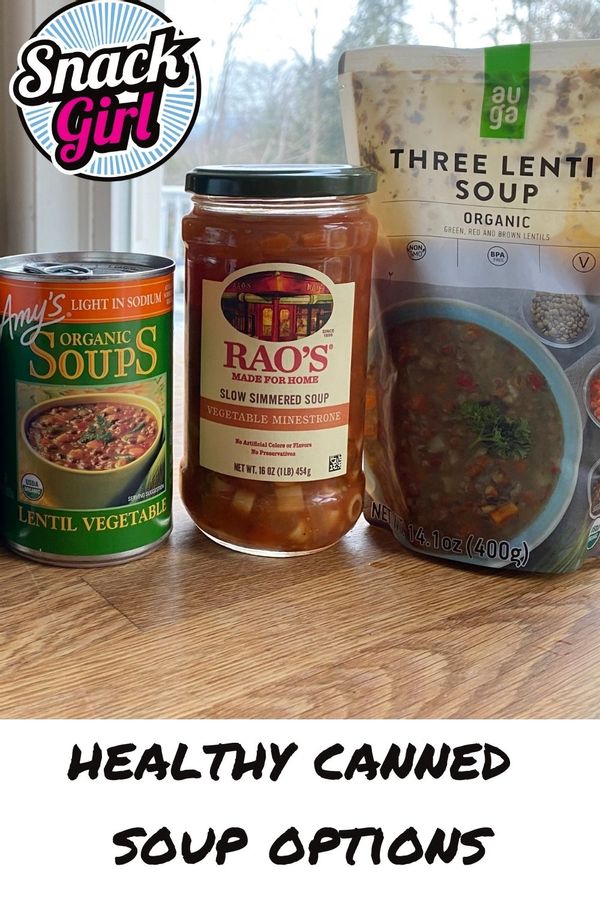 Other posts you might like:
---

These healthy soup recipes will warm your bones and keep them healthy at the same time. You cannot miss.....
---