Healthy Choices at Dunkin Donuts
Are there healthy choices at Dunkin Donuts? A friend of mine asked me to find out.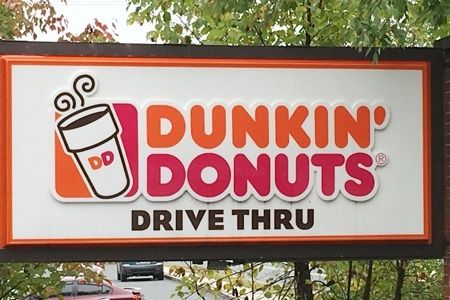 I live in New England where Dunkin Donuts literally can be found in every small town and on every other corner in big towns. It is truly laughable how many of these outlets exist.
Why even try to find healthy food there? Aren't they famous for stuff like this?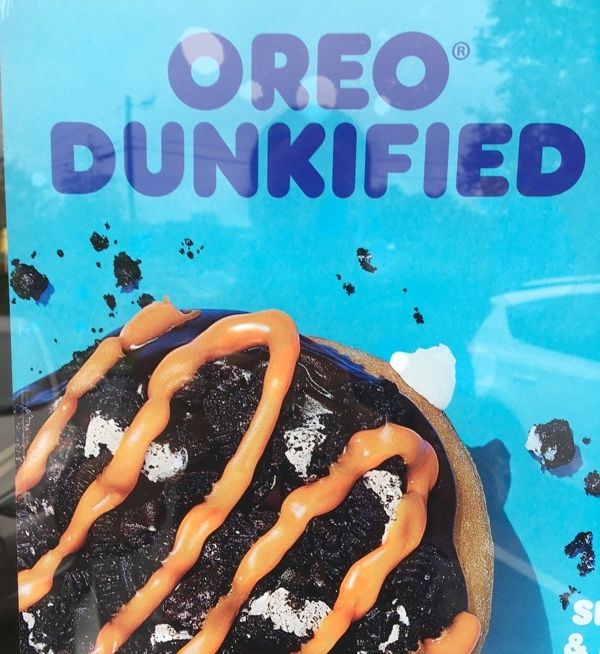 That is what the world needs! An Oreo donut! Forget world peace.
Believe me, it is far easier to find healthy food at Costco and do an Aldi review.
But, Dunkin is changing its name from "Dunkin Donuts" to "Dunkin" and I believe they are doing quite well with the "I don't have time to make breakfast" set.
Dunkin is wading into the healthy eating arena with a DDSMART menu. These are considered reduced in calories, fat, saturated fat, sugar and sodium by at least 25% when compared to a "base" product.
The base products are CHOCK FULL of fat, sodium, sugar, etc. so this reduction isn't really significant.
Many of the items on their DDSMART menu are not smart or healthy. For example, they have an oatmeal offering with 35 grams of sugar (7 teaspoons). OMG.
And their multigrain bagel would be okay except it has 8 grams of sugar, 8 grams of fat, 380 calories and no cream cheese. Seriously, misleading. Am I just going to eat a dry bagel? This should have the nutrition information of the cream cheese incorporated into the offering. Duh.
So, I decided to go sample what may be okay on their menu. These heatlhier options comprised of egg sandwiches. I find that egg sandwiches are usually a great way to go and the McMuffin (without the meat) is one of my go-tos on the road.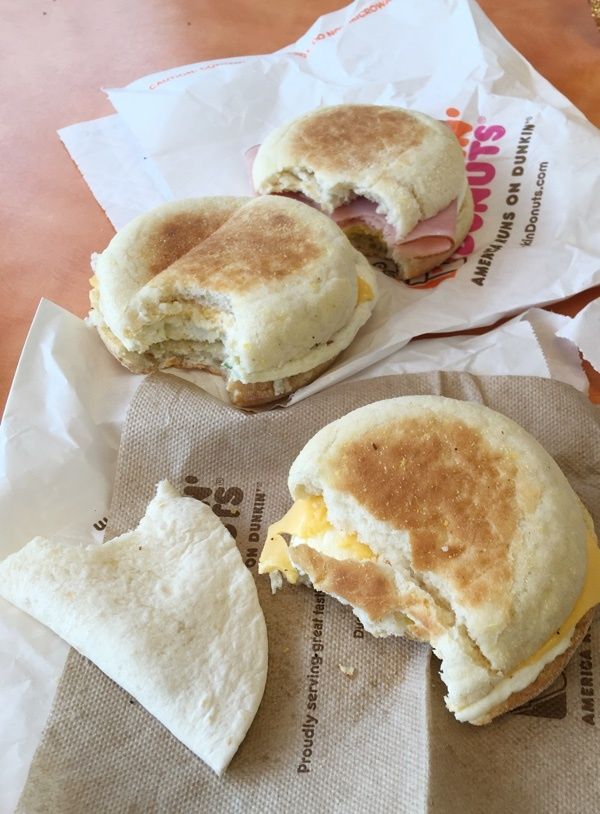 I don't want to be negative, but this has got to be the worst fast food I have ever tried (and I have tried it all). I wonder if Dunkin should have ever left their donut wheelhouse for these egg sandwiches.
When I was in the store, I saw a man with a sandwich from Subway order a coffee. When I asked him why he hadn't ordered the sandwich at Dunkin - he smiled and said that he preferred Subway. Yeah, dude, I am with you.
I will start with the best of the lot which is the Wake Up Wrap sandwiches which you can customize. Since Dunkin only has American cheese (and I hate American cheese), I went with only an egg.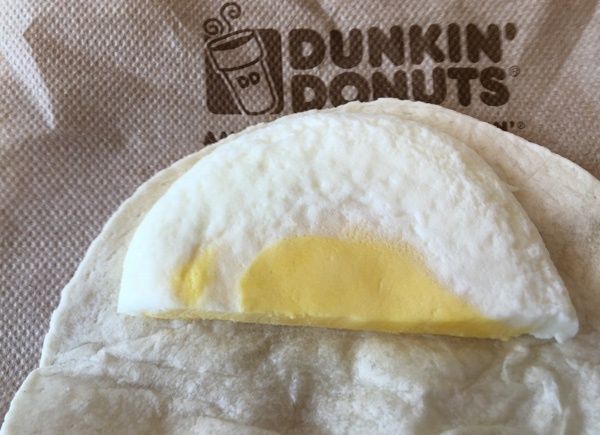 As you can see it is basically half a cooked egg on a tortilla for $1.39. The nutrition facts:
180 calories, 10 g fat, 4 g saturated fat, 14 g carbohydrates, 1 g sugar, 7 g protein, 0 g fiber, 470 mg sodium, 6 Freestyle Smart Pts
I don't understand how you can add 5 grams of fat to this without adding any flavor or butter - but they managed to do it.
This is easily the best "healthier option" as it tastes okay and isn't too bad in terms of calories but it isn't whole grain, it is too high in sodium, and it won't fill you up.
The next offering is the Veggie Egg White Sandwich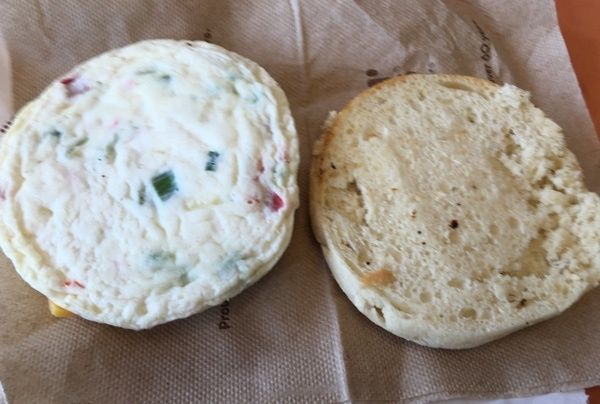 It features egg white cooked with bell peppers, mushrooms, and green onions and it is topped with American cheese. You can leave the cheese off but they don't tell you how that would change the nutrition information.
310 calories, 10 g fat, 5 g saturated fat, 38 g carbohydrates, 4 g sugar, 15 g protein, 1 g fiber, 730 mg sodium, 10 Freestyle Smart Pts
These sandwiches are made with English muffins. These muffins (in my case) were not toasted and soggy. On top of that - there was no butter. It was like eating a sponge.
This is way too high in sodium, not whole grain, and not packed with vegetables.
The egg white omelet was rubbery and flavorless. Please pass on this option.
Finally, we have a simple sandwich of egg and cheese on an English muffin that you can get at McDonald's (and you should go there if you have the choice).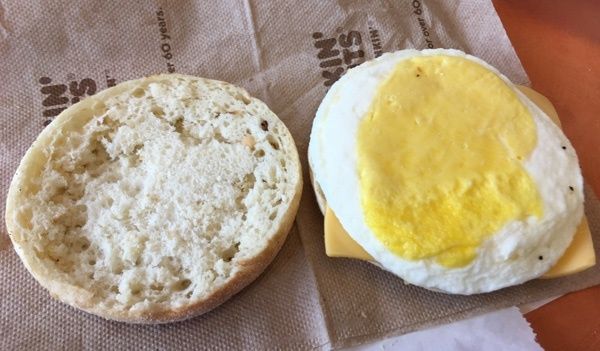 This was also inedible for all the reasons I have mentioned. Here are the nutrition facts:
340 calories, 15 g fat, 5 g saturated fat, 37 g carbohydrates, 4 g sugar, 14 g protein, 1 g fiber, 640 mg sodium, 11 Freestyle Smart Pts
Don't be fooled by DDSMARTS. These are not healthy options and if you are looking for a fast food breakfast - go with Subway. You can get an egg sandwich with a bunch of vegetables piled on.
Have you tried any of these healthier Dunkin options? What did you think?
Other posts you might like:
---

The list of healthy food at Costco is pretty long. Almost as long as the list for unhealthy food!....
---

My Aldi review is for those who have driven by it and wondered if they should go in....
---