The Healthiest Cooking Oils
Snack Girl has been asked about the healthiest oils a bunch of times and keeps dodging the question.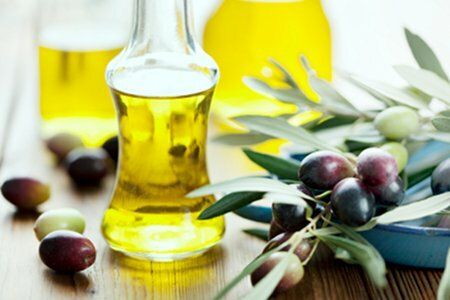 Why? There is a lot of discussion in the medical community about oil, and there isn't a strong consensus probably because different vegetable and nut oils have received different amounts of attention. Everyone does agree that using a vegetable oil is healthier than lard (meat fat) because the oil is not packed with saturated fat (bad for your heart).
Also, chefs use different oils for different dishes because some oils degrade at high temperatures so you cannot use one oil for all of your cooking.
My advice is to fill your pantry with a variety of oils and hope one day that the health experts will find a panacea to end all of our oil dilemmas. Many of you have ended your oil dilemma by not using any vegetable oil because it is a processed food. I find that commendable, but you are going to have to pry my extra virgin olive oil out of my cold dead hands.
Good Oils:
Extra-virgin olive oil (EVOO) has been important in scientific studies of the Mediterranean diet. It is a monounsaturated fat and research shows that monounsaturated fats (MUFAs) help keep "bad" LDL cholesterol low and boost levels of "good" HDL cholesterol. In addition, EVOO is high in antioxidants called polyphenols that have been linked to heart health. Numerous large, long-term studies have demonstrated a powerful association between relatively high dietary intake of MUFAs, and reduced risk of abdominal obesity, diabetes and heart disease.
Canola oil generally doesn't have many antioxidants, as olive oil does, but it does have a relatively long shelf life. In addition, canola is the richest cooking-oil source of alpha-linolenic acid, an omega-3 fat that has been linked to heart health.
Walnut oil, avocado oil, sesame oil, and macadamia nut oil are examples of expensive but healthy oils that should not be cooked but added to your salad dressing to get essential nutrients and fats. Keep these in the refrigerator to keep them from going rancid as they are delicate.
Bad Oils:
Vegetable oil is a mix of whatever is left over and can contain oils that you want to avoid. Always try to pick canola or another "named" oil before you buy generic vegetable oil.
Partially Hydrogenated Soybean oil and Palm oil are found in many processed foods and should be avoided. Soybean oil is high in Omega-6 fats which aren't as healthy as Omega-3 fats and palm oil is high in saturated fat.
For more information, you can check out a segment on Dr. Oz Best Cooking Oils for his perspective.
I know I am opening a can of worms here so please be respectful of each other (and me) in the comments section. I reviewed a bunch of different material to come to my conclusions and I know that I could have missed some. This is a very oily subject (he he).
What oils do you use and why?
---
Other posts you might like:
---

I am always looking for a loaf of bread that I can recommend without a doubt. Ezekiel bread is one of those breads....
---

Peanut butter is a great addition to a healthy snack. Spreading it on apples or crackers is an excellent way to add fat and protein (and taste!) to a dull food....
---