Healthy Fast Food For Nights You Don't Have Time To Cook
Snack Girl gets to hang out with some pretty accomplished Registered Dietitians.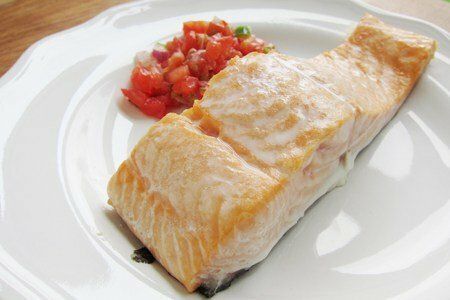 These people (mostly women) are a force behind getting us to pay attention to what we eat. I met Ellie Krieger at a conference and got to ask her my burning question:
"What do you make for dinner when you don't have time to make dinner?"
Krieger has a career as a Food Network chef and cookbook author, and a daughter, so I knew she would have a good answer.
"I always have frozen salmon in my freezer so I thaw it quickly in a bowl of warm water and bake it while I make a salad."
Wow! That sounds good, except for the salmon part as it costs upwards of $10 per pound - and you shouldn't buy farmed Atlantic salmon because of its environmental impact, nor should you eat it more than once a month because of contamination with PCB's.
The problem here is that I didn't get to ask Ellie what type of salmon she buys. I checked out Monterey Bay Aquarium Salmon Page and found that there are salmon fisheries that are considered healthy for the planet and produce contaminate-free fish.
Right about now, you are wondering why I just don't buy wild salmon. I would, but then my children couldn't attend college with parental funding. Fresh wild salmon is about $20 per pound at my local Whole Foods. I don't want to be the harbinger of bad news, but our wild fisheries will probably be mostly gone in 20 years. Farmed fish is the way of the future and, unless I hit the lottery, I will be buying farmed salmon.
At my local Stop & Shop, they were selling farmed Atlantic salmon for $9 per pound (this is an AVOID from the Monterey Bay Aquarium) so I purchased Sockeye for $12, which is a BEST CHOICE.
Yes, this is expensive, but I don't do it every night. The nice thing about fish is that if you are a single person, you can buy just what you need and cook it.
It is heart breakingly easy to cook salmon and I hope you will not be scared by the price tag. I serve it with salsa, or slices of avocado, a salad, and some nice bread. The meal is finished in 15 minutes depending on how long it takes your oven to heat up. I will walk in my door and turn on the oven before I do anything else to get in gear.
I put my fillets on a baking sheet and sprinkle with salt and cook for 10 minutes. My fish is still "pink" in the middle (not cooked through) and unlike pork you can leave it a bit raw because all the harmful bacteria are on the outside of the fish. If you like it opaque, leave it in the oven for another 3 minutes.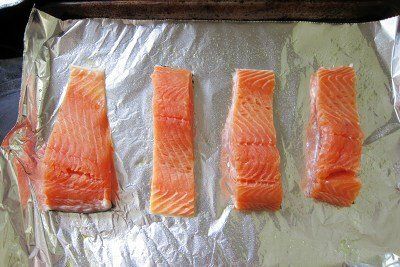 Ten minutes later, I have perfectly cooked salmon.
Do you eat salmon? How do you cook it?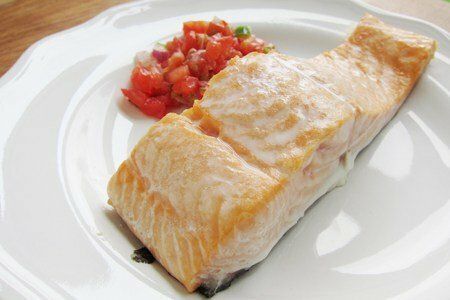 Baked Salmon Recipe

Makes 4 servings

Ingredients
4 5-ounce salmon fillets
salt
olive oil or non-stick spray for coating pan

Instructions
Preheat oven to 400 F. Line a rimmed baking sheet with aluminum foil and spray with non-stick spray or wipe with paper towel dipped in olive oil. Put fillets on pan, skin side down, and sprinkle with salt. Cook for 10 minutes for medium doneness.
Nutrition Facts
292 calories, 17.5 g fat, 3.5 g saturated fat, 0.0 g carbohydrates, 0 g sugar, 31.3 g protein, 0 g fiber, 104 mg sodium, 7 Points+
Points values are calculated by Snack Girl and are provided for information only. See all Snack Girl Recipes
Other posts you might like:
---

Are you trying to eat seasonal foods? Put down those hard tomatoes and grab some cabbage....
---

Have you heard the warning about sugar hiding in your food? People are usually surprised when they find high fructose corn syrup in bread and ketchup....
---
---
Get Free Email Updates! Yes please!
---