A Super Healthy Addition To Your Grill
Hot dogs, hamburgers, steak......salad! Yes, add some salad to your grill this Memorial Day weekend.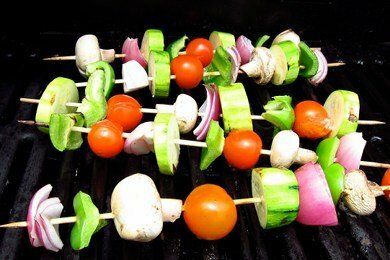 All you have to do is stick some veggies on a stick and everyone will love them as much as corn dogs. At least you can hope!
You can just eat them raw or you can grill them along side all your other favorites.
Here is a photo of the cooked "salad satay":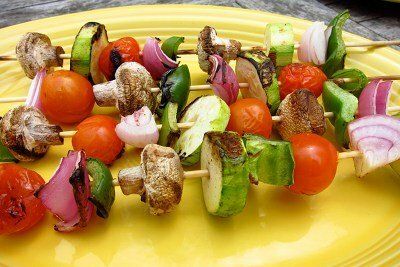 Salad satays will help you eat fewer hot dogs, hamburgers, and chips. These babies have just 16 calories each and they taste great.
Now, I did not use any oil on these which you may find impossible to do. My grill is non-stick and I got it pretty hot before I put the skewers on it.
My suggestion for adding oil is to spray a little olive oil from a reusable spray can like the Misto (see below). This will add a little flavor and ensure that your veggies are evenly coated without drowning them in calories (thereby reducing their healthiness).
All you do is fill it about half way and "pump it up" and it sprays a fine mist of olive oil. It doesn't use propellants and you will use less olive oil on your salads, etc.
Some other suggestions:
Add some chicken or shrimp for a little more protein.
Squeeze some lemon on before serving for a citrus punch.
Baste before you grill with olive oil and vinegar to get a true salad taste.
How do you make grilling healthy?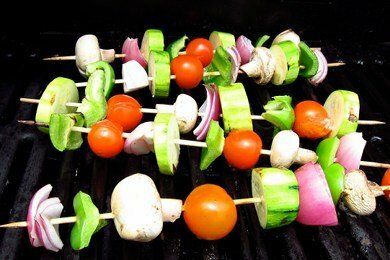 Salad Satay Recipe
(makes 12 skewers)
Ingredients
1 pkg white whole mushrooms
1 medium red onion
1 green bell pepper
2 zucchini
1 pint cherry tomatoes
12 skewers
Instructions
Wet a paper towel and clean mushroom caps. Remove stems from mushrooms. Cut onion in half and then cut 4 pieces of each half. Clean and cut bell pepper into 1/2 inch pieces. Peel zucchini and slice into 1 inch pieces. Place ingredients onto skewers. Heat grill and cook on medium heat for 5 minutes per side until vegetables are your desired doneness. Enjoy!
These can be made ahead and reheated on the grill or in the oven.
Nutrition Facts
16 calories, 0.2 g fat, 3.5 g carbohydrates, 0.8 g protein, 1.0 g fiber, 5 mg sodium, 0 Points+
Points values are calculated by Snack Girl and are provided for information only. See all Snack Girl Recipes
Snack Girl receives a small percentage of sales from links to Amazon.com.
$14.99 $11.99 Buy on Amazon.com
As an Amazon Associate, I earn from qualifying purchases.
---
Other posts you might like:
---

Summertime is happenin' and I am SURROUNDED by ice cream stands. What is it about the middle of nowhere that leads to the proliferation of ice cream stands?....
---

This burger above has a secret. It is not as fattening as it seems. What did Snack Girl do?...
---
---
Get Free Email Updates! Yes please!
---