Skip The Ice Cream: Grill Your Dessert
Summertime is happenin' and I am SURROUNDED by ice cream stands. What is it about the middle of nowhere that leads to the proliferation of ice cream stands?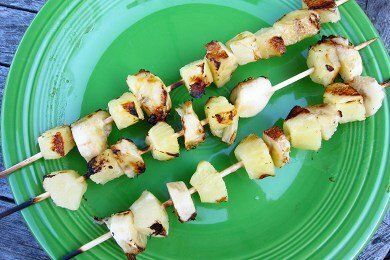 There are more ice cream venues near my house than watering holes of an alcoholic nature AKA bars. Very very bizarre...
So, of course, I now need to create a way to avoid all of those ice cream stands and I have done it! Check out the photo above - I know these look a little strange but they taste DIVINE.
I'm talkin' about grilled pineapple and banana on a stick!
Snack Girl has recently started a fetish about healthy food on a stick see: salad on a stick and healthy cake pop.
I went with canned pineapple because I:
am cheap
hate cutting up pineapple
like to store healthy food in my pantry when I can
I was concerned that it wouldn't work and that you would need to use fresh pineapple. It tasted great, though, it would taste even better with fresh pineapple, mango, and/or peach added to the skewer. I just don't have time to be cutting up all that fruit.
You can sprinkle cinnamon on these skewers before you eat them if you like cinnamon. It does add a lot of flavor and I liked them even more with the cinnamon added.
These skewers also work as a side dish (not just dessert!). My husband paired them with some grilled shrimp and it worked. Of course, then we had to go get some dessert :(
You can grill them with the other food you are cooking and then just serve them at the end of the meal. The heat caramelizes the banana so it gets super sweet and the pineapple is a great texture and taste contrast.
These skewers would be fantastic for a party and, I hate to say it, amazing with ice cream.
Have you tried to grill fruit on the BBQ? Please share.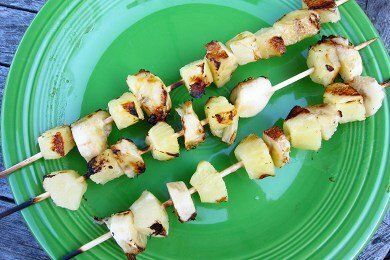 Grilled Dessert Recipe
(makes 7 sticks)
Ingredients
1 20 ounce can Pineapple Chunks in Pineapple Juice
3 bananas
1 lemon
7 skewers
cinnamon (optional)
Instructions
Drain pineapple and slice bananas into small pieces (the same size as the pineapple). Stick pieces onto skewers and place on a plate. Squeeze lemon juice over the sticks, cover, and store in refrigerator until ready to grill.
Grill at medium heat, turning every 2 minutes until slightly charred (5-7 minutes). Dust with cinnamon and enjoy! Can be served hot or room temperature.
Nutrition Facts
For one skewer: 85 calories, 0.2 g fat, 22.2 g carbohydrates, 0.6 g protein, 2.0 g fiber, 7 mg sodium, 0 Points+
Points values are calculated by Snack Girl and are provided for information only. See all Snack Girl Recipes
Want to read about snacks?
French Onion Dip With Zero Guilt
How Important Is It To Buy Organic?
Eat Less Meat And Dairy With These Vegan Snacks
Wow Your Friends This Memorial Day With Salad Sticks
---
Get Free Email Updates! Yes please!
---