For Good Luck And Good Health Try This For New Year's
Looking for a future of prosperity? All you have to do is eat the right food on New Year's Day.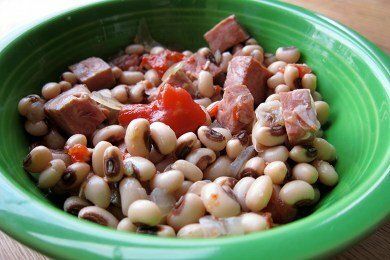 Black eyed peas (because they swell when the cook) symbolize prosperity and hey, if you don't have a job right now - at least they are cheap!
The tradition of serving black-eyed peas on New Year's came out of the Southern United States, and I think it is a wonderful stew even if it isn't New Year's Day.
If you stew them with tomatoes (as I did in the recipe), you get both HEALTH and WEALTH. Which has got to be true because a mere serving of these beans includes 35% of your daily value of Iron.
Add a dime to your black-eyed peas recipe. The person whose bowl contains the dime receives the most luck for the New Year. Fun!
I used a slow cooker to make these beans because I think it is the best way to get perfect beans. Also, I am lazy and I don't want to be around to monitor the stove.
If you don't have a slow cooker, just simmer the beans on your stove for 2.5 - 3 hours.
Be sure to adjust the flavors at the end of the recipe because the beans are very bland. Add as much vinegar or hot sauce as you need to make the recipe POP!
Please share your New Year's traditions.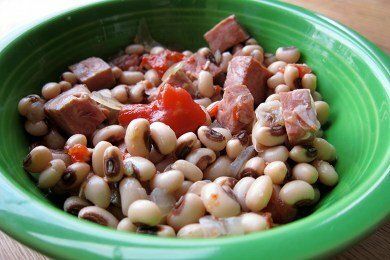 New Year's Black-Eyed Peas Recipe

(serves 6)

Ingredients
1 pd black-eyed peas
2 cups cooked ham, cubed
1 onion diced
1 -14.5 ounce can stewed tomatoes
1 clove garlic
apple cider vinegar (optional)
Tabasco (optional)
salt to taste
one dime

Instructions
Soak black-eyed peas over night in 4 cups of cold water. Drain them and put them in a large slow cooker. Add ham, onion, tomatoes with juice, garlic, and 4 cups water. Cook on HIGH for 3 1/2 hours. When beans are tender but still holding their shape, the dish is done.
To season add 2 tablespoons apple cider vinegar, salt, (if you like spicy food) dashes of Tabasco, and a dime. Enjoy! If you get served the dime, your year will be SUPER lucky :)
Nutrition Facts
For one serving = 278 calories, 4.0 g fat, 53.3 g carbohydrates, 26.7 g protein, 22.2 g fiber, 622 mg sodium, 7 Points+
Points values are calculated by Snack Girl and are provided for information only. See all Snack Girl Recipes
Other posts you might like:
---

Many poor people in the United States don't buy fresh fruits and vegetables because they are expensive relative to processed foods. I agree that a $1 hamburger will fill you up much more than a $1 apple (and, yes, they can cost that much)....
---

What if I told you that that casserole up there had a whopping 28% of your daily value of iron per serving? Would that amaze you?....
---
---
Get Free Email Updates! Yes please!
---