Heat Up Your Pan And Make Some Healthy Pancakes
Snack Girl keeps working on the perfect pancake. It is the "cake" part that gets me striving for the elusive goal of tasty and nutritious.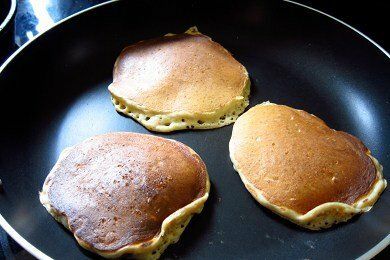 The key to a healthy pancake is to stop drowning it in syrup or whipped cream. You have to make it so tasty that you aren't tempted to start adding chocolate syrup.
I am once again reworking my "Overnight Pancake Recipe". My big change is to use a form of whole grain flour instead of white flour to amp the nutritiousness even more.
My favorite flour is White Whole Wheat because it is lighter than regular whole wheat - and it still includes all of the bran in the flour.
I have stopped using white all-purpose flour in my recipes because I find that my baked goods with the white whole wheat flour taste almost the same and are healthier for my family.
The great attribute of pancakes is that they are so fast to make. I have added an overnight step because the oats in the recipe get softer when they soak up the milk. They add a nice texture when you get around to making them.
You can leave this in the fridge for a couple of days and then cook as needed or cook them all at once and pop them in the microwave to reheat. These are perfect for a first day of school breakfast.
These are also a great anytime snack. Don't they look like a cookie?
How do you make your pancakes healthy?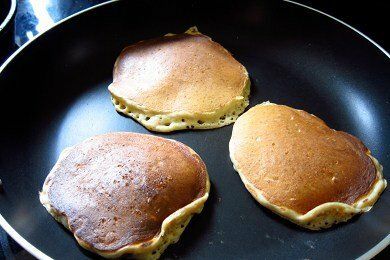 Super Improved Overnight Pancake Recipe
(make 9 pancakes)
Ingredients
3/4 cup whole grain flour (wheat, oat, etc.)
3/4 cup rolled oats (not instant)
1 tsp baking soda
1/2 tsp salt
1 Tbs sugar
1/2 cup yogurt
3/4 cup milk
2 eggs
Instructions
Mix ingredients together in a large bowl. Place in refrigerator overnight.
In the morning, pour batter (about ¼ cup for each pancake) ina heated non-stick pan until bubbles begin showing on the surface. Turn pancake over with spatula - wait 2 minutes and serve.
Nutrition Facts
One pancake using low fat milk and low fat yogurt = 102 calories, 2.1 g fat, 16.0 g carbohydrates, 4.6 g protein, 1.0 g fiber, 300 mg sodium, 3 Points+
Points values are calculated by Snack Girl and are provided for information only. See all Snack Girl Recipes
Other posts you might like:
---

I know what you are thinking. How can a muffin save a life? Don't we usually use things like electrified paddles?....
---

Cereal is the most amazingly simple breakfast to serve. All you do is pour from a box....
---
---
Get Free Email Updates! Yes please!
---