Take On The Prickly Fruit: In Season and Super Sweet
Pineapples are in season right now and costing about $2 each in my neck of the woods. YUM!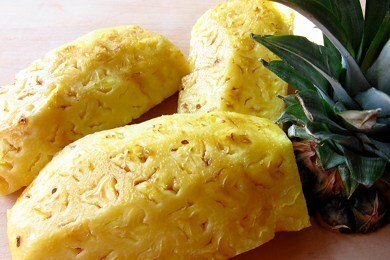 A large pineapple will give me about four large servings for dessert (a mere 50 cents each). I have advocated for canned pineapple because it is cheap and already cut up - but this time of year is a good one for the fresh pineapple.
First, you have to make friends with your pineapple. Grab a lovely green one and eat it soon after buying it - after you display it for all to admire.
"Look, ma! A REAL pineapple!"
Then, you have to get out a large knife and cut it up. Check out the video below from the Produce Geek:
Cut off the top and bottom - slice lengthwise into quarters - core - and slice along the spiky peel. I followed his directions and had 4 large hunks of pineapple in no time. If you practiced on a few pineapples - you could do this in a flash.
Now, I suggest tasting it. Is it sweet? The one photographed above was so sweet that I had trouble not eating it before shooting. It didn't need anything to be a great snack all alone (without adulteration).
If you find that it is too sour for you, then you can add some sugar to make it sweeter. I don't think that a little bit of sugar is a big deal when you are eating something as healthy as fresh pineapple.
I called this recipe "Pineapple Surprise" because it surprises me how easy, simple, and delicious a broiled pineapple can be :)
How do you serve pineapple?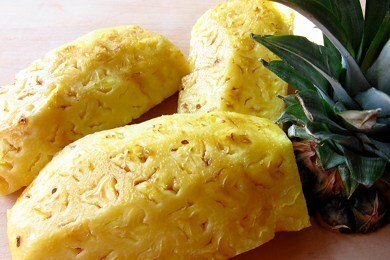 Broiled Pineapple Surprise Recipe

(serves 4)

Ingredients
1 fresh pineapple
4 teaspoons dark brown sugar

Instructions
Core and peel pineapple into quarters (see above instructions). Heat broiler on high and put pineapple on a baking sheet. Heat for five minutes, remove from oven, and using a spoon rub one teaspoon of sugar onto each quarter.
Serve with fork and knife and enjoy!
Nutrition Facts
For one serving = 89 calories, 0.2 g fat, 23.3 g carbohydrates, 0.8 g protein, 2.2 g fiber, 2 mg sodium, 0 Points+
Points values are calculated by Snack Girl and are provided for information only. See all Snack Girl Recipes
Other posts you might like:
---

Summertime is happenin' and I am SURROUNDED by ice cream stands. What is it about the middle of nowhere that leads to the proliferation of ice cream stands?....
---

Yes! You know the vegetable that I am referring to - KALE. Kale is on every list for "healthiest vegetable".
---
---
Get Free Email Updates! Yes please!
---