This Is Not Your Mother's Rice Krispie Treat
Snack Girl has been working on a "new" Rice Krispie treat for a while now. First, I had to change the name.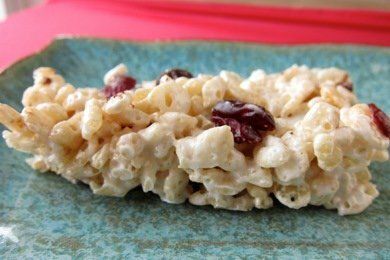 Mine are called, "Crispy Rice Treats", catchy, no?
You don't have to use the famous "Kellogg's Rice Krispies" to make the treats. If you are lucky enough to live near a Whole Foods or natural foods store, they have something called "Brown Rice Puffs" which are the same thing except that they contain the entire rice grain.
These would work for this recipe and give it more nutrients. You can use any PUFFY cereal, really, that you like - wheat puffs, Cheerios, anything you have in your cupboard.
Now, I used marshmallows, which are not exactly the healthiest ingredient. I TRIED honey and it just didn't work.
As I ate them, I kept missing the marshmallows and I couldn't give them up. I have seen marshmallows without Blue #1 at Whole Foods (but I didn't buy them because I am cheap).
I did exchange the butter for coconut oil (in the natural foods section of the supermarket) because it has been getting some good press lately. It seems that the saturated fat in coconut oil is actually good for you! It is called "lauric acid" and unlike saturated animal fats it has been found to increase good cholesterol.
Go figure.
So, I used coconut oil which also imparts a sweetness. If you can't find it, don't be too upset. Just go ahead and use butter.
Finally, I added good stuff - dried cranberries, chopped almonds, and dark chocolate chips and this tray of "Crispy Treats" lasted all of 10 minutes in my house.
These are super fun to make, fast, and very satisfying. My daughter (with a little help) can make them for an afternoon snack and they taste SO much better than any packaged cookie or bar.
My Crispy Rice Treats are defined as TREATS, so watch it on the amounts. I did managed to sneak in some good stuff with the nuts and berries.
And, these treats would be a fantastic addition to a tea party! Foodbuzz, my advertiser, will donate $50 to the Ovarian Cancer Research Fund for every tea party recipe that is submitted to them (and I am submitting this one).
You can select the perfect tea party outfit on Kelly Confidential and they will donate $1 to the Ovarian Cancer Research Fund.
How have you altered your Rice Krispie Treat recipe?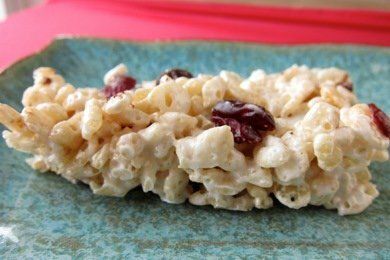 Crispy Rice Treat Recipe

(makes 12)
2 tablespoons coconut oil or butter
2 cups miniature marshmallows or 20 large marshmallows
2 1/2 cups crispy rice or other healthy cereal
1/2 cup raisins or dried cranberries
1/2 chopped nuts (almonds, walnuts, peanuts, etc.)
1/2 cup dark chocolate chips

Spray non-stick spray on 8x8 inch square pan (or equivalent). Melt coconut oil in large saucepan over low heat and add marshmallows. Stir CONSTANTLY until melted and mix in cereal and whatever else you choose to add in. Press into prepared pan. Cool for 10 minutes and cut into squares.
For one treat: 128 calories, 5.6 g fat, 17.4 g carbohydrates, 1.7 g protein, 0.7 g fiber, 57 mg sodium, 3 Points+
Points values are calculated by Snack Girl and are provided for information only. See all Snack Girl Recipes
Other posts you might like:
---

Packaged cereal is a quagmire of marketing HOOEY. For example, I have seen Kellogg's emphasizing high fiber on its boxes of "Apple Jacks"....
---

Bored with the same old apple and peanut butter? Love to eat cookie dough out of the bowl?....
---
---
Get Free Email Updates! Yes please!
---