Dress Up Your Apple Slices With Cookie Dough Dip
Bored with the same old apple and peanut butter? Love to eat cookie dough out of the bowl?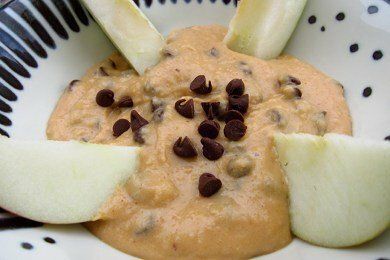 Well, I have a solution for you! And, get this, it involves chickpeas.
Chickpeas were just featured on Dr. Oz as one of the cheapest and most nutritious foods you can eat. I am sure that when Toll House hears about this - they will start including chickpeas in their famous chocolate chip cookie recipe.
This crazy dip concept was sent to me by Julie, who saw it (with much better photos than mine) on papillon.
This is vegan cookie dough dip - no butter or eggs are used to make this work. This also involves just one bowl (your food processor) and zero cooking.
Think of it like "cookie dough hummus". This is seriously fun to make with the kiddos.
There is 1/2 cup of sugar in this recipe (or it wouldn't work) and it boils down to about 1 teaspoon of sugar per serving (1 tablespoon) - which I realize is not a healthy amount.
Keep this cookie dough dip in the TREAT category. Keep in mind that if you compare it to regular cookie dough (with the butter and eggs) you are doing much better in terms of saturated fat intake with this dip.
Serve it at a party and don't tell anyone about the chickpeas!
You could have a game - "name the mystery ingredient in the cookie dough dip" and the person who guesses correctly gets a can of chickpeas. No one will accuse YOU of having dull parties.
This dip works with apple or pear slices, in yogurt, on oatmeal or just straight into your mouth :0
What do you think of cookie dough dip?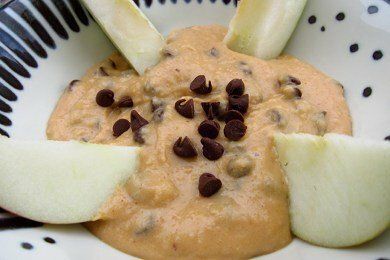 Cookie Dough Dip Recipe

(makes 2 cups)
1 - 15 ounce can chickpeas
1/2 cup light brown sugar
1/4 cup almond or soy milk
1/4 cup peanut butter
1 tsp vanilla
1/2 cup mini chocolate chips

Drain and rinse chickpeas. Put all ingredients in food processor and blend until very smooth. Serve! Store in refrigerator for one week.
one tablespoon = 78 calories, 2.7 g fat, 11 g carbohydrates, 3.0 g protein, 2.3 g fiber, 14 mg sodium, 2 Points+
Points values are calculated by Snack Girl and are provided for information only. See all Snack Girl Recipes
Want to read about snacks?
Fab Snack Finds For Keeping It Fun
Mix Up These Healthier Corn Muffins In A Jiffy
Five Restaurant Tips For People Who Love Food
What You Need To Know About 50% Less Sugar And Calories In Juices
---
Get Free Email Updates! Yes please!
---