Fab Snack Finds For Keeping It Fun
Snack Girl LOVES to surf.....the internet. Actually, I have tried actual surfing in the ocean and my style is more "under the water" surfing.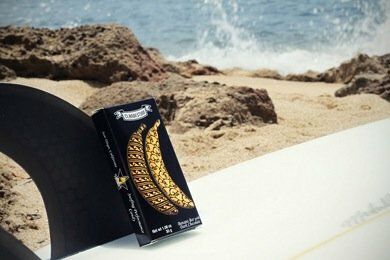 Above is a photo of surfing candy that is much better for you than your Snickers Bar. Clandestino Candy makes a "banana energy bar" that is simply dehydrated banana covered in dark chocolate in a cute package (see above).
This is a great energy snack compared to those terrible energy drinks (Monster) - and its marketing seems to sing to teenagers (and 42 year old mothers who want to drive convertibles). They taste delicious - sweet, chocolatey and luxurious.
Think of them as a "healthier for you" treat!
Nutrition facts for one bar of chocolate covered banana candy:
109 calories, 2.5 g fat, 20 g carbohydrates, 1 g protein, 2 g fiber, 7 mg sodium, 3 Points+
They cost $1.30 each and can be found here: Clandestino Retailers - I hope they get an online store soon!

Dried fruit is a great solution when you are out of fresh fruit. "That's It" came up with a bar that includes ONLY the fruit photographed on the front of the package. So, you get one apple and one pear in your apple-pear bar.
The other flavors are apple and cherry and apple and apricot. These are a great addition to your purse or backpack to keep you from the crappy snacks in the convenience store.
Nutrition facts for apple pear bar:
100 calories, 0 g fat, 27 g carbohydrates, 1.0 g protein, 3 g fiber, 15 mg sodium, 3 Points+
You can buy them for about $2 per bar on their site here: That's It Fruit or on Amazon.com (below).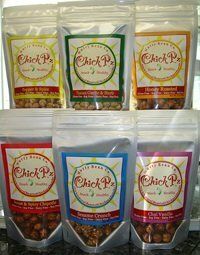 Like munching? Why don't you try some roasted chickpeas? I have tried to make roasted chickpeas in the oven - and they just didn't work out. The "Nutty Bean Co." has come out with a whole bunch of flavors for your chickpea consumption.
It really is hard to get more nutritious than beans! There is over 10% of your daily value of Iron in a package - and there is lots of fiber, too.
These come in 6 flavors - Sesame Crunch, Tuscan Garlic & Herb, Chai Vanilla, Hot & Spicy Chili, Pepper and Spice, and Honey Roasted. Just think of them as a healthier version of a peanut.
Nutrition facts for 1/2 package of Sesame Crunch:
100 calories, 4.0 g fat, 17 g carbohydrates, 4 g protein, 4 g fiber, 280 mg sodium, 3 Points+
These products were received for review consideration. No other compensation was provided.
---
$22.38 ($1.55 / Ounce) Buy on Amazon.com
As an Amazon Associate I earn from qualifying purchases.
---
Other posts you might like:
---

See those lovely jars of apple butter? Snack Girl made them in a fit of unbridled domesticity....
---

Above is a photo of Frani now, she has lost over 74 pounds in 16 months and graciously submitted to an interview with Snack Girl....
---

Snack Girl has a problem with "Restaurant Survival Guides". Ummm, when did a trip to a restaurant become a trial?....
---

Healthy baked oatmeal is always a hit in my house. It is like a muffin (and like a pudding).....
---