Healthy Stuffed Acorn Squash **VIDEO**
Stuffing squash should be an easy win for the healthy crowd.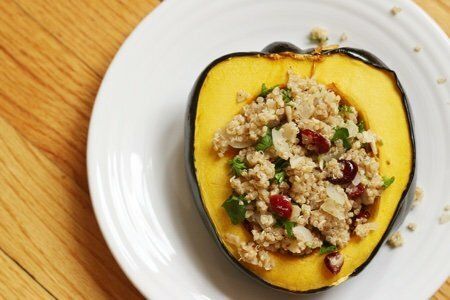 Acorn squash is beautiful, packed with fiber and vitamins, and easy to make. Check out my lighter roasted acorn squash or my roasted sugar pumpkin recipe if you are looking for a fast fix.
Right now, squash is one of the only foods that I can buy locally since the ground is frozen. Squash, potatoes.....not much else. People tend to only eat squash at Thanksgiving but that is silly! Winter squash is great all winter long.
We tend to stuff things with bread soaked in olive oil or butter, and sausage. Yikes! But stuffing can be healthy. All you have to do is choose to use ingredients that a flavorful on their own.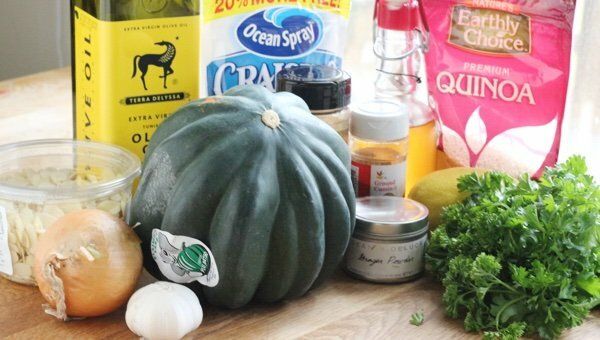 As you can see, I don't have any bread or sausage in the ingredients for this stuffed squash. I used quinoa and cranberries and it tasted delicious. The key is getting the spices to complement the squash.
Anybody can make butter soaked bread taste good! Quinoa is another kind of challenge.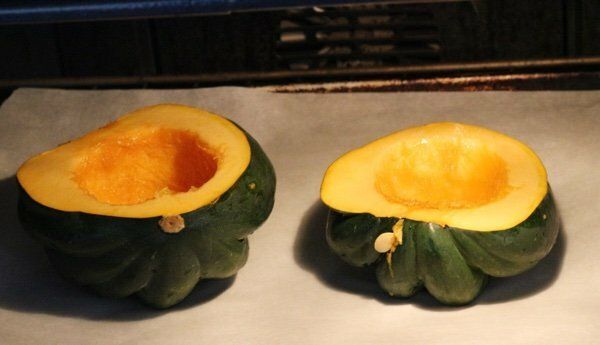 First, you roast the acorn squash which is incredibly easy. Acorn squash (unlike butternut) is easy to slice and clean. All you do is brush a little maple syrup on it. You don't have to peel this squash – which is pretty much impossible anyway.
I always slice the rounded part of the squash so it sits up and doesn't roll all over the place.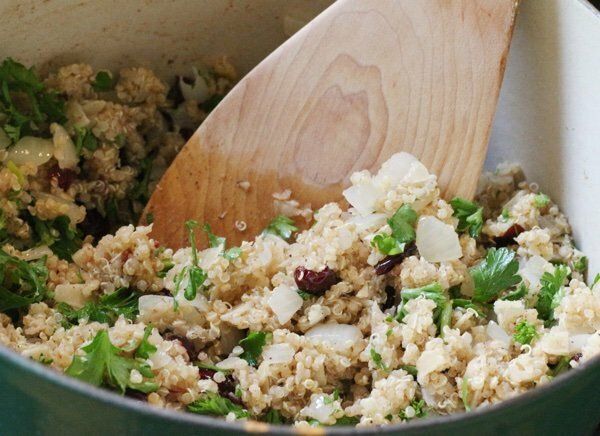 You make the stuffing while the acorn squash is roasting and it isn't hard. I like eating this quinoa stuffing on its own. The recipe makes far more stuffing than you can put into the acorn squash and you will be glad! It is perfect to eat on a bed of spinach or on its own.
The earthiness of the quinoa pairs well with the sour, sweet cranberries. This is a great alternative to the wild rice stuffings which the low carb people are avoiding. This dish is very low in calories primarily because you aren't using sausage or bread – but don't tell anyone!
You can serve this with a little extra maple syrup to drizzle on top. I like to eat it warm or at room temperature.
WATCH THE VIDEO ☺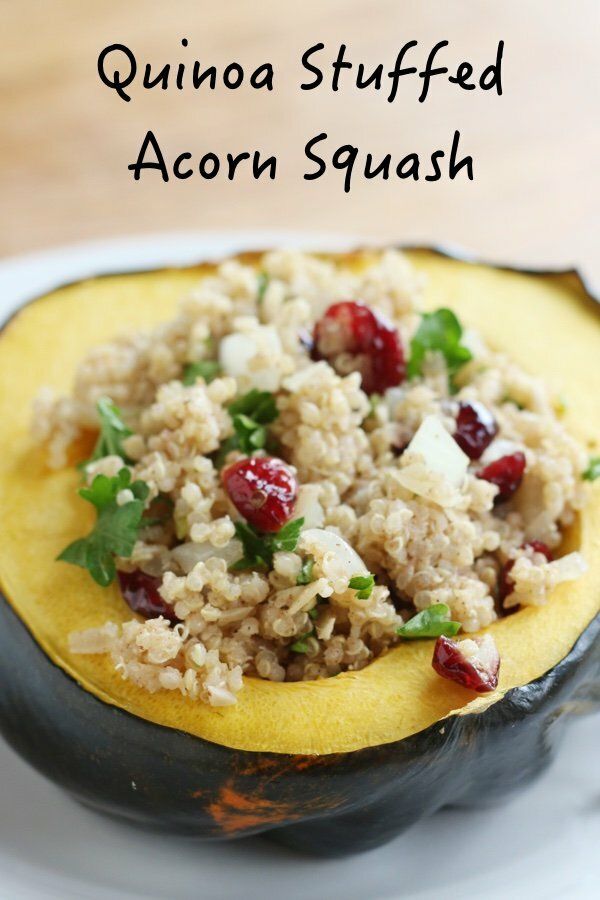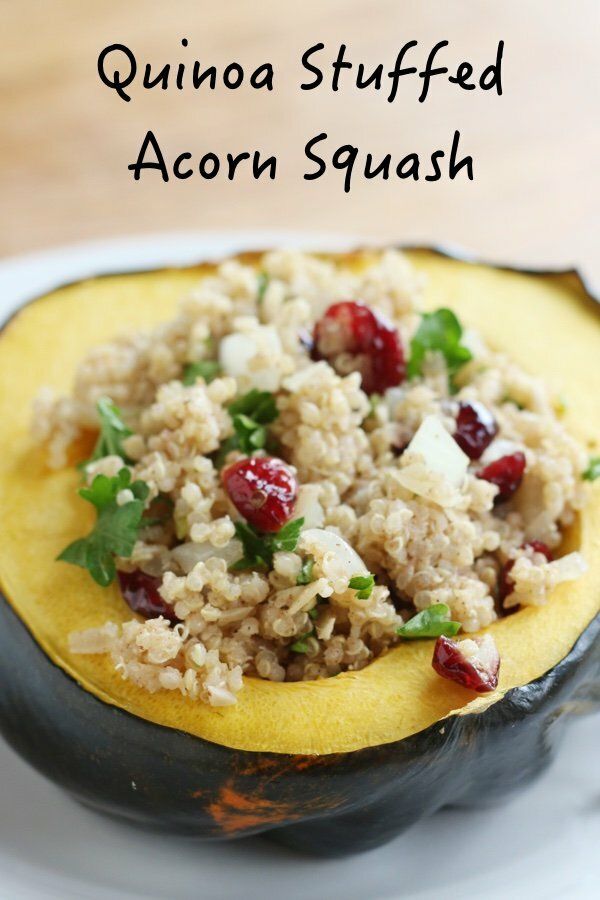 Quinoa-Stuffed Healthy Acorn Squash Recipe
Makes 8 servings
Ingredients
1 – 2lb acorn squash or 2 1lb acorn squash
1 tablespoon maple syrup
½ cup quinoa (uncooked)
1/3 cup chopped almonds
1 tablespoon olive oil
1 medium onion, diced
1 teaspoon ground cumin
½ teaspoon ground cinnamon
¼ teaspoon ground ginger
1 tablespoon fresh lemon juice
1/3 cup dried cranberries
¼ cup fresh parsley, chopped
salt and pepper to taste
Instructions
Heat oven to 375 F. Line a baking sheet with foil or parchment paper. Cut the squash in half down the center and clean out the seeds. Brush the inside of the squash with maple syrup and roast for 40 minutes or until tender.
While the squash is roasting, rinse quinoa in a fine meshed sieve. Heat quinoa and 1 cup of water in a small saucepan and bring to a boil. Cover and simmer until water is absorbed – about 10 minutes.
In a large saucepan, heat olive oil. Add onion and cook until softened (about 3 minutes). Add almonds to toast for about 2 minutes. Remover the pan from heat and add cook quinoa, onion, garlic, cumin, cinnamon, ginger, lemon juice, dried cranberries, and parsley. Taste and adjust the seasonings with salt and pepper.
When acorn squash is ready, stuff with quinoa mixture. Serve immediately or store separately for later consumption.
Nutrition Facts
One serving is 140 calories, 4.6 g fat, 0.5 g saturated fat, 23.3 g carbohydrates, 2.5 g sugar, 3.5 g protein, 3.6 g fiber, 7 mg sodium, 4 SmartPts
Points values are calculated by Snack Girl and are provided for information only. See all Snack Girl Recipes
Other posts you might like:
---

I must confess to a certain dislike of squash. The season is NOW and the fresh squash is rolling in around here so I am trying to change my bad attitude....
---

This roasted sugar pumpkin recipe is not sweet. Instead it is salty, sour, sweet, and fun to make.....
---
---
Get Free Email Updates! Yes please!
---