Punch Up Your Salad With Homemade Croutons
Is your salad getting you down? Mine tends to be always the same.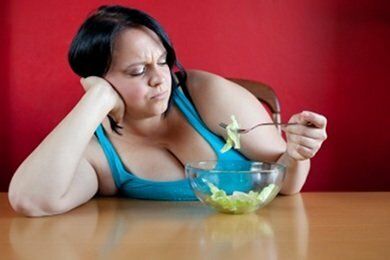 I try to find fun stuff to mix it up, like cherry tomatoes or cucumber slices, but I tend to make the same thing almost every day.
Croutons, also know as toasted bread squares, are a nice crunchy addition. I usually buy my croutons. A friend of mine recently pointed out that I could make them.
Make them? What do I look like Martha Stewart? Actually, she told me that it wasn't that hard and I found myself finding the time because my kids LOVE croutons. Packaged croutons tend to have a lot of sodium and some strange additives that I would rather avoid, so I gave it a try.
This is my product: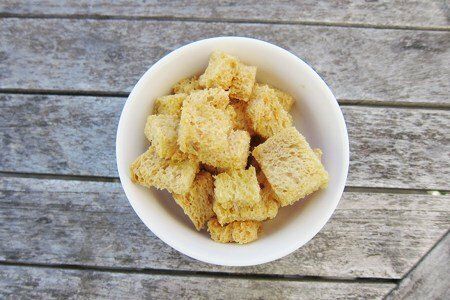 Yes, these babies were simple to make and my salad was improved. These are also good in soup instead of crackers. My kids kept eating them when I wasn't looking.
Look for 100% whole wheat bread with a short ingredient list for a healthier crouton. Whatever bread you have will work (gluten free, stale, etc.) for croutons and you don't have to make 6 slices.
For one slice, brush a little olive oil on and sprinkle some salt and toast in the toaster oven. Just don't forget the salad part :)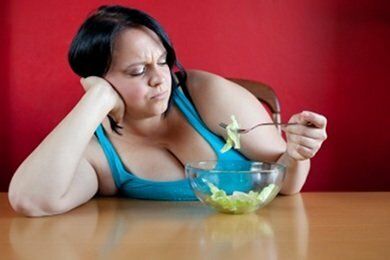 Homemade Croutons Recipe
Makes 4 cups
Ingredients
6 slices 100% whole wheat bread, crusts trimmed and cubed
3 tablespoons olive oil
1 teaspoon salt
2 teaspoons dried herbs (sage, oregano, basil, etc.)
Instructions
Heat oven to 350 F. In a large bowl mix olive oil, salt, and herbs until salt is dissolved. Toss in the bread and coat with dressing. Lay bread on a rimmed baking sheet in one layer. Bake for 15 minutes, toss, and bake for another 15 minutes.
Croutons are ready when crispy. Store in tightly sealed container for up to one week.
Nutrition Facts
For ¼ cup = 60 calories, 3.2 g fat, 0.6 g saturated fat, 7.5 g carbohydrates, 1.1 g sugar, 1.9 g protein, 1.5 g fiber, 187 mg sodium, 2 Points+
Points values are calculated by Snack Girl and are provided for information only. See all Snack Girl Recipes
Other posts you might like:
---

Someone put something on that naked salad up there! Man, that looks cold....
---

Snack Girl got herself a new salad spinner and I thought I would share the fun. Hey, a new kitchen gadget is something to brag about in my house....
---
---
Get Free Email Updates! Yes please!
---