Never Buy Salad Dressing Again
Someone put something on that naked salad up there! Man, that looks cold.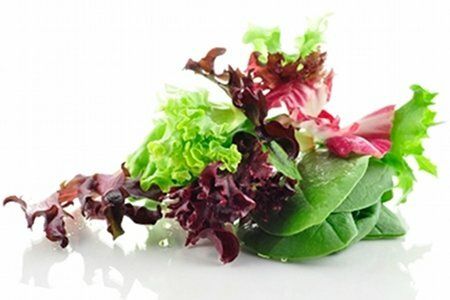 And a wee bit boring.
I am a fan of putting dressing on my salad or other raw vegetables. Turns out that it is healthier to use a little fat to aid the digestive system to absorb the nutrients in lettuce and other vegetables - see: A Little Fat Helps the Vegetables Go Down.
Isn't that funny? It tastes better and it is better for you as long as you don't drown your lettuce so it needs to be rescued by a lifeguard.
Here is the label from a popular dressing in the supermarket:

Okay, there are a lot of ingredients there and the first one is water. Water isn't one that I would think of when it comes to dressing. The second, soybean oil, lacks flavor. When I eat a salad, I want it to taste delicious. There are a bunch of ingredients here that many of you will not like. This is a label for ranch dressing - and my friend Katie shared a great homemade one here: healthier ranch dressing.
My favorite salad dressing is comprised of oil, vinegar, and a little Dijon mustard. Ina Garten, the Barefoot Contessa, has an informative and fun video on her site for how to make vinaigrette: Ina Garten Makes Salad Dressing.
I mention Ina because I love her work, and my salad dressing is almost the same except for these facts:
1. No garlic - I am too lazy to chop it.
2. She whisks in a bowl - I shake in a Mason jar. No whisk or bowl to clean up and I can store it in the fridge.
3. She is a much better chef. I mean LOOK at her salad. yum.
Here is a photo of my "house" dressing (ha!):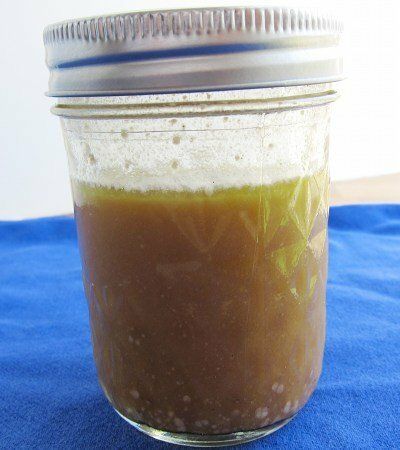 Ina and I agree on California olive oil. I am a fan of California Ranch olive oil, which I can find at my Stop & Shop. It has a buttery flavor without any bitter or spicy kick and is my favorite for the price. To make a tasty salad dressing, you MUST have good quality olive oil. I know that sounds like I am some Food Network tyrant, but I have tried lesser brands and they just don't taste very good.
Do you make your own dressing? What do you use? Please share.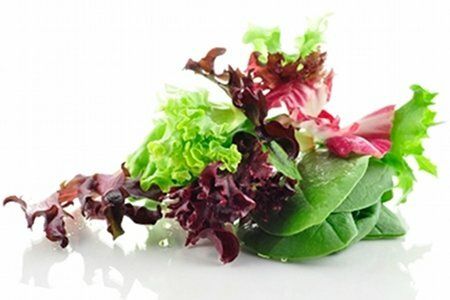 Homemade Green Salad Dressing Recipe
Makes about 3/4 cup
Ingredients
1 teaspoon Dijon mustard
3 tablespoons wine vinegar
1/2 teaspoon salt
freshly ground black pepper
1/2 cup good quality extra virgin olive oil
Instructions
Mix mustard, vinegar, salt, pepper, and extra virgin olive oil in a small jar by shaking it. Pour over washed fresh lettuce. Store leftover in your refrigerator for a month.
Nutrition Facts
For 1 tablespoon: 74 calories, 8.4 g fat, 1.2 g saturated fat, 4.8 g carbohydrates, 0 g sugar, 0.0 g protein, 0.0 g fiber, 152 mg sodium, 3 Points+
Points values are calculated by Snack Girl and are provided for information only. See all Snack Girl Recipes
---
$14.49 Buy on Amazon.com
As an Amazon Associate, I earn from qualifying purchases.
---
Other posts you might like:
---

Snack Girl got herself a new salad spinner and I thought I would share the fun. Hey, a new kitchen gadget is something to brag about in my house....
---

Can you believe those colors? You know how they say to "eat the rainbow". Here is your chance!....
---
---
Get Free Email Updates! Yes please!
---