A Ranch Dressing Makeover For All You Salad Lovers
Last week, I posted about grilling Romaine lettuce and a bunch of you asked for recipes for making your own salad dressing.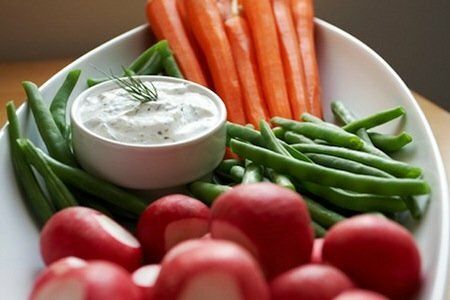 Tada!!! Actually, I was already working on this post with my friend Katie Morford, a registered dietitian and author of the blog Mom's Kitchen Handbook.
She publishes wholesome, family friendly recipes and tackles some of the issues and challenges around raising kids with healthy attitudes about food.
Noticing that this dressing calls for non-fat yogurt and light sour cream, I wanted to find out her philosophy about using reduced fat products in her cooking.
Snack Girl: When is using a low fat product a healthy choice?
Katie: My first priority is always taste. That is a big driver in whether or not I'll buy a lower fat or lower calorie food. For example, I don't eat fat free ice cream because it just doesn't taste good to me. I'd rather have a super satisfying, full fat cone once a month than a fat-free cone every week.
I also look at the ingredients. Fat and sugar add flavor and texture so when you cut those out, food manufacturers sometimes compensate by adding junkie ingredients. It's not worth it to me to buy a fat-free butter spread that is full of artificial ingredients. I'd rather just keep it to a small portion of the real stuff.
In this recipe, I use reduced fat dairy products instead of heavy cream or full-fat sour cream. I leave it up to the cook to decide what type of mayonnaise they want to use since it's only two tablespoons and I don't want folks feeling like they have to run out and buy a special kind of mayo to make it.
Using the lower fat products in this recipe still yields an excellent, creamy dressing but with less saturated fat and calories than a typical homemade ranch. It's also a whole lot healthier than most bottled versions which often have artificial flavors and MSG.
This ranch dressing is lip smackingly delicious, but lower in fat and calories, and purer in ingredients, than bottled brands (although Hidden Valley now makes an organic version that doesn't have the MSG or artificial flavors of the original). Instead of buttermilk for the dressing's signature tang, it calls for plain yogurt since that's a more common household staple.
Light sour cream and a touch of mayonnaise round out the richness. Chives and garlic give it zing. The whole thing gets whirled all at once in the food processor.
The dressing is a little on the thick side. For a vegetable dip, keep it as is. If using it to dress a salad, whisk in a little milk until it thins to your desired consistency. You can play around with the amount of garlic, cutting it to half of a clove to start if you are sensitive to the taste.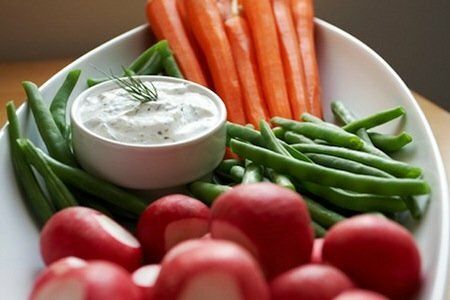 Healthier Homemade Ranch Recipe
reprinted from Mom's Kitchen Handbook
(Makes about ¾ cup)

Ingredients
1/2 cup non-fat, plain yogurt
1/3 cup light sour cream
2 tablespoons mayonnaise (regular or light, whatever you have on hand)
2 tablespoons minced chives
1 small clove garlic, peeled
1 teaspoon white wine vinegar
1 tablespoon extra-virgin olive oil
1/4 teaspoon salt
Black pepper to taste

Instructions
Put the yogurt, sour cream, mayonnaise, chives, garlic, vinegar, olive oil, and salt in the bowl of a food processor. Add a few grinds of black pepper. Whirl until smooth. If you don't have a food processor, finely mince the garlic and whisk all of the ingredients in a medium bowl until smooth.
Store in the fridge.
Nutrition Facts
For ¼ cup = 150 calories, 13.1 g fat, 6.0 g carbohydrates, 3.2 g sugar, 2.8 g protein, 0 g fiber, 302 mg sodium, 4 Points+
Points values are calculated by Snack Girl and are provided for information only. See all Snack Girl Recipes
Other posts you might like:
---

What am I talking about? Romaine lettuce IS boring!....
---

If it would just STOP raining, Snack Girl would get excited about Memorial Day weekend. Click your heels together and repeat after me, "My children will not watch twenty hours of TV over Memorial Day weekend."....
---
---
Get Free Email Updates! Yes please!
---