The Deception of Honey Maid Grahamfuls
A new snack has arrived from Nabisco, Honey Maid grahamfuls. They are in a blue box that features fluffy clouds and grass.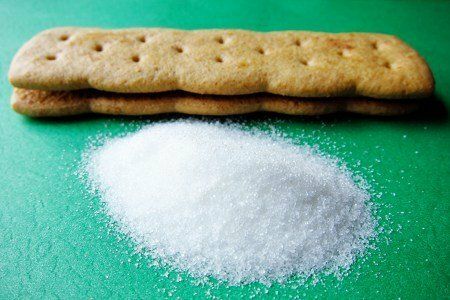 The claims on the box include:
100% Whole Grain
No High Fructose Corn Syrup
No Artificial Flavors
Good Source of Calcium
When I received these from Nabisco, I said to my husband, "Hey, these look pretty good." and he said, "Look at the sugar content."
hmmm. It has 8 grams of sugar which I didn't think was that bad until I looked at the SIZE of the cookie. Here is another shot: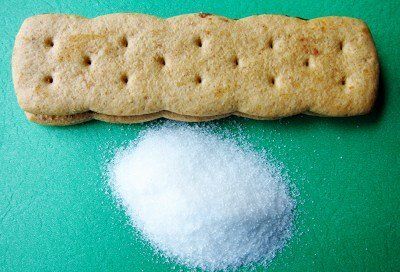 There is 8 grams of sugar in just 25 grams of cookie. That means that 30% of this cookie is sugar. The photo above is of 8 grams a sugar next to the cookie - does it look like a third to you?
Do you think that all those other claims trump the amount of sugar in this cookie? These are not your mother's graham crackers.
For comparison, take a look at the Uncrustable that I reviewed last week and got flamed for liking. It has 6 grams of sugar in 58 grams of sandwich - that is 10% sugar. An medium apple has about 19 grams of sugar in 182 grams - 10% sugar.
Enough math!
The idea here is not only do you have to look at the sugar grams - but you need to look at how large the product is to determine if it is a healthy amount.
All you have to do is taste one of these to KNOW it is not a healthy snack and is a cookie. They are super sweet and remind me of Oreos (41% sugar).
Do not allow products to trick you with their "Whole Grain" promise. These grahamfuls only have 1 gram of fiber per serving and they are a TREAT.
The nutrition facts for one "filled cracker" is:
110 calories, 4 g fat, 18 g carbohydrates, 8 g sugar, 1 g protein, 1 g fiber, 95 mg sodium, 3 Points+
What do you think of Honey Maid grahamfuls?
This product was received for review consideration. No other compensation was provided.
---
Other posts you might like:
---

Have you noticed these at the end of the aisle as you cruise the outer edge of the supermarket? They are hard to miss....
---

Snack Girl has to be honest with you. I have always hated Luna bars....
---