The Whole Nutrition Bar For Women (Luna) - Is It Marketing Hooey?
Snack Girl has to be honest with you. I have always hated Luna bars.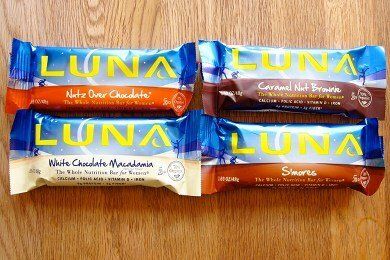 This bias has meant that every time someone asked me about them I just say that I hate them. But this e-mail from Liza was too compelling not to answer:
I'm a busy working mom, and sometimes get into a pinch... My personal trainer recommended Clif or Luna bars for those mornings when I just don't have time to make anything before heading to the gym.
I tried the Luna bars (Nutz Over Chocolate), and really liked them. I did a little research on their site, but I'm no expert like you.
Have you tried these bars? Do you think they're safe to incorporate for my "in a pinch" mornings? Or should I keep looking?
Okay, Liza, I went ahead and bought 4 of the flavors that I thought I might like. In the past, my first Luna bar was given to me by a friend and it had a strange texture and taste. It was like a sweet and salty crunchy lemon cookie but without any of the true joy of the cookie.
I proceeded to give one of these to my friend Larry. He said, "I think this tastes terrible. I would rather eat an apple." For the record, he did not grow up breasts after eating them. he he :)
Since you are going to eat these for breakfast, I decided to put them up to the "Healthy or Crappy Cereal Test" as I did the BelVita breakfast bars.
---
Healthy or Crappy Cereal Test
1. Is the first ingredient whole grain? Maybe. It is not a good sign that the first ingredient is "LunaPro Soy Rice Crisps". I have asked the company if it is a whole grain and am awaiting an answer.

2. Is there 5 grams or less of sugar per serving? No! There is 11 grams of sugar per serving (yikes).

3. One serving must provides at least 4 grams of fiber. You can remember this one with Four Fiber. No! It has 3 grams of fiber.

---
Basically, I think you can do better with a less processed breakfast. Grab an apple, some peanut butter, a bag of whole grain cereal. How about a 100% whole grain bread peanut butter and jelly sandwich?
Here are the nutrition facts for a "Nutz Over Chocolate" Bar:
180 calories, 6 g fat, 25 g carbohydrates, 9 g protein, 3 g fiber, 190 mg sodium, 5 Points+
and the ingredients:
LunaPro ® (Soy Rice Crisps [Soy Protein Isolate, Organic Rice Flour], Organic Toasted Oats [Organic Rolled Oats, Organic Dried Cane Syrup], Organic Soy Flour, Organic Flaxmeal), Organic Brown Rice Syrup, Coating (Organic Dried Cane Syrup, Organic Cocoa, Palm Kernel Oil, Organic Palm Kernel Oil, Organic Soy Lecithin, Organic Vanilla), Inulin (Chicory Extract), Organic Peanut Butter (Organic Peanuts, Salt), Organic Peanuts, Organic Peanut Flour, Natural Flavors, Organic Oat Syrup Solids, Vegetable Glycerine, Sea Salt.
There are a bunch of great ideas for "Grab and Go" breakfasts in the comment section of the BelVita breakfast bars post. Here is mine:
Bag of Kashi Heart To Heart Cereal, apple, and cheese stick
Hard boiled eggs, orange, whole wheat crackers
---
Other posts you might like:
---

Snack Girl recently visited one of her bestest buddies and she had a big cookie jar filled with CLIF BARs. I found myself munching on them and wondering if they were any good for me....
---

Snack Girl wishes that she liked packaged bars. Most of them are reaching for a nutrition halo that they simply don't deserve....
---