How to Make Zoodles
I didn't know how to make zoodles (zucchini noodles) until today. I am wondering what took me so long.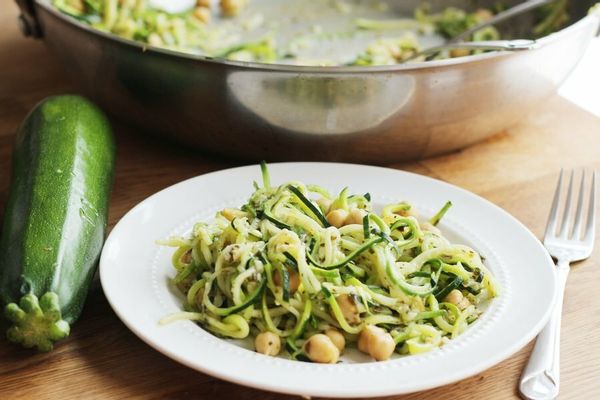 Last year, I wrote about grating zucchini into pasta in a pasta and zucchini recipe and I used a box grater. Many commenters told me to get it together and use a spiralizer to make zucchini noodles. I also sliced zucchini for my baked zucchini lasagna.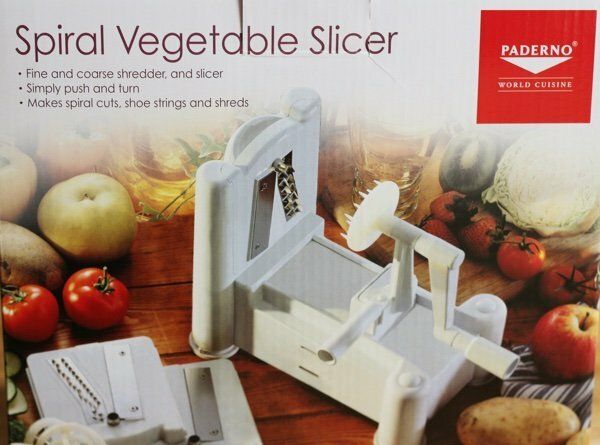 I hate getting a new thing for the kitchen because I have nowhere to put it but I decided to e-mail Paderno to get my hands on one of these slicers (see above). The concept – make low carb pasta with vegetables – is a REALLY good one. Anytime you can eat more vegetables, I am for it.
My friend, Marj, has one of these but she says it is collecting dust in her cupboard. She used it, liked it, and then forgot about it. I am hoping I will love mine!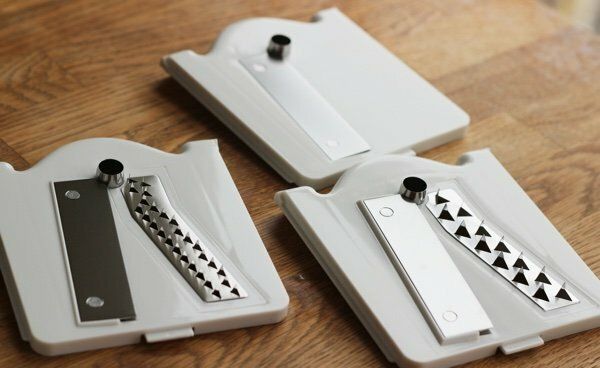 It comes with three blades so that you can make different kinds of "noodles". I was attempting the classic zoodle so I chose the one in with the small holes. The instructions were easy to follow – slide in blade, attach comb to crank, attach zucchini to comb, and then spin it.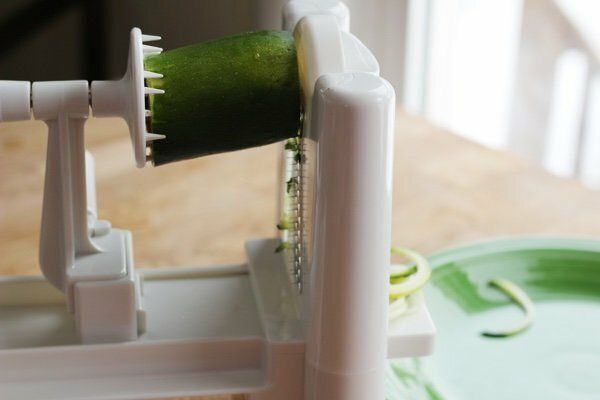 Check it out! Zoodles! This was fast, simple, and (dare I say it) fun! I cranked along spitting them out until I finished one zucchini.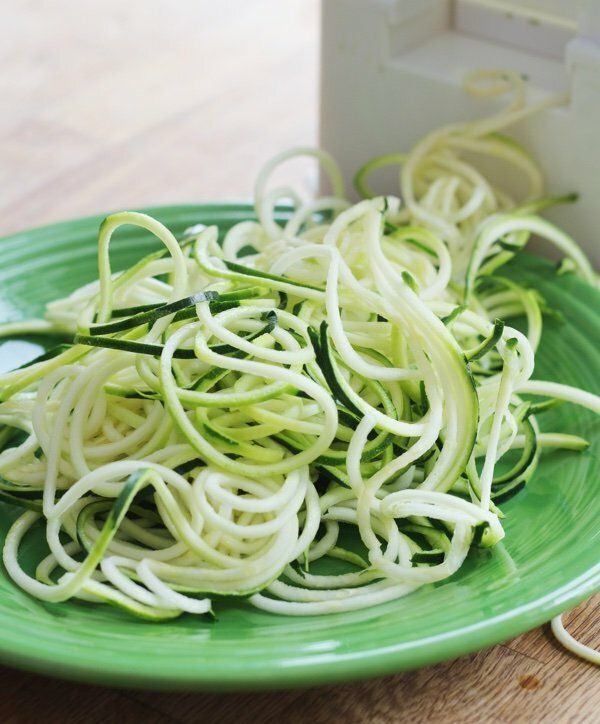 I decided to use two large zucchinis (zoodled) for a simple recipe involving packaged pesto and chickpeas. See below for the recipe. I was in a hurry (as I frequently am) and didn't want to invest too much in these zoodles in case they were terrible.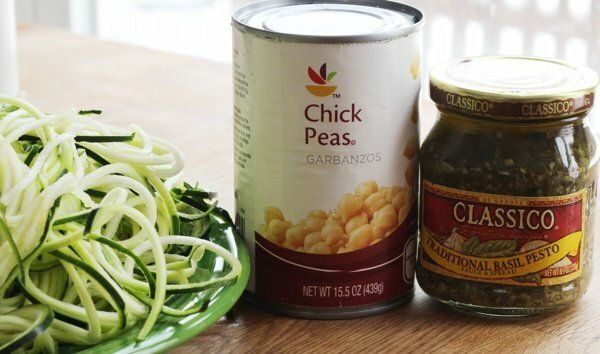 Are these zoodles like actual pasta? No. But, they are seriously good anyway. Forget about pasta and simply enjoy the zucchini. The shape allows them to pick up the pesto and the beans add a texture to break up the noodles.
This was delicious and I was convinced I was going to hate them. Below, I have listed the best selling "Inspiralized" book. I haven't read it but I hear it is good. I may save reviewing it for another day.
You can read more about the Paderno Tri-Blade Spiralizer on Paderno's website. I think it worked well.
Have you tried zoodles? What did you think?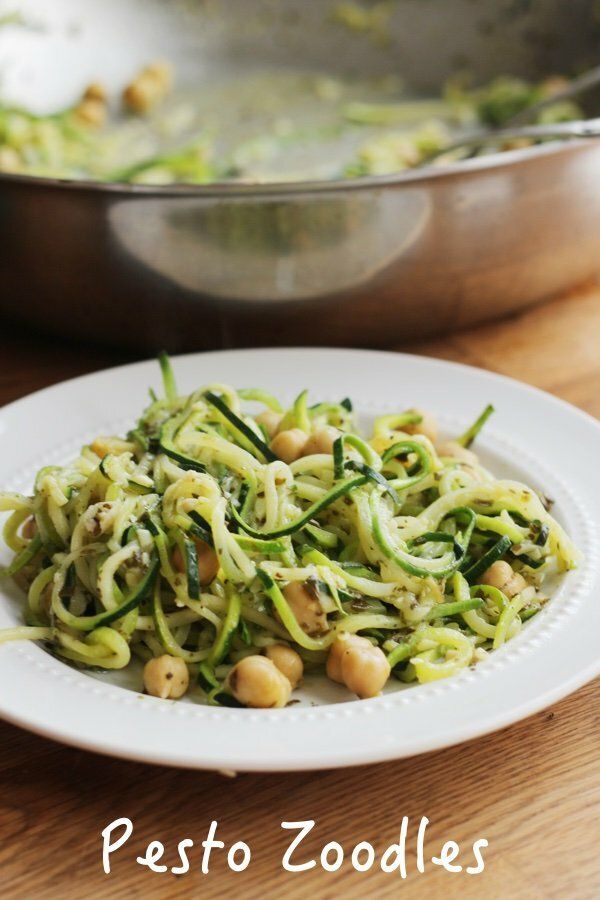 This product was received for review consideration. No other compensation was provided.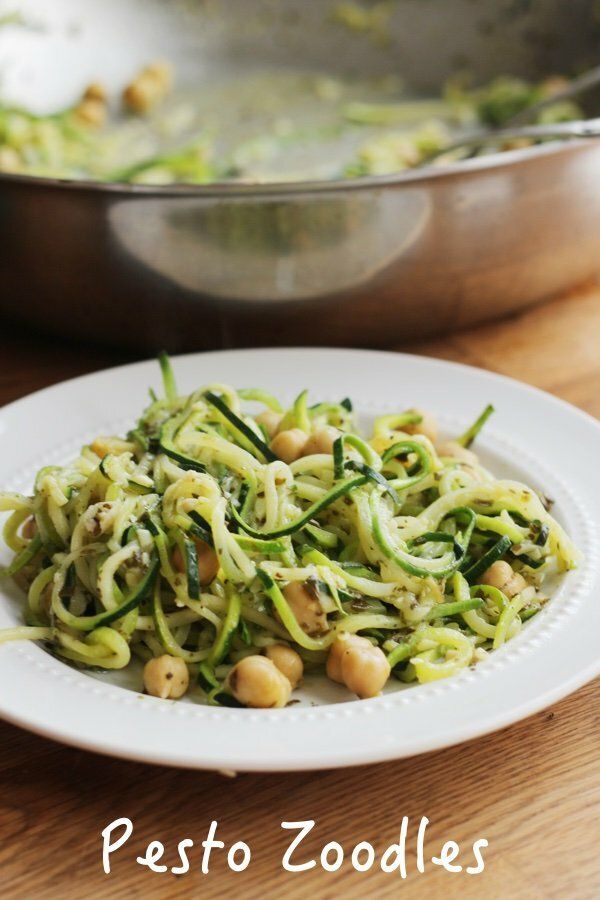 Pesto Zoodles with Chickpeas Recipe

Makes 4, 1 cup servings

Ingredients
3 tablespoons pesto
½ cup canned garbanzo beans (chick peas), drained and rinsed
2 large zucchinis, cut into zoodles
salt and pepper to taste

Instructions
In a large skillet, heat pesto and beans for 2 minutes, stirring frequently. Add zucchini noodles and sauté for five minutes until zucchini is soft but still firm to the bite. Adjust with salt and pepper and serve immediately.
Nutrition Facts
For one cup = 168 calories, 6.7 g fat, 1.2 g saturated fat, 21.3 g carbohydrates, 6.2 g sugar, 7.9 g protein, 6.3 g fiber, 100 mg sodium, 4 SmartPts
Points values are calculated by Snack Girl and are provided for information only. See all Snack Girl Recipes
---
$74.99 Buy on Amazon.com
As an Amazon Associate I earn from qualifying purchases.
---
Other posts you might like:
---

I seem to be on a zucchini kick and this pasta and zucchini recipe is right in line with my thinking on this versatile squash....
---

Lasagna is one of those foods that top favorite foods lists and so I came up with baked zucchini lasagna to help lighten this classic.....
---
---
Get Free Email Updates! Yes please!
---