How to Cook Salmon from Frozen Without Thawing in the Oven
How do you cook salmon from frozen without thawing in the oven? Almost exactly the same way you would cooked thawed salmon.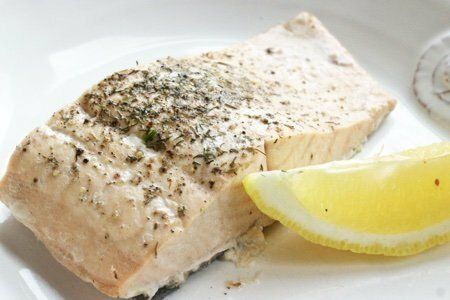 Ever since I learned how to cook salmon from frozen, I have been using it as my go to method for busy nights. I have been using a pan on the stove and the salmon turns out perfectly.
A lot of the time you will find that the fish that you see at your local supermarket or fish monger has been frozen before. They thaw it and then you buy it for immediate consumption.
You can have a great dinner with frozen salmon! Fisherman keep the fish cold and then they are processed (also in a cold processing facility). You get the fillets frozen and they taste fresh.
Have you even thawed your frozen salmon and put your nose up to it? I promise it does not smell fishy (like spoiled). Most of us aren't in the position to get seafood fresh from the sea so frozen is the next best prodcut.
But, I happen to like to use the oven so I can multi-task when I am home. For example my baked salmon and asparagus recipe is super easy and uses the oven to make salmon perfection.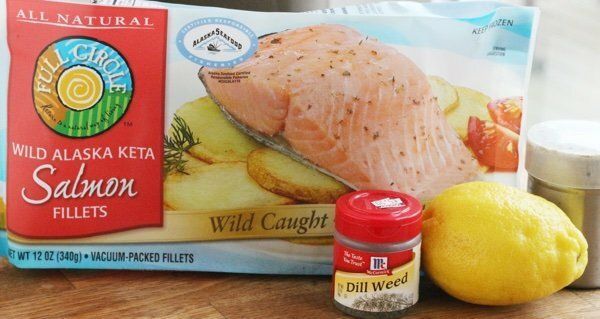 This is also super easy and you can get salmon perfection as long as you take the salmon out of the oven at the right moment.
You simply put some lemon and dill on the frozen salmon and put it in a casserole dish.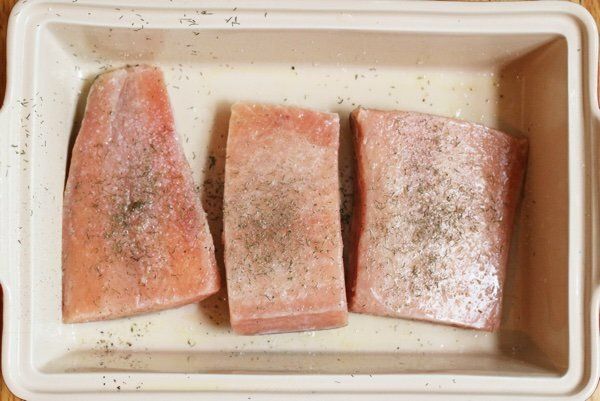 Cover the casserole with either aluminum foil or a lid and bake until done. Simple? You bet!
While it is cooking you can be making a salad, walking your dog, picking up kid's socks, or doing other exciting activities instead of standing over a hot stove.
I serve this with rice, lemon, and a salad. It would taste great served over lettuce with a vinaigrette and add some olives, feta, or watermelon. Summer is coming and I cannot wait to start chowing down on watermelon.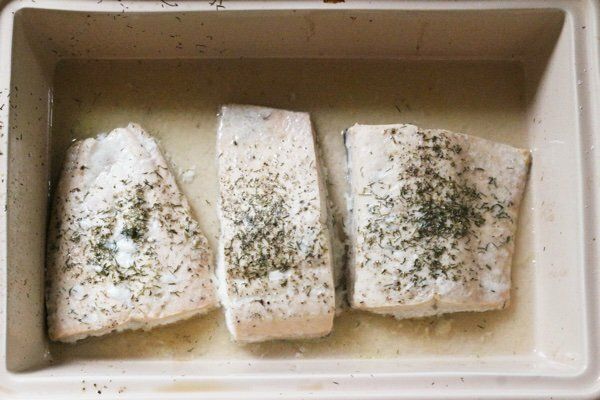 I used a salmon called Keta – which is wild but isn't as pink as some other members of the species. I found it on sale for $8 per pound and for wild salmon that is a good deal.
It is great to understand the the difference between salmon species since they have different amounts of fat in them so they cook a bit differently.
I like sockeye salmon as well but I do stay away from farmed salmon unless it comes from Norway. I have found that I don't like the taste of some farmed Atlantic salmon and they add food coloring to it (which is so weird!).
I wish salmon was less expensive so I could eat it more often because it is such a good source of omega-3 fatty acids and protein (and so low in calories!).
How do you cook salmon?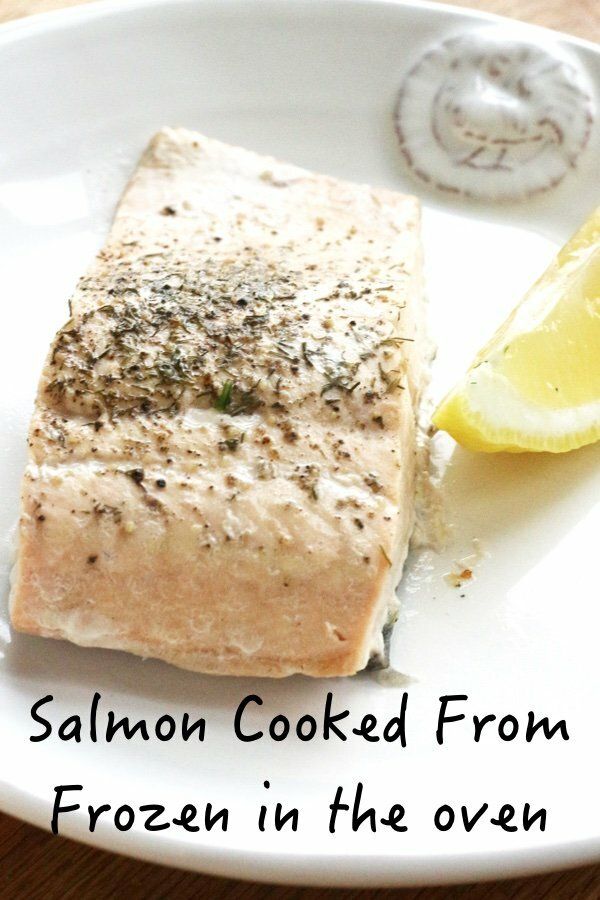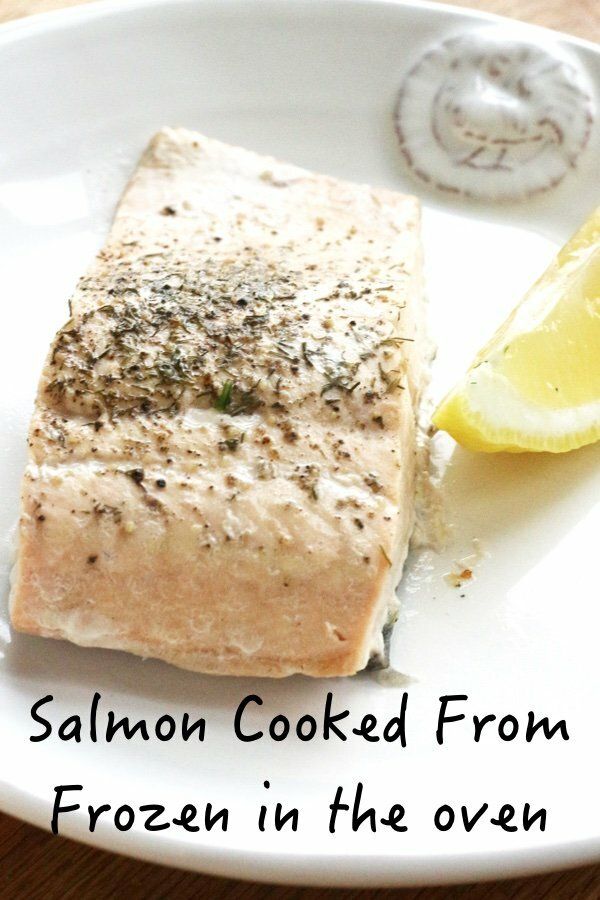 How to Cook Salmon from Frozen Without Thawing in the Oven Recipe
Makes 4 servings

Ingredients
3 frozen salmon fillets 6-8 ounces each

1 lemon, juiced

3 teaspoons dried dill weed

Instructions
salt and pepper to taste

Heat oven to 400 F. Spray casserole dish with a non-stick spray. Add salmon fillets and cover with lemon juice and sprinkle with dill and salt and pepper. Cover the casserole with a lid or aluminum foil. Cook for 30 minutes until salmon is flaky. Serve immediately.
Nutrition Facts
For one serving (6 ounces of salmon) = 182 calories, 8.4 g fat, 1.2 g saturated fat, 0.4 g carbohydrates, 0 g sugar, 26.6 g protein, 0.1 g fiber, 62 mg sodium, 0 Freestyle SmartPts
Points values are calculated by Snack Girl and are provided for information only. See all Snack Girl Recipes
Other posts you might like:
---

I happen to love salmon but I forget to take it out of the freezer for dinner. Does that happen to you? I am going to help you out because I have learned how to cook salmon from frozen.
---

Do you like to get presents? How about opening baked salmon and asparagus?....
---
---
Get Free Email Updates! Yes please!
---