The Best Water Bottle in the World
I am prone to hyperbole when it is warranted.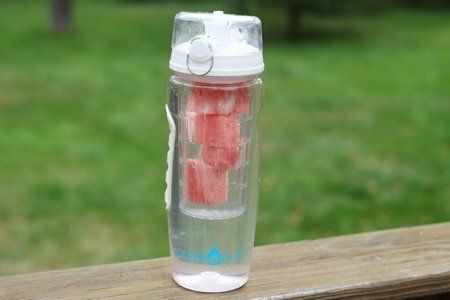 Actually, my son proclaimed this the "best water bottle in the world" when he saw it and I thought that statement was quite funny.
Last week, when I wrote about the mental barriers to losing weight – commenters talked about water. They asked the question,
"How can I enjoy plain water?"
instead of "Can I enjoy plain water?" because the answer came back, "No."
Following this post, I had the great pleasure of visiting Yuma, Arizona the home of Natural Delights Medjool Dates and they gave me this infuser water bottle since it was HOT (like sauna hot).
They had packed it with orange and lemon slices and I refilled it many times throughout the day amazed at the way the flavor lasted (and made drinking water more enjoyable).
I liked this water bottle so much that I moaned when it didn't fit in my suitcase. Determined to find a way for it to fit, I stuffed my socks and underwear in it (then I had to scrub it when it made it home to Massachusetts).
I took it to an author event in Springfield, MA and people asked me more questions about the bottle than my book (sad but true).
You can put all sorts of good stuff in here apples, oranges, lemon, limes, frozen blueberries, strawberries, mangos – whatever you have on hand. I filled mine with watermelon and at the end of the day stored it in the refrigerator. It lasted 2 days before I refilled it with different watermelon.
This will fit in your car's cup holder (most likely) BUT it does leak if tipped over.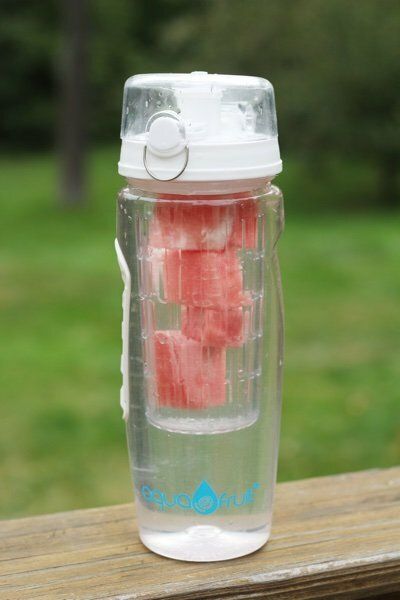 What do you think of this water bottle? Do you think it would help you drink more water and less sugary drinks?
Snack Girl went on a sponsored trip by Natural Delights Medjool Dates. This post is not sponsored.
---
$19.99 $11.99 Buy on Amazon.com
As an Amazon Associate I earn from qualifying purchases.
---
Other posts you might like:
---

Some people love water and others wish it was more flavorful. I am in the "love water" camp, but many of my readers are not....
---