Top Eight Tips For Tastier Water
Some people love water and others wish it was more flavorful. I am in the "love water" camp, but many of my readers are not.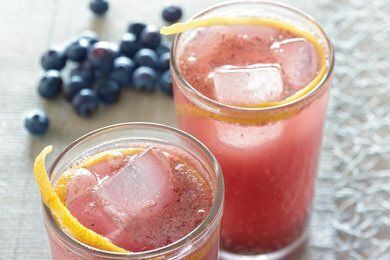 I get many questions about ways to make water taste delicious without adding any calories - especially from the Diet Coke addicts. I hear you because I used to drink Diet Coke every day myself. You can catch me on an airplane now with a Coke Zero - but other than that I don't drink it anymore.
Keeping hydrated is incredibly important because your body depends on water for survival. You will die of thirst way before you will die of hunger. Water makes up more than half of your body weight and you can get seriously grumpy without it.
So, what can you do if you don't like plain water?
1. Buy some peppermint extract and a medicine dropper and make your own "Mint" water. The extract adds zero calories and a refreshing taste.
2. Try the book "Cool Waters" by Brian Preston-Campbell. The photo above is taken from it - here is my post and a recipe from the book which includes 50 tasty water recipes see: How Do You Like it? Water Enhancer With or Without Chemicals.
3. Give flavored seltzer a chance (without artificial sweeteners) if you can find it see: A Refreshingly Sweet Zero Calorie Beverage With No Artificial Sweetener.
4. Get a SodaStream and make your own seltzer. They even have flavor enhancers you can buy without artificial sweeteners - see Soda Stream USA.
5. Squeeze a lemon or lime in your water or buy a powdered form called True Lemon (there are other flavors too). There are no preservatives, artificial colors etc. see: True Lemon.
6. Dilute your juice. Try cutting your juice with water and see how little juice you can use to make it taste good to you. Over time, use less and less juice.
7. Try a fruit flavored herbal tea. There are some great caffeine-free flavors such as peach, blueberry, and apple. Brew some up and chill it.
8. Buy a water infuser and some fresh fruit. See the pitcher below. You add fruit to the center which is filled with holes and you can refill the water when needed.
How do you make water tastier?
---
$31.90 $24.99 Buy on Amazon.com
As an Amazon Associate, I earn from qualifying purchases.
---
Other posts you might like:
---

It is FINALLY beginning to heat up here in the middle of nowhere and Snack Girl loves cold drinks when it is hot outside.
---

If you don't think this little bottle in front of you is cute - you need your eyes checked. The concept - add a some flavor to your water is a good one....
---