Inexpensive & Delicious Salsa in Seconds: JD's Salsa Mix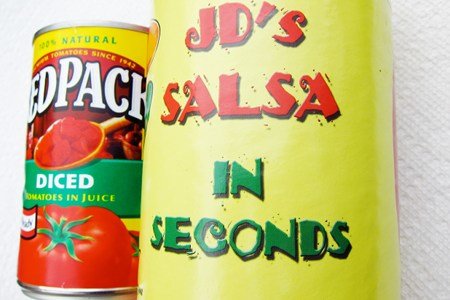 September 10, 2012
Snack Girl thinks you should eat more salsa. Why?
Well, it is very low in calories and adds a ton of flavor to meals. I love mixing salsa in eggs, beans, and rice.
It can be expensive to buy salsa and, if it isn't tomato season, it can be really expensive to make.
JD's Salsa In Seconds is a seasoning mix that you add to a can of diced tomatoes and voila salsa! It is SO easy and will save you a lot of money when compared to buying a jar of salsa.
Check out this video:
Mix one scoop (2 tablespoons) of JD's Salsa spices with a 14.5 ounce can of petite diced tomatoes. Chill for 30 minutes and serve.
JD's Salsa mix is gluten free, low sodium and has zero sugar, MSG, preservatives, or calories. It is a mix of dehydrated spices such as cilantro and garlic that plump up and turn plain tomatoes into salsa.
In addition to salsa, below I have included a super healthy chicken recipe that can be made with JD's seasoning mix. Here is a list of other recipes that customer's of JD's have sent in:
JD's Salsa Recipes.
A quart of salsa mix (hot or mild) makes TWENTY FIVE to THIRTY one cup servings of salsa and costs $20.00 plus $4.95 for shipping. You can order two quarts for $40.00 or three for $60.00 (just scroll down the page).
print
Pin It
JD's Salsa Arizona Chicken Recipe
(serves 6)
6 boneless skinless chicken breast halves (4 ounces each)
1/4 cup canola oil, divided
1 medium onion, sliced
4 cups chopped fresh tomatoes
2 celery ribs, sliced
1/4 cup water
1/4 cup sliced pimiento-stuffed olives
1 scoop JD's Salsa Seasoning
1 teaspoon salt, optional
1/4 teaspoon pepper
1/2 pound fresh mushrooms, sliced
In a skillet, brown chicken on both sides in 2 tablespoons of oil. Remove and set aside. In the same skillet, saute onion in remaining oil until tender. Add the tomatoes, celery, water, olives, Jd's seasoning, salt if desired and pepper, bring to a boil.
Cover and simmer for 15 minutes. Return chicken to pan. Simmer, uncovered, for 15 minutes. Add mushrooms, simmer 15 minutes longer or until a meat thermometer reads 170°.
For one serving = 230 calories, 11.9 g fat, 6.9 g carbohydrates, 4.0 g sugar, 24.0 g protein, 1.9 g fiber, 60 mg sodium, 6 Points+
Points values are calculated by Snack Girl and are provided for information only. See all Snack Girl Recipes
Sponsored by

---
Get Free Email Updates! Yes please!
---