Jimmy Dean Delights: Delightful or Destructive?
What? A 260 calorie Turkey Sausage Muffin? Where can I get one of those?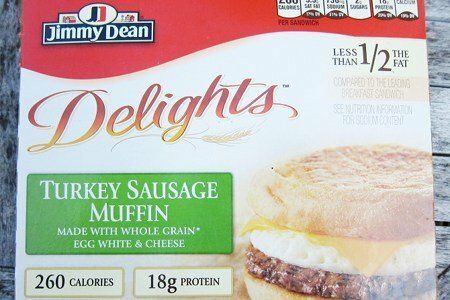 You can find Jimmy Dean Delights In the freezer section of the grocery store. They are low calorie grab-and-go breakfast sandwiches that look like the McDonald's Egg McMuffin. They cost about $7 for four of them (maybe McD's is a better deal).
Before I get into the ingredients, here are the nutritional facts:
One sandwich = 260 calories, 8 g fat, 28 g carbohydrates, 2.0 g sugar, 18 g protein, 1 g fiber, 750 mg sodium, 7 Points+
Holy, moly, guacamole! Check out that sodium amount - it is 31% of your daily value.
Here is something that I don't get about sodium in frozen food. Sodium is used as a preservative (as well as a flavoring agent). You don't need it for preserving because the food is frozen so why not lay off the sodium and add something else - like pepper?
The other thing that gets my panties in a wad is it says on the package "made with whole grain". Hmmmmm. This means they added a wee bit of whole wheat flour so they could put that phrase on the front of the package. Not cool, Jimmy Dean.
How does this compare to the famous Egg McMuffin? Here are the nutritional facts for one Egg McMuffin:
300 calories, 12 g fat, 30 g carbohydrates, 18 g protein, 2 g fiber, 820 mg sodium, 8 PointPlus
So you are doing a little better than McD's in terms of sodium and calories. I tried making my own breakfast sandwiches and ended up with 280 calories. I used whole wheat English muffins, cheddar cheese, egg, and ham.
The Jimmy Dean Turkey Sausage Muffin tasted a pretty good for a frozen breakfast sandwich that includes artificial colors, artificial flavors, and carrageenan gum (among other creepy ingredients).
While I love a good ham, egg, and cheese sandwich for breakfast I realize that this is more of a "treat" than a healthy choice. My suggestion is to lay off the cheese, use a 100% whole grain bread, and add some vegetables like a slice of tomato, green peppers, onions, spinach, etc, in the eggs to add fiber and flavor.
The Jimmy Dean sandwich is trying to convince you it is healthy because it is low in calorie. You guys are way too smart to fall for that!
Have you tried the Jimmy Dean Delights? What do you think of them?
---
Other posts you might like:
---

Seems like everyone and their house, dog, and spouses get makeovers. Perhaps my favorite makeover moment was Oprah's attempt at improving stay-at-home mothers who live in their sweats....
---

The NEW Vitalicious Egg-n-Cheese sandwich is in my Stop-&-Shop's freezer. And it boasts a mere 150 calories per sandwich....
---