Can A Frozen Breakfast Sandwich Cure You Of Your Egg McMuffin Habit?
The NEW Vitalicious Egg-n-Cheese sandwich is in my Stop-&-Shop's freezer. And it boasts a mere 150 calories per sandwich.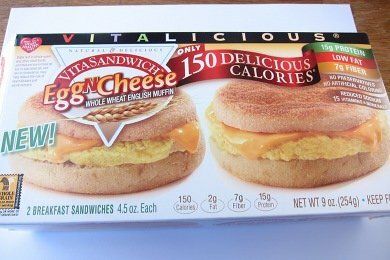 What? (shakes head in amazement)
My review of the Egg McMuffin at the beginning of the month was not positive. The Egg McMuffin is 300 calories and has 820 mg of sodium (yikes).
The Vitalicious sandwich has 150 calories and 356 mg of sodium. Before writing another word, I can tell you that this sandwich is a better choice (but, still keep reading).
The Vitalicious sandwich is literally HALF of the McDonald's sandwich but it pretty much looks the same. Except it isn't.
How did they do it?
They used only egg whites (no yolks included)
There is no ham on the sandwich
They used a whole wheat english muffin
One sandwich is 150 calories, 2 g fat, 23 g carbohydrates, 15 g protein, 7 g fiber, 356 mg sodium, 4 Points+
These are definitely improvements on the Egg McMuffin and they did taste better (but that wasn't difficult :)
Ummm, fabulous, except for a couple things.
At $4.79 a package I can't afford these sandwiches
They taste kinda bland (I added ketchup to make it palatable)
The ingredient list looks like a science project
Take a look at the photo of the Vitalicious Egg-N-Cheese sandwich ingredients below: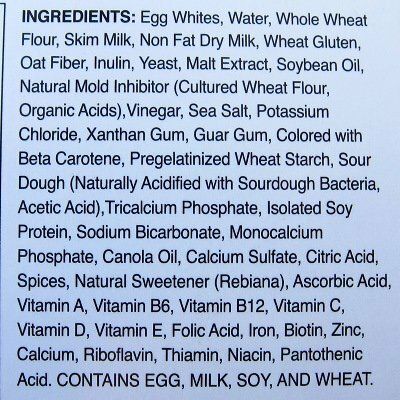 My suggestion is to eat these instead of the McDonald's Egg McMuffin, BUT try to find time to make your breakfast.
This is a great solution for when you are short on time and need something packaged.
For those Weight Watchers fans out there - McD's version is 8 Points+ and Vitalicious is 4 Points+
Any of you try this sandwich? Thoughts?
Want to read about snacks?
THE Valentine's Day Treat
Simply Lovely Valentine's Day Breakfast
My Friends Use To Laugh At Me...And THEN I Made This Broccoli Recipe
The Truth About Energy Shots