Kale Chips: The Legend Continues
Kale chips are a food that everyone is eating. And, when I mean everyone, I mean my kids will wolf them down.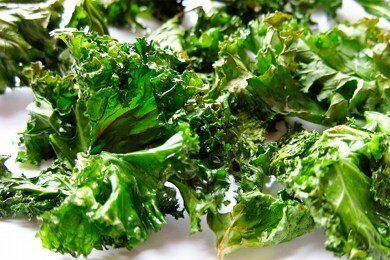 Why have they grown in popularity? Probably because it is THE answer to the healthy eating question: How do I get lots of nutrients for few calories?
KALE!!!
I mean this stuff is crazy good for you (for example, over 300% of your daily value of vitamin A in one serving). I have featured it here on Snack Girl many times and there is a section in Snack Girl To the Rescue! devoted to it.
I used to HATE kale. Seriously, I am not kidding you. I hated the stuff and now I am eating it and I LOVE it. Why the shift?
Kale is inexpensive – some where around $1 per pound.
It doesn't dissolve in your fridge like lettuce.
You can't beat it for nutrients. It is one of those killer sources of everything.
It tastes pretty good if treated properly.
How did we fall in love? I made kale chips (like Rachael Ray, Martha Stewart, Ina Garten, etc.). And, now, I am going to convince you to make kale chips. These are the best replacement for potato chips that you can find. They are satisfying, a little salty, crunchy - yum! They go well with not-so-nutritious beer.
How do you make them? First, you spend all of $2 on a bunch of fresh kale. Then you RIPPPPP the leaves off the stems and toss them into a bowl with some olive oil and salt.
Then, you spread them out on a baking sheet see here: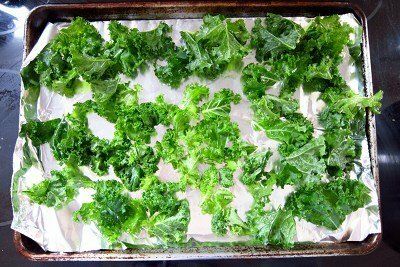 And bake for FIVE minutes. Viola! Kale chips! Yes, you can do this and when you taste them - you will be eating one of the healthiest vegetables you can eat. Toss out your multi-vitamin and wrap your gums around these chips.
I have tried to make these chips without the olive oil and it was not good. Something about the fat in the olive oil brings out the sweeter flavor in the kale. I think that when you are eating something as healthy as kale - you don't need to worry too much about adding a little fat.
This recipe can turn out half burnt/half soggy chips - which I dig.
 Some people don't like these results.
If you want them to store well - go with 250 F for 20 minutes and they should dry out and be more chip like. Then you can store them in a plastic container.
Do you make kale chips? Share your love (or hate) of kale below.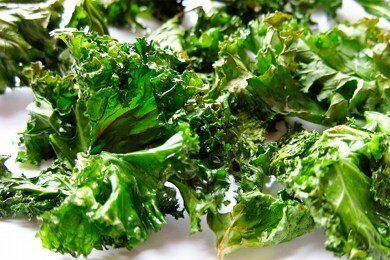 Kale Chips Recipe
(2 servings)
Ingredients
1 bunch fresh kale (or 1/2 pound)
2 teaspoons olive oil
salt to taste
Instructions
Heat oven to 500 F. Line rimmed cookie sheets with parchment paper or aluminum foil.
Tear the leaves off the thick stems into chip sized pieces. An easy way to do this is to fold the leaf in half and just rip toward the stem. Rinse kale in colander or salad spinner and dry.
Put in bowl and drizzle with olive oil and sprinkle salt to taste.
Bake 5 minutes or until edges are brown and kale is crispy when moved in pan.
The idea here is to make clean up easy (just toss the paper and then you have less work to do).
Nutrition Facts
For one serving = 90 calories, 5.2 g fat, 10.1 g carbohydrates, 3.3 g protein, 2.0 g fiber, 121 mg sodium, 1 Points+
Points values are calculated by Snack Girl and are provided for information only. See all Snack Girl Recipes
Other posts you might like:
---

Everyone has their favorite treat. I happen to love potato chips....
---

Fresh produce is rolling into supermarkets and farmer's markets all around the country. June is a fantastic month for healthy eating and these little jewels jumped into my car....
---
---
Get Free Email Updates! Yes please!
---