Are Kashi Crackers (cover your ears) Kashit?
After taking on Ritz Crackers, I decided to look into other brands of crackers. Kashi crackers really SCREAMED to me from the supermarket shelf. 8g Whole Grains!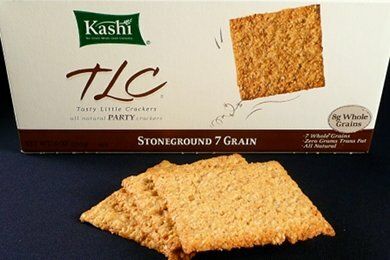 The packaging on these crackers is powerful. TLC is "Tasty Little Cracker" on the box but, of course, we think of "Tender Loving Care". These crackers weren't cheap either. At $3.50 for a box, they were at the high end of the crackers on the shelf.
Most of us, when buying crackers, are pretty clueless about what constitutes a great choice. In Ritz Crackers, I covered what we should avoid: high fructose corn syrup, saturated fat, and no fiber. There is nothing to avoid in a Kashi Cracker.
But, what should a cracker INCLUDE that will make it healthy? The simple answer is whole grains. Processing grain takes out the nutrients, protein, and fiber. The best type of grain to use to make a cracker is a whole grain such as whole wheat.
Kashi does have 8 grams whole grains per serving. But, get this, Wasa has 13 grams whole grain per serving. That is over 50% more!
What's the deal? The first ingredient on the Kashi package is wheat flour. This is no different than white flour. The second ingredient is whole wheat. I decided to call Kashi to ask how much of their product is wheat flour. They told me that the information is proprietary because don't want to reveal their recipe.
Basically, all the information that we have to go on is the ingredient list. The first ingredient listed on the box of a processed food is the highest amount in that food.
I was informed by the marketing representative at Kashi, that the cracker wouldn't taste good if whole grain flour was the first ingredient. I disagree - Triscuit's first ingredient is whole grain and it tastes pretty good (as does Wasa).
Remember any amount of whole grain in the product means that they can call the cracker "whole grain". Tricky, no?
Kashi crackers tasted pretty good to me. But, I wouldn't buy them again because they are too expensive, and the company is misrepresenting the product.
They are a stepping stone between Ritz Crackers and a MORE whole grain cracker. For those of you who complained about my treatment of Ritz Crackers, try these. Kashi are better for you than Ritz and taste really good (not like cardboard).
Personally, I think it is better to flavor a cracker with what you put on it - cheese, hummus, or nut butter. This way you have more control over the amount of sugar and fat in your snack.
Do you like Kashi products? Which ones are your favorites? Please share below.
Want to read about more snacks?
A Whole Food Snack of Salty Deliciousness and A Winner!
3 Reasons to Avoid Ritz Crackers
Save Money, Calories, and the Environment with this Yogurt