Kodiak Pumpkin Pancakes: Time for Pumpkin Pie Spice!
These Kodiak pumpkin pancakes will hit that pumpkin pie spice spot that starts to itch this time of year.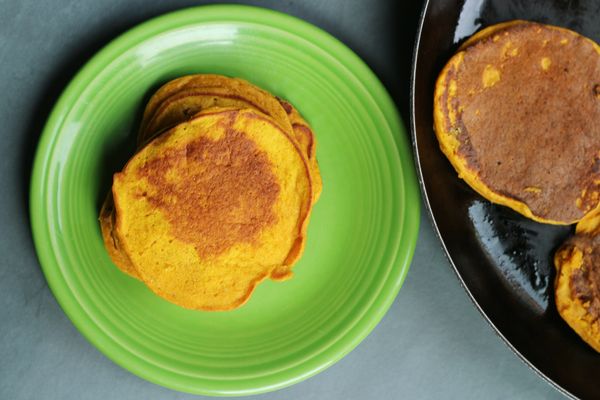 My daughter has already asked for her PSL to start the school year off right. For those of you who have missed out on the lingo a PSL is a pumpkin spiced latte from Starbucks.
You can only find the PSL this time of year along with the pumpkins at the farm stands. The pumpkins are a far more natural phenomenon.
Going to school is also supposed to be normal this time of year but my kids are sitting at home in front of computers. At least I have time to make them some pancakes because they are not rushing out the door.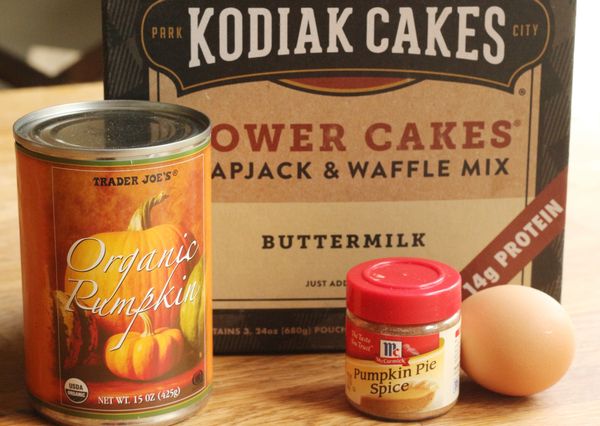 I was asked when I shared the Kodiak blueberry pancakes if I could make one with pumpkin. No problem!
Pumpkin is wonderful stirred into all sorts of baked goods as well as turkey pumpkin chili.
You would think you can only buy cans of pumpkin puree during this time of year, but I can always find it in the baking section.
If you are going to use pumpkin then you must use pumpkin pie spice. It is required!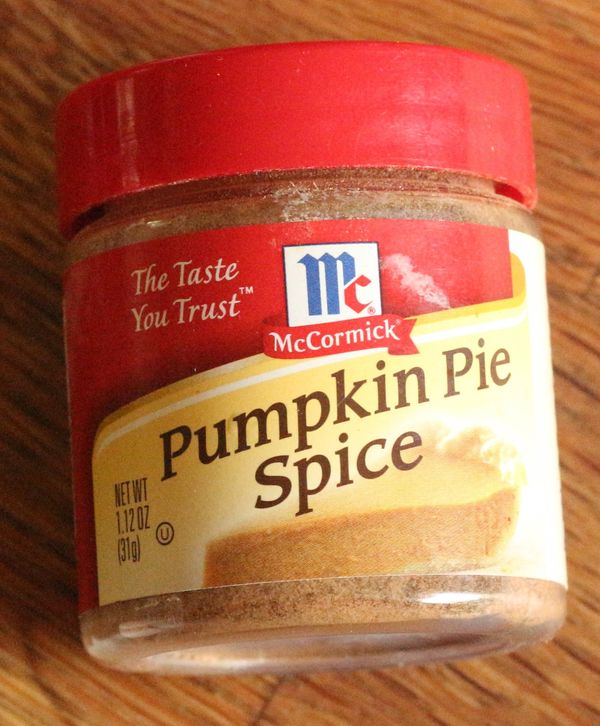 I happen to love pumpkin pie spice because it makes my life easy. It is a combo of cinnamon, ginger, nutmeg and allspice. I have all of those spices in my spice drawer and I also have pumpkin pie spice.
It comes with a recipe for pumpkin pie on the wee little jar!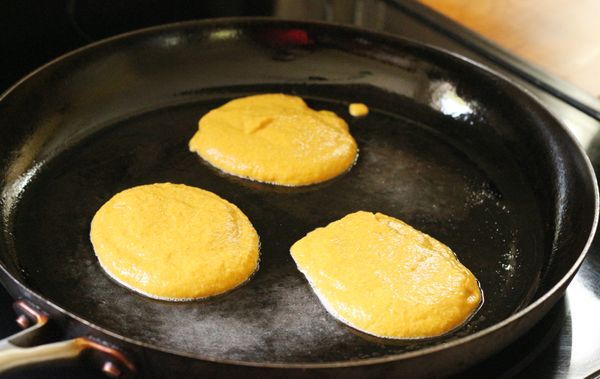 These Kodiak pumpkin pancakes are very similar to the Kodiak blueberry pancakes except that I added a teaspoon of sugar.
The sugar takes off the edge of bitterness that I can taste from the nutmeg. It is only a little bit and it is used more as a spice than a true sweetener. For more sweetness, add maple syrup or jam to the finished product.
Have you tried making Kodiak pumpkin pancakes? Do you use canned pumpkin in your baked goods?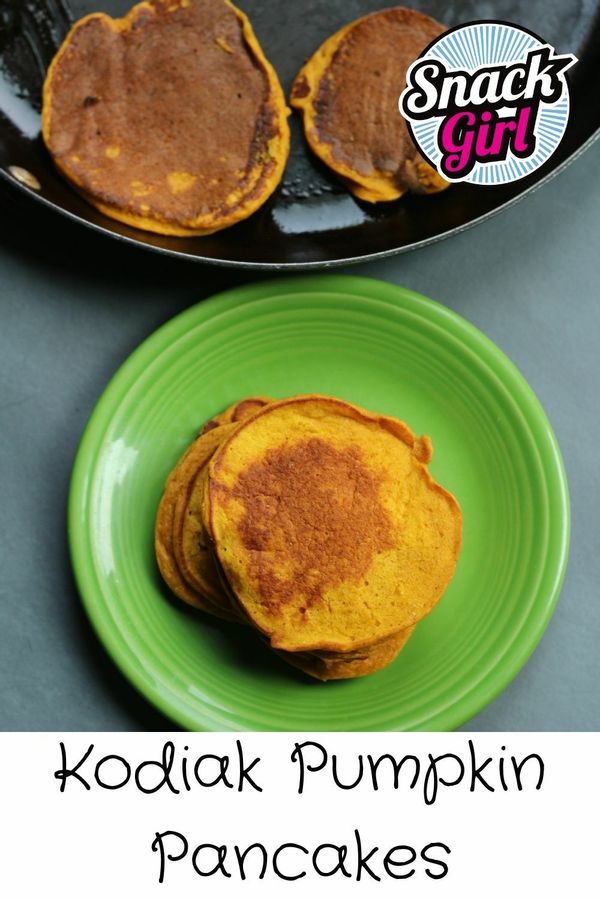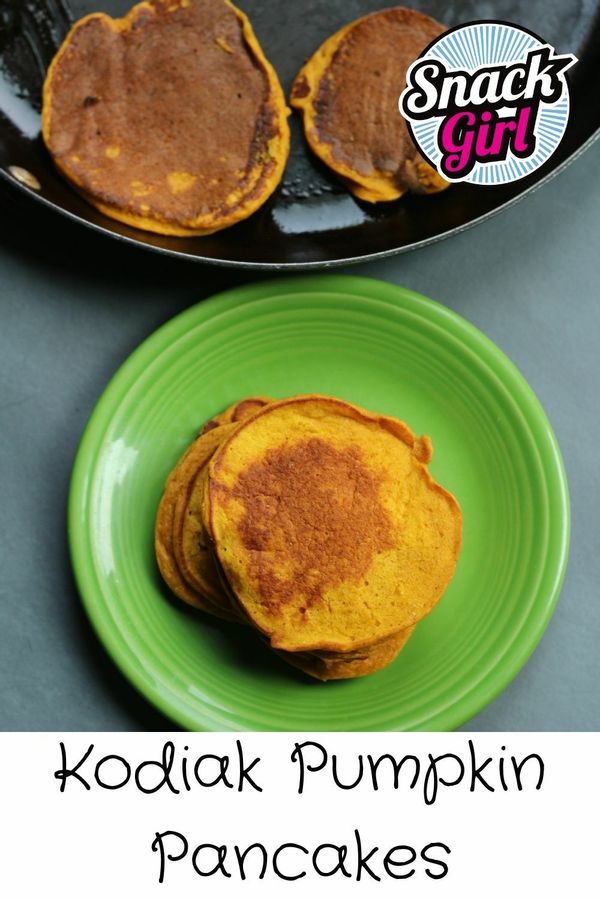 Kodiak Pumpkin Pancakes Recipe
Makes 7 pancakes
Prep time: 5 min
Cook time: 5 minutes

Ingredients
3/4 cup canned pumpkin puree
1 large egg
1 teaspoon sugar
1/2 teaspoon pumpkin pie spice
3/4 cup Kodiak Cakes pancake mix
1/2 cup water

Instructions
In a medium bowl, mix pumpkin, egg, sugar, pumpkin pie spice, pancake mix and water.
Heat a nonstick griddle or frying pan over medium-high heat. Grease the pan with non-stick spray or a small part of butter to keep the pancakes from sticking. Using a ladle, pour small circles of batter in the pan. Cook for a few minutes, until bubbles from on top of the pancakes. Flip the pancakes and cook until firm.
Eat hot, warm, room temperature or cold.
Nutrition Facts
One pancake = 42 calories, 1 g fat, 0.3 g saturated fat, 18.1 g carbohydrates, 1.8 g sugar, 2.7 g protein, 1.3 g fiber, 54 mg sodium, 1 Green, 1 Blue, 1 Purple WW SmartPts
Points values are calculated by Snack Girl and are provided for information only. See all Snack Girl Recipes
Other posts you might like:
---

This Kodiak Cakes muffins recipe is a Weight Watcher's hit - but it should be an "everyone "hit because it is a great recipe.....
---

This Kodiak pancakes recipe does not follow the recipe on the box. Why? Because it is boring!....
---
---
Get Free Email Updates! Yes please!
---