Lara Bar - Only 2 Ingredients
The holy grail for healthy packaged snacking is finding a snack with fewer than 5 ingredients. The Lara Bar fits this definition well.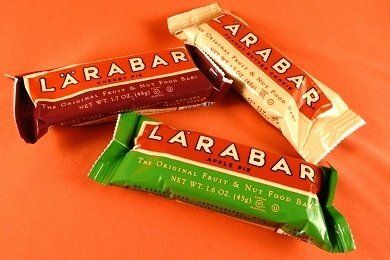 Why do we care about fewer ingredients? Because having less ingredients usually means that there are less chemicals, sugar, and additives in your food.
The fewer ingredients a snack has, the less it has been processed by the manufacturer which means more nutritious elements remain in the food. Processing removes many of the vitamins, minerals and other beneficial compounds, some of which then get added back but never all of them. Twinkies are a great example of this.
A Chewy Granola Bar has 7 forms of sugar listed on its label. Why? So parents won't realize that sugar should be the second ingredient on the package.
And then we have Lara Bar. The ingredients are whole foods - dates, cashews, dried apples, dried cherries depending on which bar you pick. They just mush them together, put it in a colorful package, and there you go.
Lara Bars are not low calorie, but they are healthy and they taste good. They were in my local Stop-n-Shop for 4 for $5, so even though they are more expensive than your average Chewy Granola Bar they aren't too bad for your budget.
I would prefer a handful of dates and some cashews not mushed together to the Lara Bar - but when I'm in a rush, this is a great snack.
What is your favorite snack bar? Please share in the comment section below.
---
currently unavailable Buy on Amazon.com
As an Amazon Associate, I earn from qualifying purchases.
---