A New Pizza – No Sauce and a Light Crust
Pizza is one of my forms of kryptonite. Not crappy Domino's pizza, but well-made, delicious pizza.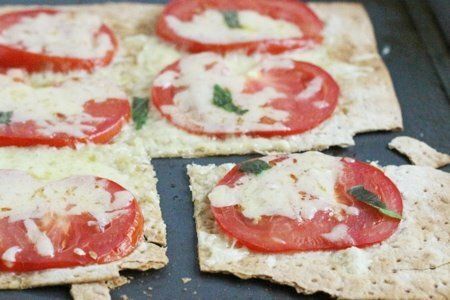 I can tell you the exact number of steps a particular pizza joint is from my Amtrak train in Penn Station. This place has an "upside down" slice which puts the sauce ON TOP of the cheese. When I went in to order it, I called it the "inside out" and the pizza guy said, "Close enough."
Making a lower calorie pizza means you have to evaluate both the crust and the cheese. I have replaced the crust with portobello mushrooms with great success but it lacks a crunch.
This time, I found a whole wheat lavash from Joseph's Bakery in front of the deli at my Stop & Shop. Lavash is a soft, thin flatbread of Armenian origin that works perfectly as a substitute for heavier pizza crusts. It comes out a bit cracker like –but it is very tasty.
I used a gorgeous fresh tomato, which you should be able to find right now instead of sauce because they are sooo good.
Was I satisfied? YES! This was warm, cheesy, light and so summery (and I forgot to mention fast).
Do you love pizza?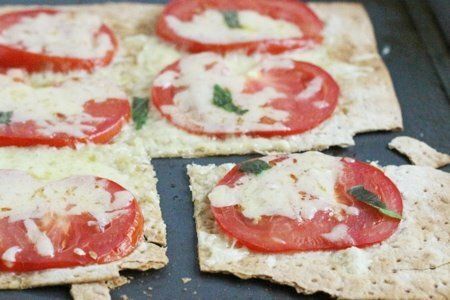 Lavash Bread Pizza Recipe
Makes 2 servings, ½ lavash per serving
Ingredients
1 piece whole grain lavash bread
2 ounces grated cheese (cheddar, mozzarella, fontina, swiss, etc.)
1 large fresh tomato, sliced into ¼ inch slices
salt to taste
fresh basil (optional)
Instructions
Heat oven to 400 F. Spray a baking sheet with non-stick spray and lay the lavash bread flat on the tray. Add the tomato slices, sprinkle a little salt, and top with the cheese. Heat for 8 minutes unto lavash is brown and cheese is melted.
Add optional slices of fresh basil. Enjoy immediately!
Nutrition Facts
147 calories, 7.2 g fat, 3.1 g saturated fat, 11.6 g carbohydrates, 2.4 g sugar, 13.9 g protein, 4.1 g fiber, 243 mg sodium, 4 Points+
Points values are calculated by Snack Girl and are provided for information only. See all Snack Girl Recipes
Other posts you might like:
---

You know what? It isn't that hard to make healthy pizza. Pizza would always be pretty healthy if we chose not to put 1/2 pound of cheese on every slice....
---

Snack Girl doesn't believe in guilt about food. For me, there is no "good" food vs. "evil" food....
---
---
Get Free Email Updates! Yes please!
---