This Mixed Drink Is Under 100 Calories
Snack Girl doesn't cover drinks very often because 20% of her audience is under 21.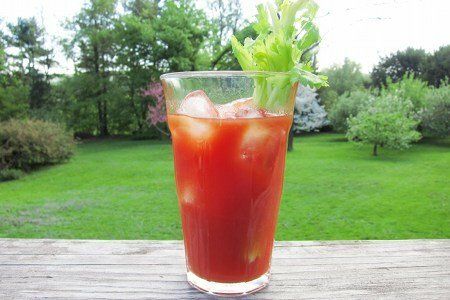 Yes, I am popular with the young people. To those dear readers I say - today is not for you.
I made this drink yesterday, Tuesday, in the morning. My husband walked by and said, "Hey, the kids weren't that bad, were they?"
"Shut up. No, you shut up! I said shut up!!" He didn't have to take them to the bus stop.
Of course, I was really making it to test for the site so I handed the glass to him and asked him what he thought. He said, "Refreshing. I could drink five of these."
Now, THAT cracked me up because after 5 ounces of vodka my partner would be lying on the floor.
This is one of those iconic drinks that isn't that bad for you. It has tomato juice which has vitamin C and lycopene, and some celery. You can always make it "virgin" and you will cut out 67 calories.
I ALWAYS add too much Tabasco and then have to add more tomato juice.
Do you make your own mixed drinks? Do you have ideas for lightening them up?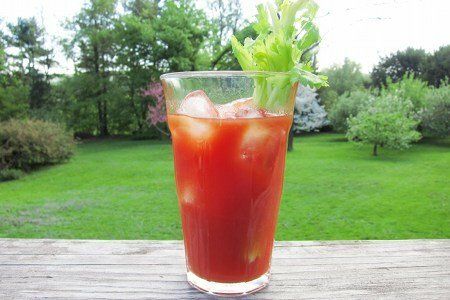 Bloody Mary Recipe

Makes one serving

Ingredients
1 ounce vodka
4 ounces tomato juice
2 dashes Worcestershire Sauce
2 dashes Tabasco
½ lemon, juiced (optional)
1 stalk celery, trimmed

Instructions
Mix vodka, juice, Worcestershire, Tabasco, and lemon juice in a medium sized glass. Load a large glass with lots of ice cubes (5-7). Pour drink over ice cubes and stir with celery stalk.
Nutrition Facts
89 calories, 0.1 g fat, 0.0 g saturated fat, 5.6 g carbohydrates, 4.6 g sugar, 1.0 g protein, 0.7 g fiber, 340 mg sodium, 1 Points+
Points values are calculated by Snack Girl and are provided for information only. See all Snack Girl Recipes
Other posts you might like:
---

Guess what I did yesterday? BUUUUURRRRRPPPP....
---

Despite what you may think, Snack Girl doesn't spend a lot of time hanging out in liquor stores....
---
---
Get Free Email Updates! Yes please!
---