Here Comes The "Festival of Chocolate"
The simple truth is that chocolate rocks. It seems to hit the a very special pleasure center in the brain.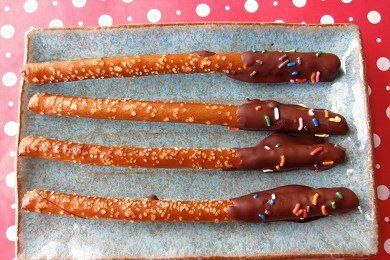 Our "Festival of Chocolate" AKA Valentine's Day has the stores are filling up with heart shaped boxes, bags of Kisses, and tons of truffles. It shocks me how much chocolate is bought and consumed just from my grocery store (forget the entire country!).
Most of this chocolate is not the best. It is filled with sugar and oil, and it doesn't resemble the dark chocolate that I have grown to love. I don't really think of high quality dark chocolate as candy. Dark chocolate is more like a gourmet treat best savored slowly.
The problem is that it is hard to stop at just one bite. Chocolate is very high in calories (120 calories per ounce) and it is easy to over do it.
What to do?
How about using it for dipping? Drizzle a wee bit of chocolate on a pretzel stick and you manage to get some chocolate without consuming an entire bar. This is a "treat" and not a healthy snack but compare it with a Snickers bar - and you are doing great!
These are fun and fast to make (my kids had a ball). All you need is a little time to wait for them to harden up. Put them in the fridge if you are in a hurry. It is important to store these in a container or they will go stale.
I used Ghiradelli dark chocolate chips and ate one of these at my afternoon coffee break. YUM!
What do you dip in chocolate?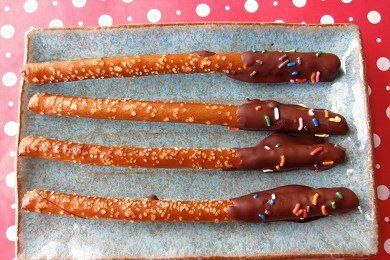 Chocolate Dipped Pretzels Recipe
(makes 10)
Ingredients
10 pretzel rods
2 ounces of dark chocolate chips (1/4 cup)
sprinkles (optional)
Instructions
Place a sheet of wax paper (or parchment paper) on a cookie sheet. Melt chips in a small bowl in microwave (use 10 second increments to ensure they don't burn).
Dip pretzel into chocolate and use a small spoon to drip the chocolate along the stick. Place on cookie sheet and add sprinkles. Allow to dry (about 15 minutes) on the counter or put them in the fridge. Store them in a closed plastic container or plastic wrap to keep them fresh.
Nutrition Facts
For one pretzel rod = 76 calories, 1.5 g fat, 15.3 g carbohydrates, 1.4 g protein, 0.5 g fiber, 230 mg sodium, 2 SmartPts
Points values are calculated by Snack Girl and are provided for information only. See all Snack Girl Recipes
Other posts you might like:
---

The season of the heart shaped box is here! Or, as I like to call it - "chocolate season"....
---

Did you grow up with the commercial where the chocolate bar ended up in the peanut butter? I am probably dating myself....
---
---
Get Free Email Updates! Yes please!
---