A Delicious Portion-Controlled Potato Recipe
Snack Girl features potatoes because they are inexpensive, nutritious, and super yummy.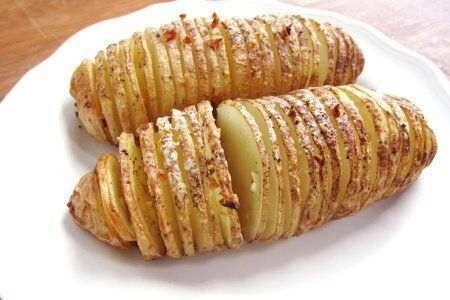 One of my favorite potato dishes is served at San Francisco Giants' games. There are these "garlic fries" that stink up AT&T park. Man, those are good! They go great with the common beverage found at the park, hot chocolate (not really). The fog makes it fairly cold to be watching a game, and one time I actually wore a snow parka.
Ahhh, San Francisco summer.
Many of you probably aren't aware of the quote:
The coldest winter I ever spent was a summer in San Francisco.
Supposedly, Mark Twain said this, but it turns out that there is no evidence he did. San Francisco residents say this often.
Since I no longer live in San Francisco, I have to make my own garlic fries and I saw this "Hasselback Potato" recipe and decided to give it a try. This looks really fancy, but it is easy to pull off. Line up chopsticks (or the handle end of wooden spoons) under two sides of the potato and cut down until you hit them. It is fast and no peeling!
Here is a great video on how to do it. She uses two cutting boards as guides and infuses her butter with garlic:
I like to simply pour garlic all over my potatoes. I'm crazy like that. If you don't like garlic, skip it.
These are a great way to know EXACTLY how much potato you are consuming and savor your potato experience with lots of slices.
Do you like garlic and potatoes?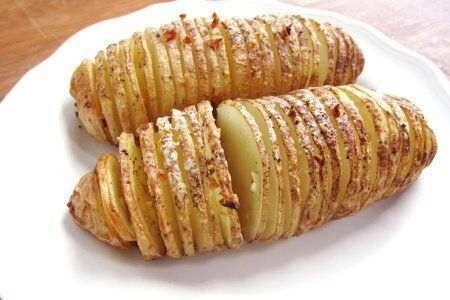 Hasselback Potatoes Recipe
Ingredients
2 large russet potatoes (about 1 ½ pounds)
1 tablespoon butter
1 clove minced garlic
salt and pepper to taste

Instructions
Preheat oven to 425 F.
Line up 2 chopsticks lengthwise close to a potato. Slice across the width in sections as thinly as you can.
Melt butter and mix in garlic. Using a pastry brush or spoon, drizzle the butter garlic mixture into the slices of potatoes. You can open it up like an accordion with your hands. Sprinkle on salt and pepper.
Bake for one hour until golden brown. Serve immediately.
Nutrition Facts
144 calories, 3.0 g fat, 27.0 g carbohydrates, 2.0 g sugar, 2.9 g protein, 4.1 g fiber, 31 mg sodium, 4 Points+
Points values are calculated by Snack Girl and are provided for information only. See all Snack Girl Recipes
Other posts you might like:
---

Yeah, baby, it is time for potato salad. I used to buy it at my local supermarket until I found out how much better it is when you make it fresh.....
---

Everyone has their favorite treat. I happen to love potato chips....
---
---
Get Free Email Updates! Yes please!
---