Lighter Pulled Pork
Do you like pulled-pork sandwiches? I know that barbecue lovers everywhere can tell you where a good pulled-pork sandwich can be found measured in minutes from their home.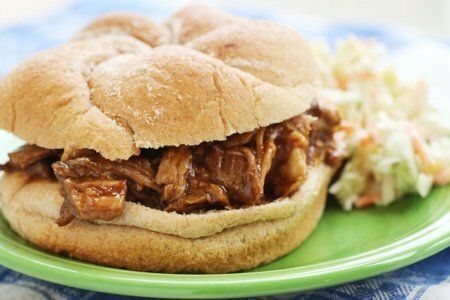 There are a myriad of ways to make pulled pork, but the cut of meat is usually pork shoulder. Pork shoulder is also know as "Boston butt" and your butt will be the size of Boston if you eat too much of it.
Six ounces packs a wollop with 32 grams of fat (and 12 grams of saturated fat, which is 60 percent of your daily value). This is why people will drive for hours for their favorite barbecue!
My lighter version uses pork tenderloin that has a mere 6 grams of fat per 6-ounce serving. The key to making this good is to cook it in the slow cooker for a long time with a tasty sauce.
If you haven't tried pulled pork in a slow cooker, then you should. This is one of those recipes where the slow cooker shines and everything is perfect when the dish is finished.
Some would simply dump barbecue sauce in the pot and be done with it, but I like to add a few more flavoring agents such as vinegar, mustard, and lots of garlic.
This can be made ahead and then frozen for future meals. Who needs 20 servings unless you are throwing a party? If you are throwing a party, leave the pork in the slow cooker to stay warm.
Pulled pork is a nice alternative at a BBQ to the usual hamburgers and hot dogs – and you don't need a grill! Serve on a toasted bun with coleslaw and baked beans on the side.
I pack my kids' lunches with this instead of boring turkey sandwiches. They love this and I think their friends (who eat pork) are a wee bit jealous.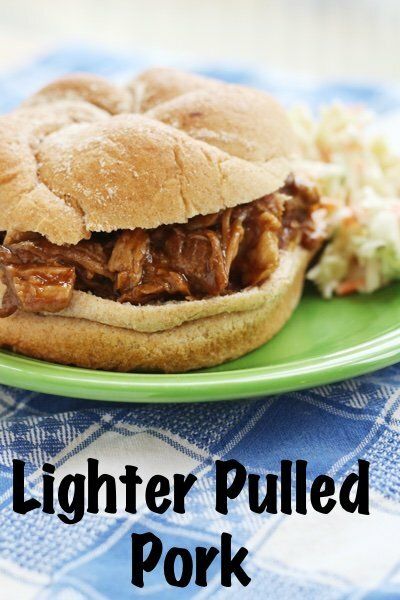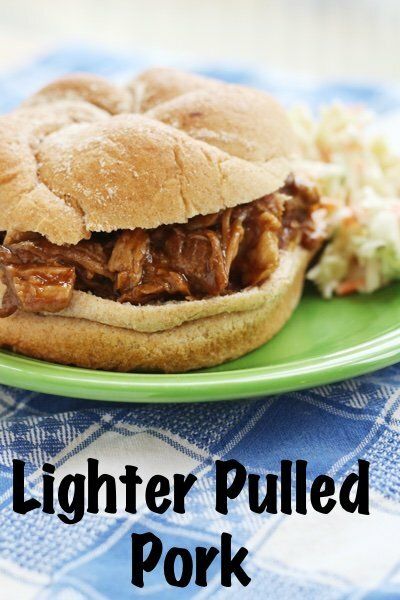 Lighter Pulled Pork Recipe

Serves 20, 6 ounces per serving

11⁄2 cups ketchup
11⁄2 cups bottled barbecue sauce (whatever flavor you prefer)
1⁄2 cup Dijon mustard
1⁄4 cup cider vinegar

1⁄4 cup Worcestershire sauce
3 tablespoons honey

5 garlic cloves, minced

1⁄2 cup water

2 pork tenderloins (about 5 pounds)

In a 6-quart slow cooker, combine the ketchup, barbecue sauce, mustard, vinegar, Worcestershire sauce, honey, garlic, and water. Submerge the pork tenderloins in the sauce and cook on low for 5 hours.
For 6 ounces = 228 calories, 4.3 g fat, 1.4 g saturated fat, 16.8 g carbohydrates, 13.4 g sugar, 30.3 g protein, 0 g fiber, 562 mg sodium, 6 SmartPts
Points values are calculated by Snack Girl and are provided for information only. See all Snack Girl Recipes
Other posts you might like:
---

If you have been following this blog for a while, you know that I am cheap....
---

Snack Girl got on her high horse on Monday and castigated the fake green food industry....
---
---
Get Free Email Updates! Yes please!
---