Light Rhubarb Crisp
It is there waiting for you in the produce section - rhubarb!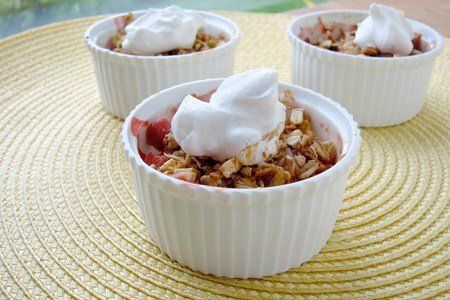 I get excited when I see it and toss a couple stalks in my shopping cart. The family knows rhubarb well so when they see it - we have a party! Spring is here and it is time to eat some rhubarb.
Why do I love rhubarb?
An entire pound of rhubarb has a whopping 95 calories.
It is delicious - sour, sweet, crunchy, yum!
It is so EASY to cook.
And, I have come up with a kick butt "Rhubarb Strawberry Crisp" recipe that will make you fall in love with......ME rhubarb.
Stop resisting and buy some rhubarb now. It is sitting there in your produce section in a basket somewhere looking like this: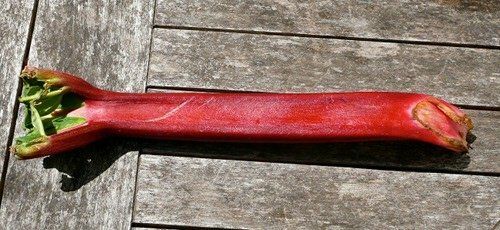 This crisp is very low in sugar for a dessert. There is a lot more rhubarb than strawberries in the recipe and it is important that the strawberries are well distributed in the ramekins or you might end up with a super sour crisp. You can bake this all in one pan as well - add 10 minutes to the baking time.
If you find this not sweet enough, just drizzle some honey on the final product. My children scarfed these down faster than you can say "rhubarb" and demanded MORE.
These could also be eaten for breakfast! Whole grain, fruit, low in sugar - what else could you want?
If you use coconut oil this recipe will be vegan and if you use gluten free oats - this recipe will be gluten free.
Are you going to try rhubarb this year? What is your favorite way to serve it?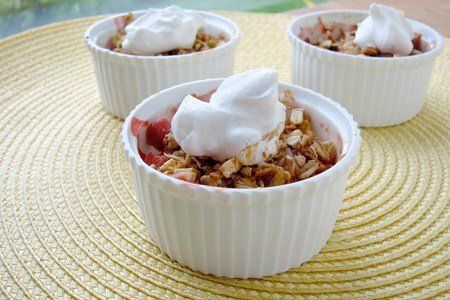 Rhubarb Strawberry Crisp Recipe
(makes 8 servings)
Ingredients
2 large stalks rhubarb, chopped (about 3 cups)
1/2 pound strawberries, hulled and sliced
2 tablespoons honey
1 tablespoon cornstarch (optional)
1 cup rolled oats
1/4 cup packed brown sugar
1 teaspoon ground cinnamon
2 tablespoons butter or coconut oil
Instructions
Preheat the oven to 350 degrees. In a medium bowl mix together rhubarb, strawberries, and honey. Add cornstarch if you want a thick "pie-like" consistency. Spoon into ramekins ensuring a good mix of strawberries and rhubarb in each one.
In the same bowl, mix oats, sugar, cinnamon, and butter until crumbly. Spread over the top of the fruit.
Bake for 30 minutes until rhubarb is tender and the topping is browned. Serve warm with a dollop of whipped cream (optional).
Nutrition Facts
One serving is 117 calories, 3.7 g fat, 1.5 g sat fat, 20.2 g carbohydrates, 10.7 g sugar, 2.0 g protein, 2.6 g fiber, 25 mg sodium, 5 SmartPts
Points values are calculated by Snack Girl and are provided for information only. See all Snack Girl Recipes
Other posts you might like:
---

Last year, Snack Girl featured one of her FAVORITE Spring vegetables and no one read my post. No, I won't give up....
---

The best place to find healthy eating inspiration is your local produce source. And if you pay attention, you will see that there are vegetables and fruits that arrive at different times of year....
---
---
Get Free Email Updates! Yes please!
---