Get Your Spring On With This Vegetable
Last year, Snack Girl featured one of her FAVORITE Spring vegetables and no one read my post. No, I won't give up.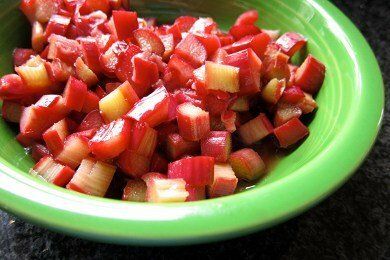 I am DETERMINED to get you to read about and try rhubarb.
Why?
An entire pound of rhubarb has a whopping 95 calories.
It is delicious - sour, sweet, crunchy, yum!
It is so EASY to cook.
In case you haven't met fresh rhubarb - this is what it looks like before you cook it: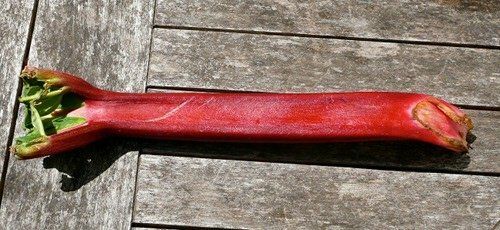 Right now, in your produce section it has arrived and it won't be there for long. Last year, I posted a rhubarb compote recipe: Try Rhubarb - In Season Now and Super Yummy.
Well, I bet because it took 35 minutes in the oven, you guys just thought, "Hey, I don't have time for that."
You got FIVE minutes? I am taking a page from Martha Stewart (staying out of jail) and ROASTING rhubarb. Yes, this is her favorite way of cooking rhubarb and I think she is on to something.
You need to use some honey to make rhubarb palatable because it is really sour. But, after you spend a little time cooking it, you have a sublime and healthy treat. Try it in your yogurt, on top of your cereal, or in your smoothies.
Use this cooked rhubarb as you would use fresh berries - as a tasty and healthy addition to brighten up your boring meals. Or, eat it as a dessert with a little bit of milk or cream.
My kids went nuts for it and ate it plain as an afternoon snack. I think the color is very attractive to them and they like the sweet/sour combination.
How do you serve rhubarb? Please share.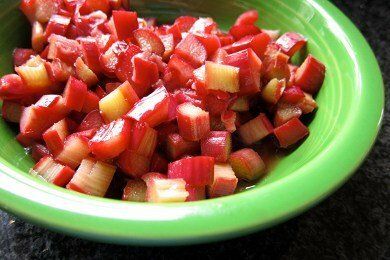 Roasted Rhubarb Recipe
(makes 6 servings)
1 pound rhubarb
1/2 cup honey

Preheat oven to 450F. Remove rhubarb leaves and tough end and chop into small pieces. Mix rhubarb and honey in small bowl. Line a rimmed baking sheet with aluminum foil and spread rhubarb on it. Roast for 5 minutes. Enjoy!
102 calories, 0.1 g fat, 26.7 g carbohydrates, 20 g sugar, 0.8 g protein, 1.4 g fiber, 4 mg sodium, 5 SmartPts
Points values are calculated by Snack Girl and are provided for information only. See all Snack Girl Recipes
Other posts you might like:
---

I eat a lot of apples and peanut butter. As Snack Girl, I am often asked about my favorite snack – and this is it....
---

How about some dessert eye candy before the big BBQ?...
---
---
Get Free Email Updates! Yes please!
---