Light Sangria Recipe
Do you love red wine but want something lighter in the summer? You will adore this light sangria recipe.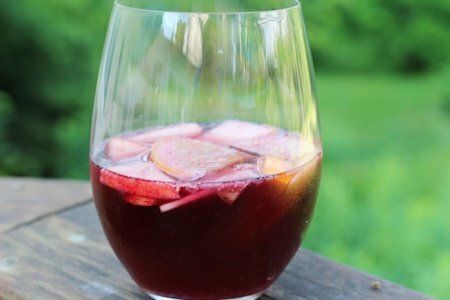 The idea is to marinate slices of orange and apple in the wine with some sugar, lime juice, and orange liqueur. After it brews, you serve it mixed with club soda and cut the alcohol (and calories) in half.
This drink is wonderful for a crowd but can also sit in your fridge for about 3 days (without the club soda added) to marinate. Like human aging, it only gets better with time (but then the fruit starts to rot).
I like to make a pitcher and drink a glass as a refreshing start to an evening of grilling (and attempting not to yell at children as they hit soccer balls into your patio table).
This is a light, fruity (literally) drink. It is also for those who are frugally minded as you double the amount of wine you use by adding the club soda.
I always choose a very drinkable red (not sweet) for this recipe. My experience is that if it is too inexpensive, the sangria will not taste very good (and you will get a splitting headache from drinking it). Merlot, Cabernet Sauvignon, Malbec, or Rioja will all be great and you don't need a high end one.
I use Triple Sec for this recipe. If you haven't used it before it is near the liqueurs and costs about $8 for a bottle that will last you a lifetime. I mix it in my lighter margarita as well.
I add the sparkling water/club soda when I am ready to drink it. If you are only serving half, then keep the sangria marinating for another day. It will only get better.
Do eat the fruit! It is like having an appetizer and drink all in one.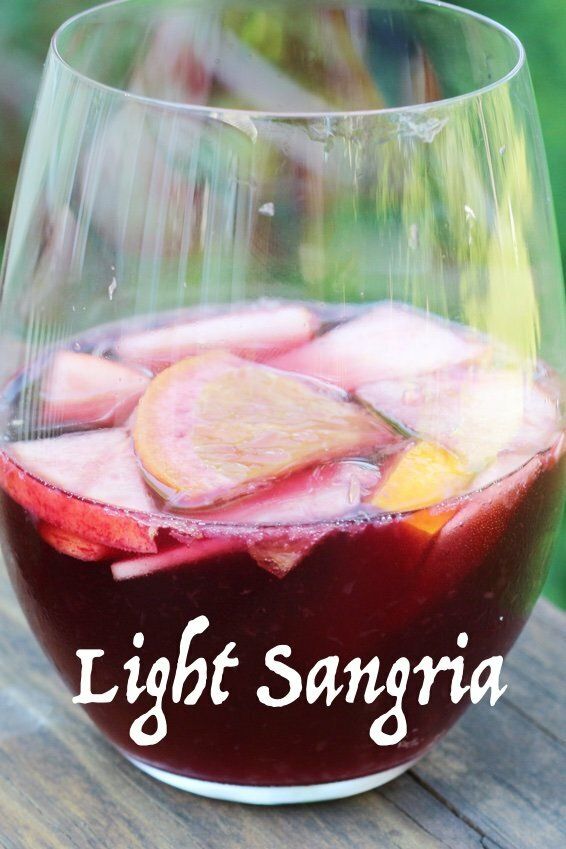 For the teenagers who read this site, Snack Girl advocates waiting until the legal drinking age to indulge in alcoholic beverages.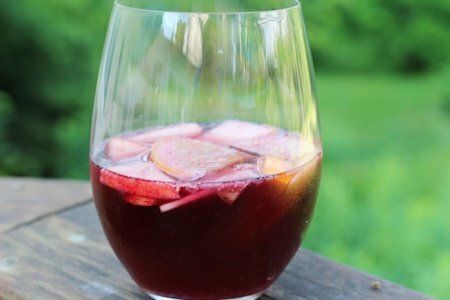 Light Sangria Recipe
Makes 10 (6-ounce) Servings
Ingredients
1 large orange
1 (750-ml) bottle red wine
¼ cup orange flavored liqueur (such as triple sec or Grand Marnier)
¼ cup sugar
½ lime, juiced
1 medium apple, cored and cut into thin wedges
1 (750-ml) bottle of club soda or 2 cans (12 ounces)

Instructions
Slice the orange in half and juice one half of it. Slice the other half into very thin slices. Mix the wine, orange flavored liqueur, sugar, lime juice, and orange juice in a pitcher. Add orange slices, and apple slices and refrigerate for 1-2 hours.
When ready to serve add club soda and stir. Enjoy immediately.
Nutrition Facts
6 ounces is 112 calories, 0.0 g fat, 0.0 g saturated fat, 20 g carbohydrates, 12.5 g sugar, 0.1 g protein, 0 g fiber, 124 mg sodium, 5 SmartPts
Points values are calculated by Snack Girl and are provided for information only. See all Snack Girl Recipes
Other posts you might like:
---

You do not need a big blended frothy margarita to enjoy Cinco do Mayo....
---

Snack Girl doesn't cover drinks very often because 20% of her audience is under 21....
---
---
Get Free Email Updates! Yes please!
---